Why Meghan And Harry's Wax Figures Were Moved Away From The Royal Family At Madame Tussauds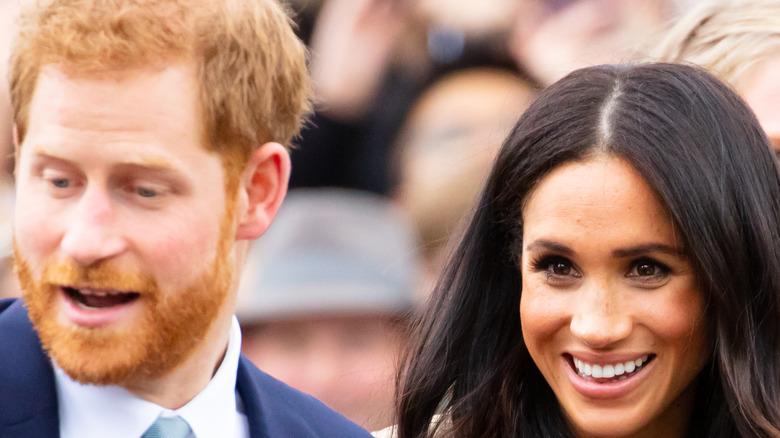 Shutterstock
Prince Harry and his wife Meghan Markle have been breaking tradition since they got married back in 2018. The couple has always seemed to do things their own way, and they haven't been shy when it comes to sharing their thoughts and feelings about living within the confines of the royal family. Harry and Meghan are definitely doing things on their own terms, and it's become clear as their relationship with the royals plays out in the media. According to People, tension began to build between Harry and his family when he began dating Meghan. Sources claim that Prince William warned his younger brother that the relationship was moving too fast. However, Harry was unwilling to take his brother's advice, stirring tension between them. 
Not long after the couple's wedding, they opted to split their household with that of William and his wife Kate Middleton, feeding rumors of drama within the family (via Insider). By 2020, Harry and Meghan announced their plans to exit their duties as senior members of the royal family. They later moved to California where, as of publication, reside with their son, Archie. In March 2021, the couple sat down for a tell-all interview with Oprah Winfrey, which reportedly ruffled the feathers of many royals, including Prince Charles and William (via Marie Claire). In the latest bit of royal exit news, Harry and Meghan's divide from the family is playing out at Madame Tussauds.
Harry and Meghan's wax figures have been moved to this part of Madame Tussauds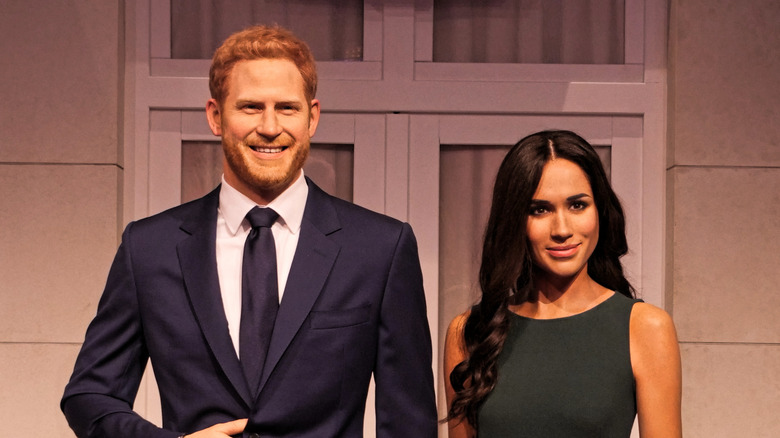 According to Insider, Prince Harry and Meghan Markle's wax figures have now been moved away from those of the other members of the royal family at the famed Madame Tussauds museum in London. It's been a number of months since the Duke and Duchess of Sussex opted to leave the royal family and make a new life for themselves in California. So, the museum thought it was time to move the couple's wax figures out of the royal family exhibit and relocate them into the "Hollywood" section of the establishment. "Harry and Meghan have moved zones — Madame Tussauds London has moved its figures of Prince Harry and Meghan Markle to their brand new Awards Party zone to reflect their move from Frogmore to Hollywood," the museum said in a statement, via Reuters.
The couple's figures were previously staged next to the figures of Queen Elizabeth, Prince Philip, Prince William, and Kate Middleton. Harry and Meghan's wax figures are now wearing new outfits as well. Meghan's figure is dressed in a vibrant blue dress with short sleeves, and Harry's wears a navy blue suit with a white collared shirt and a tie to match his wife's gown. The ensembles are the same outfits that the couple wore during their final appearance as working members of the royal family during an event in March 2020. Meanwhile, this isn't the first time that the couple's statues were moved. Previously, Meghan's was relocated to be with other celebrities, while Harry's stayed close to the royal family.