These TikTok-Approved Kitchen Organization Hacks Will Save The Day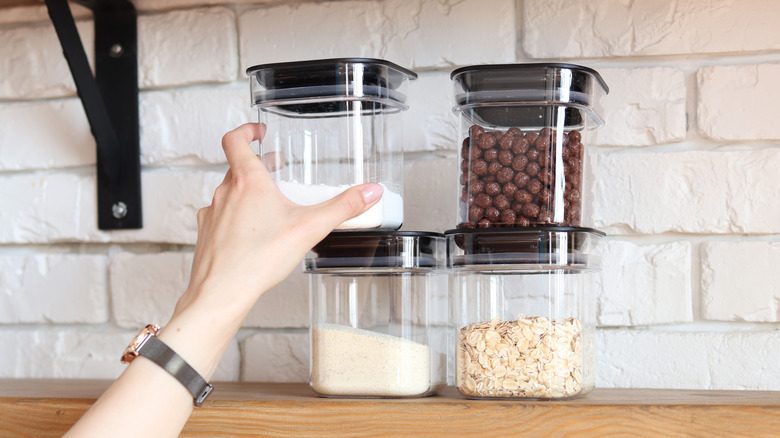 Shutterstock
We've all dreamed about having our kitchens reorganized by tidying expert Marie Kondo. Though most of us will not be lucky enough to receive personal consultations with the queen of de-cluttering, a new TikTok star is stepping up to the plate to give us the organizational hacks we need. Chantel Mila, a cleaning and styling enthusiast, recently shared a few storage tips with her audience to help them achieve the kitchen of their dreams. While some of her advice may cost a little more than anticipated, Mila says the investment is sure to pay off in the long run.
In her kitchen organization video, for instance, Mila shows her viewers a neatly organized pantry filled with clear, stackable containers. Not a single plastic bag or cardboard box is in sight. Plus, everything in the closet is easily viewable, so that the mom of two can see all the food available. "Investing in good-quality stackable canisters maximizes space and keeps items fresh," Mila wrote in her video. Indeed, Food52 points out that air-tight containers will keep ingredients like flour fresh for longer periods of time, and prevent bugs from burrowing into food.
Chantel Mila suggests using a filing rack and wine rack for storing items in the kitchen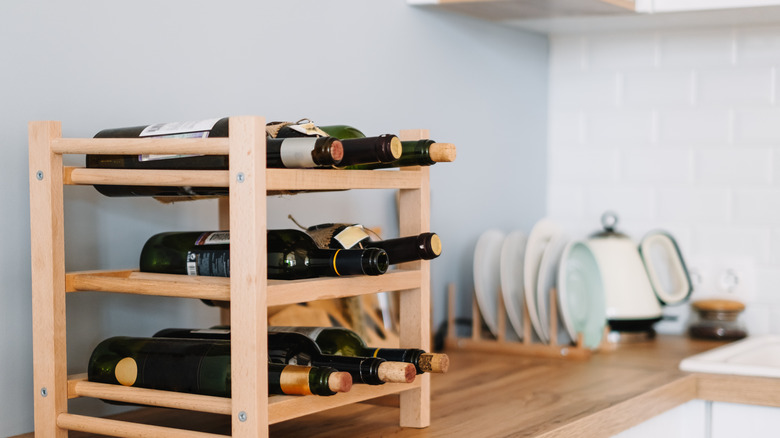 Shutterstock
If you struggle to pull out the right pan when it's time to cook or bake, Chantel Mila's next hack is for you. In her kitchen organization video, Mila suggests using an office filing rack to store metal trays vertically. That way, you will be able to see all of your trays at once and prevent them from getting cluttered in a cabinet. Vertical filing racks are relatively inexpensive and are sold at many major retailers, including Staples and Office Depot.
If you also have a hard time finding a place for your reusable water bottles, Mila recommends using an old wine rack to store them. The slots in wine racks are large enough to accommodate water bottles, and they will allow you to see all of your water bottles at once. While some wine racks are extremely expensive, others are relatively cheap and available at a variety of stores. The smaller versions will allow you to store your water bottles in a convenient place, such as on your counter or a nearby table (via Home Storage Solutions 101). With these new tricks up your sleeve, you'll be on your way to a clean, organized kitchen in no time.