These TikTok-Approved Cleaning Hacks Will Save Your Bathroom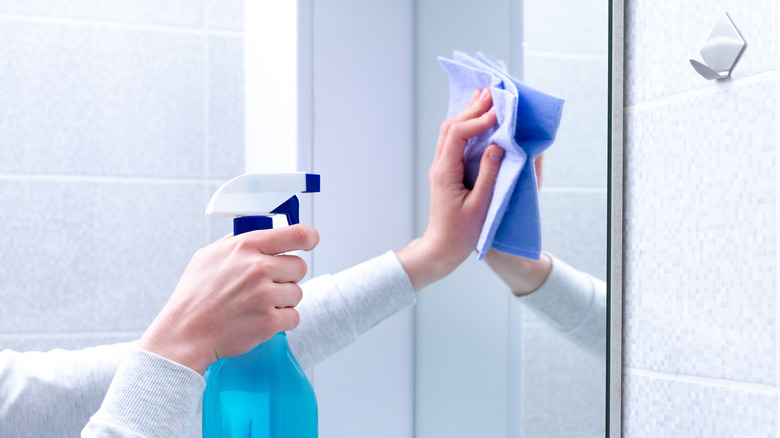 Shutterstock
Have you ever wondered if you're really doing the most to keep your bathroom clean and inviting? Fortunately, TikToker and cleaning junkie Chantel Mila has a few tricks up her sleeve to help you impress your guests and family. The mom of two has a cleaning style that her fans label as "oddly satisfying," which keeps them coming back to her page for her latest tips. Indeed, Mila has over 260,000 followers and 5.2 million likes on her videos.
Want to know the best part about Mila's bathroom hacks? They all involve products that you already have in your home, including vinegar, dish soap, and essential oils. And her first tip doesn't require any products. Instead, Mila shows her viewers how to quickly and easily dry out a toilet brush after using it. She places the brush underneath the toilet seat with the brush facing inwards, so that excess water can drip into the bowl without dirtying any bathroom surfaces. As explained by Clean My Space, it's also important to generously spray the brush with disinfectant as it dries (and clean your toilet, while you're at it).
Chantel Mila's other bathroom tricks include fancy toilet paper and DIY mirror cleaner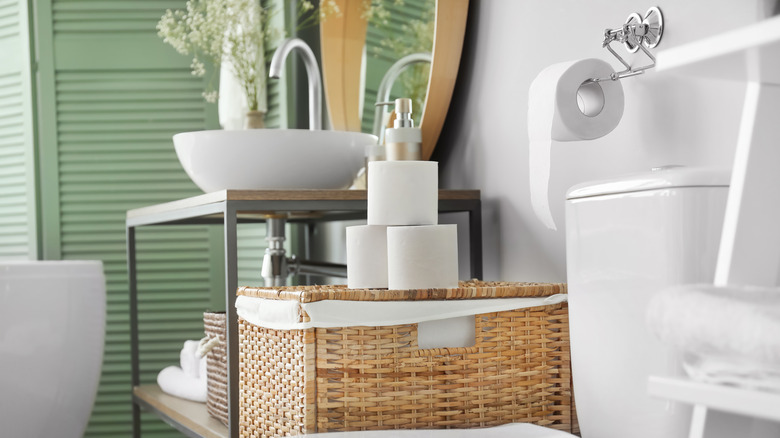 Shutterstock
To put the extra "oomph" into your bathroom decor, Chantel Mila suggests recreating "fancy toilet paper," or the triangle-fold paper that you often see in hotel rooms. First, fold the top corners of the toilet paper underneath to form a triangle. To seal the folds, press the tip of the triangle into the bottom of your tap or faucet. This will imprint a small circular design on the paper, and the excess water in the tap will glue down the folds. As an added bonus, put a few drops of your favorite essential oil inside the roll. The aroma will keep your bathroom smelling good for days. According to Kids Activities, the best essential oils you can use include peppermint, tea tree, and lemon, because they all fight bacteria, mold, and mildew.
Now, what about sparkling mirrors? If you don't have any Windex on hand, Mila recommends mixing white vinegar, dish soap, and a few drops of tea tree oil together in a spray bottle to create the perfect solution. Leave the spray on the surface of your mirrors and shower walls for a few minutes before wiping down. Mila notes that doing so will give your bathroom a sparkling clean feel. If you'd rather use a different mixture, Live Simply suggests a combination of isopropyl alcohol, distilled vinegar, and distilled water.