How To Do Your Makeup Like K-Pop Idols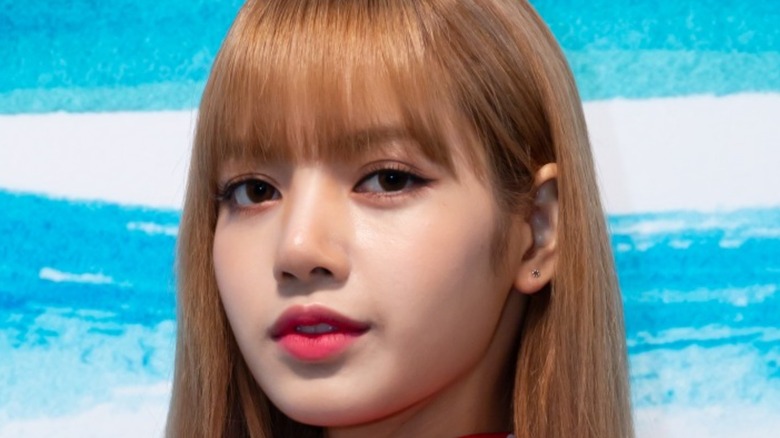 Edi Chen/Getty Images
Every year, you tell yourself that this is the year you'll elevate your makeup skills. So you invest in the latest beauty products, and watch viral TikTok makeup tutorials for inspiration. But if you're open to incorporating different trends into your routine and seeing which ones best compliment your look, korean beauty trends are the way to go. K-pop idols are at the top of their makeup game, and they make having perfect skin and natural makeup seems to flawlessly combine.
Per Clozette, Blackpink's Lisa was crowned the "Most Beautiful Face in Asia" by TC Candler Asia in 2019 — with her gorgeous, clear skin and expert makeup skills, the title is a no brainer. The K-pop superstar regularly rocks her signature cat-eye, defined lips and natural-looking eyeshadow in her off-time and makes every shot look like she's fresh off the runway.
Now you can imitate your favorite K-pop idols' makeup routines. Here are some popular Korean beauty trends that the top K-pop megastars swear by.
Flawless skin and rosy cheeks are a few dabs away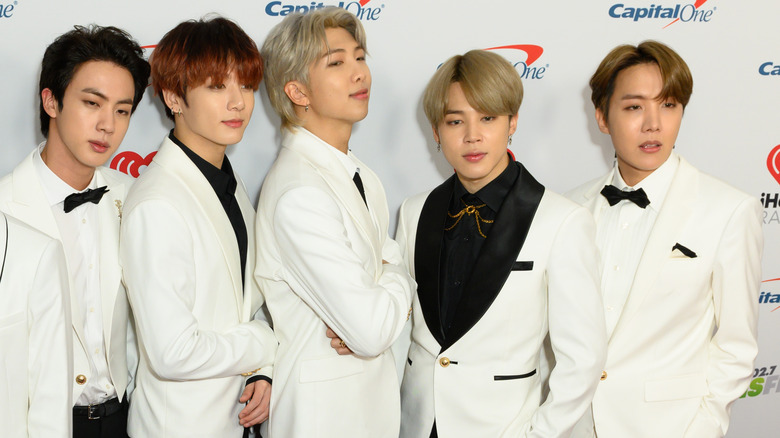 Shutterstock
One of the biggest Korean beauty trends that's been circulating for years is the "glass skin" phenomenon, which means skin that is ultra healthy, soft, and dewy (via Glamour). K-pop supergroup BTS uses a mix of luxury and drugstore foundations to get that luminous glow including YSL's Youth Liberator Serum Foundation and Touché Eclat Le Teint Foundation, MAC Studio Fix Powder Plus Foundation and Shiseido Spotscover Foundation, as reported by beauty blog Hey Dray.
K-pop idols never miss a moment to show off their youthful skin and radiant complexion. For natural-looking rosy cheeks, lightly dab on your favorite blush after you've already applied your primer, foundation and concealer (via Cosmopolitan). Pick a shade that best compliments your skin's undertones. Otherwise, it might come out splotchy and overpower your face makeup. Per L'Officiel, Korean makeup artists are now trading in the traditional pink blush for burnt orange in order to get a more dusky, bronzed look. GOT7's BamBam and singer-songwriter HYO both killed the orange blush trend (via Allure).
Ditch your perfectly arched eyebrows and go for a softer look instead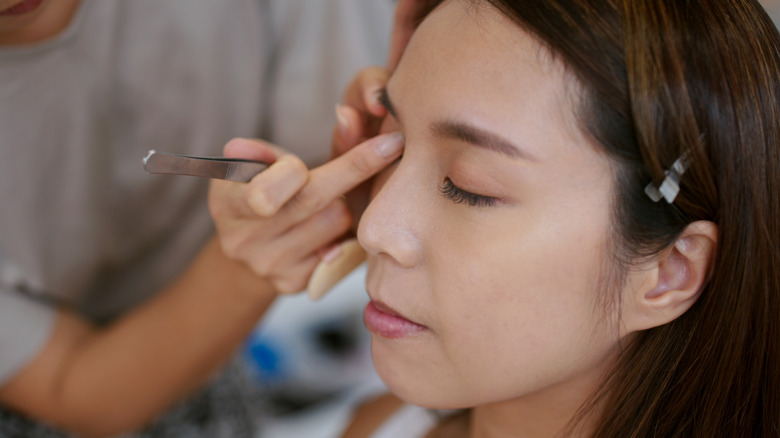 Shutterstock
Makeup enthusiasts know that your brows can make or break your entire look. Defined, full eyebrows (complete with arch) have taken over every single magazine photoshoot and beauty influencer's platform. But overseas, it's the complete opposite. 
Charlotte Cho, who co-founded korean beauty shop Soko Glam, told Byrdie that straight brows are the go-to because they actually make you look a lot younger. "Right out of the womb, think about how your natural eyebrow looks—there's not really a shape. So, you will look very young if you have you have straight, thick, luscious eyebrows," she explained. 
Singer and rapper Hwasa is a pro at the straight brow trend, and showed off her gorgeous makeup in a February 2021 instagram post. So if you want to look like you took a dip in the fountain of youth, go for a softer brow.