Why Lizzo's Chocolate Bar Brit Awards Outfit Still Has People Talking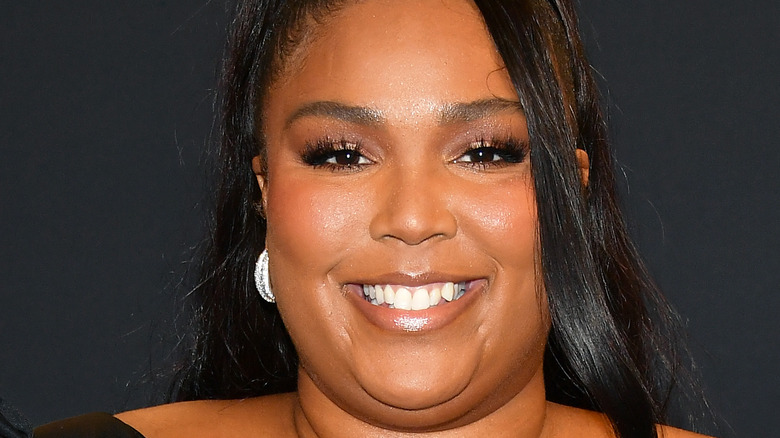 Amy Sussman/bbma2020/Getty Images
In addition to being a superstar, Lizzo is a body positivity champion. The singer has helped millions of women worldwide embrace their bodies by being frank about her own issues, memorably posting on Instagram about how she'd begun talking to her stomach in an effort to change how she related to it. Lizzo explained, "I used to want to cut my stomach off I hated it so much. But it's literally ME. I am learning to radically love every part of myself." She concluded her statement by telling fans, "This is your sign to love on yourself today!"
The flautist might seem like she's got an endless amount of confidence to pull from, but Lizzo struggles with self-love just like everybody else, particularly when trying to find cute clothes to flatter her shape. As she explained in a conversation with designer Jeremy Scott, for Vogue, "As a big girl, fashion wasn't available for my body type, so I had to get creative." Lizzo continued, "If it wasn't made for me, I made it for me." Thankfully, the "Juice" hit-maker has some of the coolest designers in the world on call nowadays, including close friend Scott, which has led to some of the most eye-catching and inventive looks the red carpet has ever seen.
In particular, Lizzo's red carpet look for the 2020 Brit Awards, in London, was — to paraphrase one of her biggest hits — sweet as hell.
Lizzo was the sweetest treat on the red carpet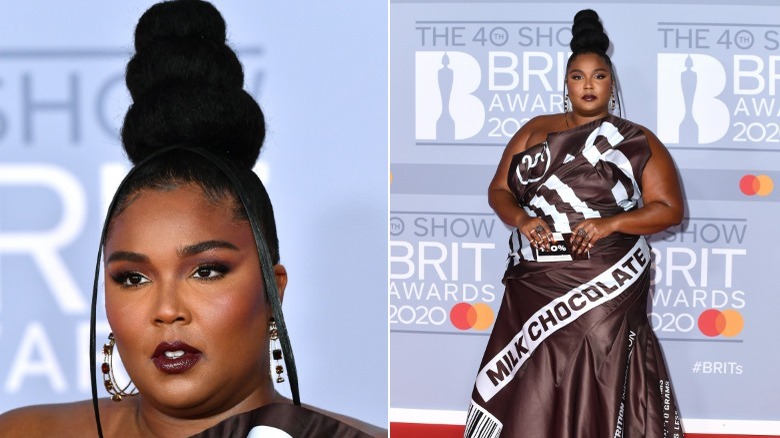 Gareth Cattermole/Getty Images
As Jeremy Scott explained, fashion "can alter or heighten your mood, of course, but it can also send a message: from literally 'Vote,' to 'I'm that b****,'" (via Vogue). When it came to the 2020 Brits, Lizzo seemed to be telling everybody, "I am a literal candy bar." As Harper's Bazaar reported at the time, her Moschino gown was chocolate-brown, "complete with an asymmetrical and ruched bodice, a flared bottom hem, and Hershey-graphics detailing." Lizzo's clutch matched it perfectly, while her stacked hairdo resembled a Hershey's Kiss. The bag was emblazoned with a "100%" graphic, a nod to Lizzo's most famous catchphrase from her hit song "Truth Hurts." The superstar singer posed with her delicious-looking clutch on Instagram, teasing, "If you ever wondered what I taste like ... "
The eccentric look was incredibly detailed, too, with Allure noting Lizzo's makeup included a deep-brown lip (again chocolate-inspired) and equally delectable nails. These talons actually smelled like chocolate, since the polish is scented, while aluminum foil was utilized to give the illusion of a candy wrapper. As Vogue notes, Lizzo's custom creation was inspired by Scott's debut collection for Moschino, which was released in 2014 and featured a whole host of so-called "junk food couture," including McDonald's and Cheetos-inspired creations. The "Good as Hell" hit-maker put her own spin on the dress (which appeared on the runway as a strapless gown) by turning it into a dramatic one-shoulder look.