The Truth About Ariana Grande's Wedding Band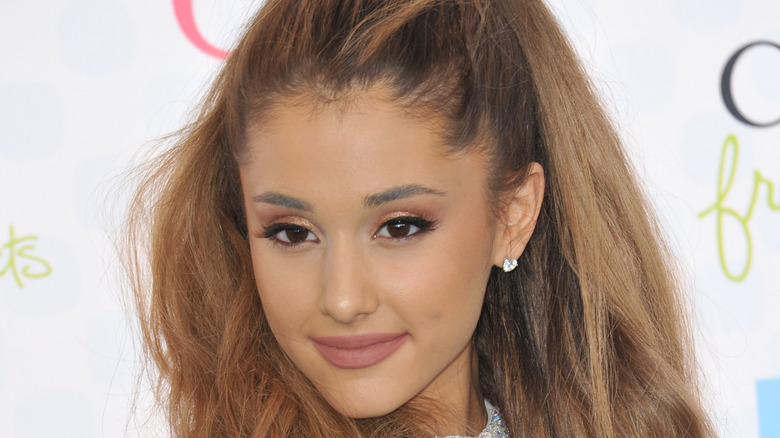 Shutterstock
Ariana Grande is a married woman. The "7 Rings" singer officially tied the knot with her fiancé of five months, Dalton Gomez, over the weekend. The couple confirmed the news via Grande's rep, per E! News. Grande and Dalton had been dating for a year before walking down the aisle in a small and quiet celebration. Sources claim that the duo decided to get married after a short engagement because they didn't want to wait any longer. In addition, their busy schedules allowed for them to marry now. "They always wanted an intimate ceremony. They decided to have the wedding this past weekend because their schedules are picking up and neither wanted to wait. They both agreed there was no point in waiting."
Insiders reveal that Grande and Gomez said their vows in the backyard of the singer's Montecito, California home. "It was beautiful but not over the top. Ari wanted it to be simplistic and tasteful. All they cared about was having family there and to be able to enjoy the special moment together," the source revealed, adding that both families were in attendance, as well as a few close friends. Meanwhile, the day was made even more special by Grande's wedding band which holds high meaning to the couple.
The significance behind Ariana Grande's wedding band
It seems that Ariana Grande's new husband, Dalton Gomez, wanted the couple's special day to be perfect. So, he put a lot of thought into the singer's wedding band. E! News reports that Gomez helped to design the piece of jewelry himself. The ring was crafted with Gomez by Solow & Co in order to complement her gorgeous diamond and pearl engagement ring. The band is made from platinum and diamond and created with Grande in mind. "They worked with Dalton on this," a spokesperson shares of the intimate process of crafting the perfect piece with the groom. "They worked with Dalton on this. It's a beautiful, tasteful platinum and diamond pave band. Dalton was very happy with it," a spokesperson confirmed to the outlet. 
Of course, Gomez was very involved in the process of choosing and creating Grande's engagement ring as well. "Dalton was involved in every step of the selection process," jeweler Jack Solow said back in December. "He was very, very specific about what he wanted. He had very strong feelings about how he wanted this to look, a contemporary kind of way. It was his idea to do the diamond on an angle and he said to me we had to incorporate a pearl into the finished piece because it is very sentimentally special, the element of a pearl is very, very sentimentally special to Ariana." Grande's rings are made that much more special due to the love and care her husband put into creating them