Why An Old Pic Of Meghan Markle With A Magazine Featuring Kate Middleton Is Turning Heads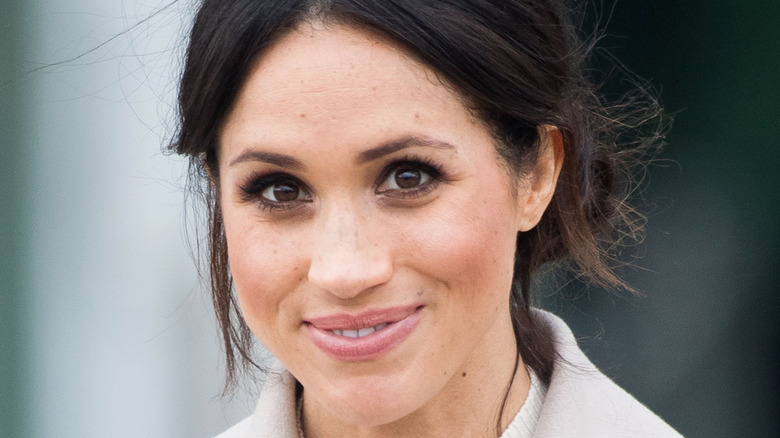 Shutterstock
Who could forget when Meghan Markle told Oprah Winfrey she really knew nothing about the family she was about to become part of before marrying Prince Harry? As the former "Suits" actress told the former talk show host during their much-hyped and widely-viewed chat, "I didn't grow up knowing much about the royal family. It wasn't something that was part of conversation at home. It wasn't something we followed" (via Insider).
While this may be true, an old photo of Markle that was recently unearthed is raising eyebrows due to this very statement from the soon-to-be mom of two (via Page Six). The picture, which was taken in 2014, shows Markle posing with a magazine, the cover of which features her future sister-in-law, Kate Middleton.
Remember, the Duchess of Sussex wouldn't wed Harry until 2018, having met him in 2016 (via Cheat Sheet and Daily Mail). Could she really have known so little about the royals when she was photographed holding this magazine four years prior to saying "I do" to a prominent member of the monarchy?
What people are saying about Meghan Markle's photo with the magazine cover
As the Daily Mail reports, Markle posed with the editor of the magazine seen in the photo because she had contributed a piece to the issue featuring Middleton.
While many might simply see the image as ironic given the future path Markle would take, marrying Harry, and famously, engaging in a headline-making feud with Middleton over a flower girl dress which made at least one of them cry, Twitter has more to say about the resurfaced pic.
"She Knew Who Harry Was!" tweeted one person after seeing the image. Another Twitter user went as far as to call Markle a "liar." Someone else even accused her of stalking the royals for years before marrying Harry. 
It's worth noting many tweets simply see the photo as a coincidence, and feel it does not prove anything, nor does it contradict Markle's claims from the interview.