The Surprising Role Meghan And Harry's Baby May Play In Their Rift With The Royal Family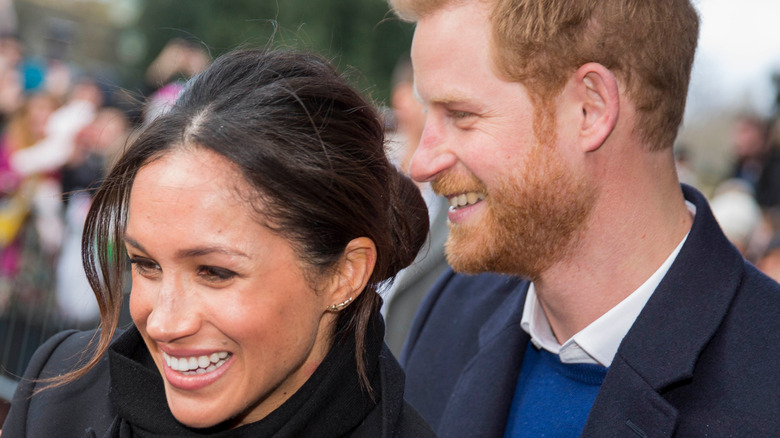 Shutterstock
The bad blood between Prince Harry and his family has been going on for more than a year. Initiated by Harry and Meghan Markle's decision to step back from their royal duties – then exacerbated by the bombshell Oprah interview – the feud has polarized people around the globe. ("Are you Team William or Team Harry?") The brothers' brief reunion at Prince Philip's funeral was like watching an awkward holiday dinner where everyone wonders who'll be the first to say something triggering after a few drinks, and ruin the whole day.
Over the past few months, experts have been predicting how – or if – the brothers will finally mend fences. There's talk that their appearance at the unveiling of the new Princess Diana statue this summer might help reopen the dialogue – or then again, it might not. The fact that William and Harry will be giving separate speeches has some concerned that they "won't present a united front" (via Page Six). 
Still, there may be reason to hope. One royals' watcher believes that healing might come in the form of a family member who hasn't even appeared on the scene yet.
The new baby may ease the royal family's hard feelings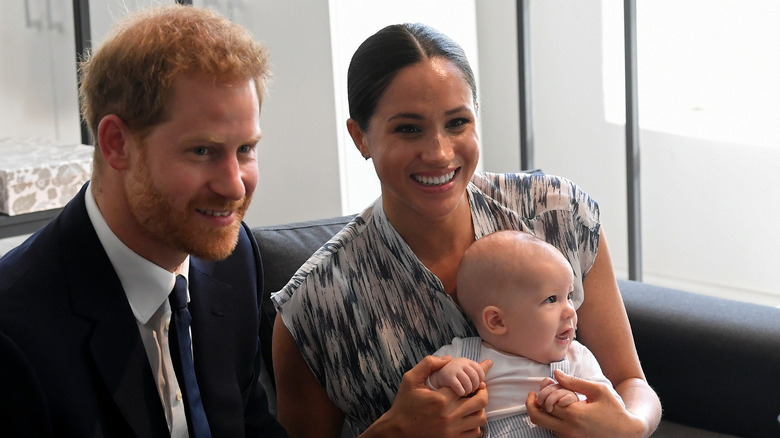 Pool/Getty Images
The Duke and Duchess of Sussex are happily anticipating the upcoming birth of their second child, a girl. The new daughter will be a little sister for big brother Archie, who just turned 2, as well as a "rainbow baby" — the term for a child born following a previous miscarriage. Meghan revealed in a heartbreaking essay that she had lost a pregnancy in the summer of 2020. Nick Bullen, the editor-in-chief/cofounder of True Royalty TV, told Us Weekly that the new arrival may be just what it takes to ease the tensions between the Sussexes and the other royals.
"The birth of a baby is always a great unifier for a family, and I'm sure all sides of the Sussex family will want to celebrate with Harry and Meghan," Bullen said. "I think you can be absolutely certain that Harry and Meghan will be jumping on a Zoom call to introduce Her Majesty to her 11th great-grandchild."
The arrival of the newest Mountbatten-Windsor child may provide another opportunity for the family to meet in person. As "Today" reports, it's possible that Harry and Meghan will make the trip across the pond with their family to have their daughter christened at the same Windsor Castle chapel where Archie had his ceremony. Or, if they opt to have the christening closer to their California home, they could invite Harry's dad Prince Charles, William and other family members to join them (depending on pandemic protocol).
In the end, the brothers may decide that allowing their children to enjoy a close relationship with their uncles and cousins is more important than holding a family grudge.