Did Prince Charles Once Make Similar Claims About His Childhood As Prince Harry?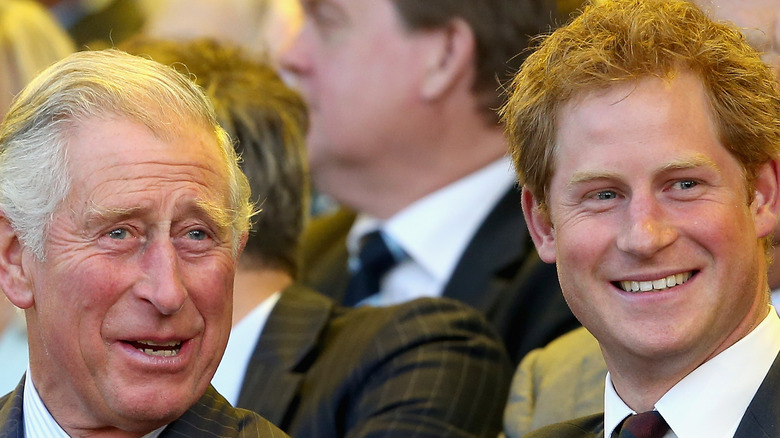 Chris Jackson/Getty Images
The impacts of Prince Harry and Meghan Markle's ground-breaking interview with Oprah Winfrey are still being felt, but the Duke of Sussex has managed to generate even more headlines with another frank chat on the "Armchair Expert" podcast. As Town & Country noted, the royal defector enjoyed a lengthy discussion with hosts Dax Shepard and Monica Padman, during which they talked about everything from mental health to growing up royal and, naturally, Harry's upcoming Apple TV+ series. The biggest talking point, without a doubt, was the Duke of Sussex's comments about his family and in particular his father, Prince Charles.
According to Harry, there was some generational trauma endured by his father that was then passed on to him, which is something he's working hard not to pass on to his own children. "There's a lot of genetic pain and suffering that gets passed on anyway, as parents we should be doing the most that we can to try and say, 'You know what that happened to me, I'm going to make sure that doesn't happen to you,'" he said while on Shepard's podcast. Harry previously told Winfrey that his father stopped taking his calls, and it is unlikely Charles will be happy with these latest comments about their private family life. However, according to royal experts, Charles really is not one to judge.
The Prince of Wales discussed his difficult upbringing in the 1990s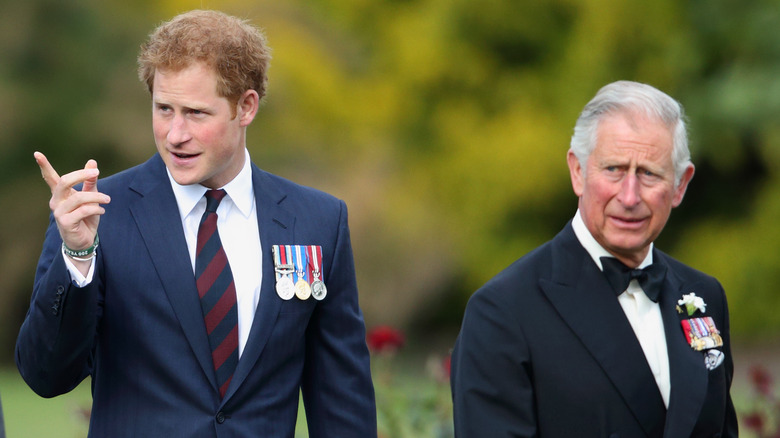 Max Mumby/indigo/Getty Images
According to the The Telegraph, Prince Charles previously detailed his own difficult time being brought up in the royal family in a 1994 biography. Sources close to Prince Harry are pointing out, in response to massive backlash from the palace, that Charles' tough childhood was discussed at length in Jonathan Dimbleby's "The Prince of Wales: A Biography." His unhappy marriage to Princess Diana was also laid bare, among other things. The book was created in conjunction with Charles, who sat down for extensive interviews with his biographer, giving Dimbleby unprecedented access into his life. As the Daily Mail noted, royal aides reacted negatively to Harry's latest comments, referring to his "woeful lack of compassion" for his own family. But what they may have failed to realize is that Charles aired his frustrations some years ago, categorizing his childhood (per Dimbleby) as "unhappy." 
Despite the parallels between father and son, there's reportedly a growing sense of "bewilderment and betrayal" within the family over what are being taken as consistent, underhanded attacks on them by Harry. There are even calls for the Duke and Duchess of Sussex to give up their titles. Harry claimed that he and Meghan Markle moved to the United States to make a new life for themselves and "break the cycle" of generational trauma he'd endured while growing up in England. As a result, as royal expert Katie Nicholl explained to Entertainment Tonight, "A lot of people here think Prince Harry has overstepped a mark in talking so personally about his father, and his relationship with his father, in what most people have interpreted to be quite a critical way."