Here's How To Choose The Right Olaplex Number For You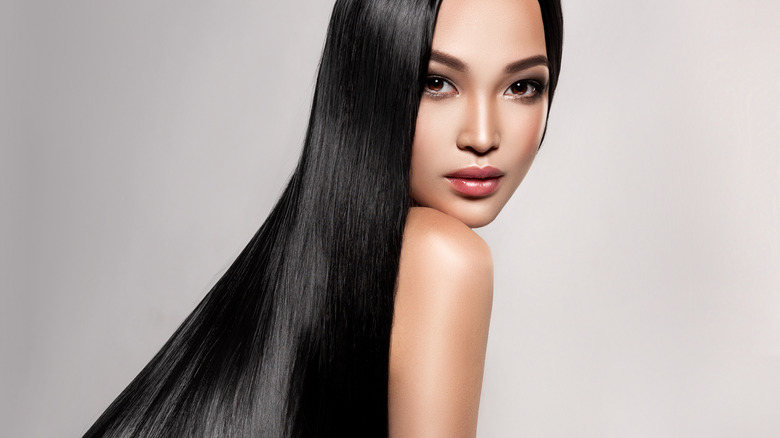 Shutterstock
Finding the right hair routine can be a struggle, but fan-favorite product line Olaplex has developed a step-by-step system designed specifically to repair your strands and give you the best hair of your life (via Marie Claire). While every product in the line may not be necessary for everyone, you will likely find a product or two that works exceptionally well for you upon testing out these products. With the ability to repair damage from thermal, chemical, mechanical, and environmental factors (via Olaplex), there's no doubt that each step in the Olaplex system does wonders for your follicles. It's hard not to want to fill your medicine cabinet with all of the bottles and treat your locks to the full process night after night.
However, with each product carrying a price tag over $25, you might be able to save a few dollars by figuring out which ones will do the most work for your specific hair. So, what does each step do?
Olaplex No. 0-3 and when to use them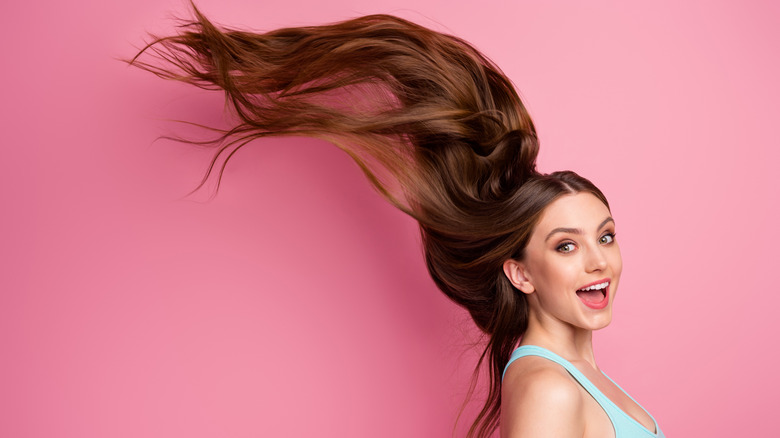 Shutterstock
The process begins with No. 0, which acts as a primer for the restorative process. Engineered to repair and strengthen (via Olaplex), step 0 is a great starting point for any hair type. Olaplex No. 1 and No. 2 are intensive treatments reserved for professional use, so you won't find them in stores. Olaplex No. 1 is designed to alleviate the harsh effects of color treating hair, so it's recommended to have it added to the dye directly if you're frequenting the salon to change up your color. Post color treatment, Olaplex No. 2 acts as the perfect follow up to keep your hair looking sleek and healthy (via Samantha Cusick London).
Once the initial steps are complete at the salon, Olaplex No. 3 can be done at home following Olaplex No. 0 as a cohesive treatment, so if you've added No. 0 to your collection, you should definitely add No. 3 (via Olaplex). Olaplex No. 3 is the brand's bestseller, and for good reason. If you're going to add Olaplex to your routine, using these two products 1-3 times a week before washing in conjunction with each other will make a world of difference for your locks.
The wash: Olaplex No. 4 and 5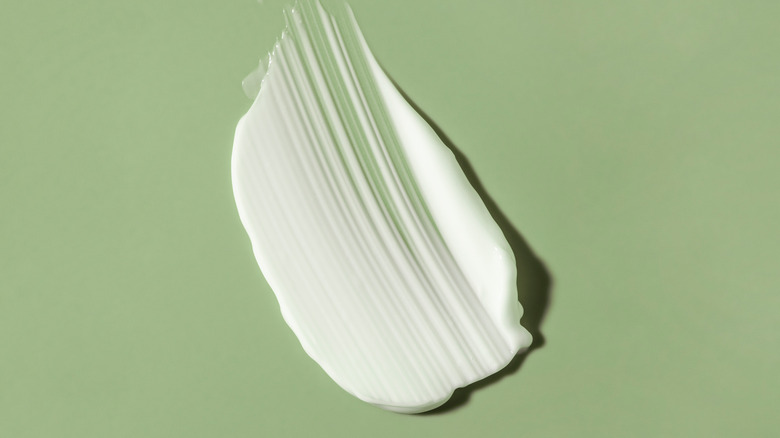 Shutterstock
If you haven't quite found the shampoo and conditioner of your dreams, then Olaplex No. 4 and 5 will be perfect for you. Olaplex products are designed to work well with all hair types to prevent breakage (via Glamour UK), and this shampoo and conditioner duo can be a treat for your hair no matter what your texture, length, or color is.
The shampoo, Olaplex No. 4, provides your hair with a gentle wash before you move on to Olaplex No. 5. The formula is designed to repair bonds, and if you struggle with frizzy hair and split ends, you'll notice the difference that No. 4 makes after a few washes (via Olaplex).
Conditioning your hair is such an important step in the washing process, and some conditioners can leave your locks with a heavy feeling, but that's not the case for Olaplex No. 5. This lightweight and hardworking conditioner continues the work of No. 4 by adding hydration and leaving your hair looking shiny and feeling healthy (via Samantha Cusick London).
The finishing touches: Olaplex No. 6 and 7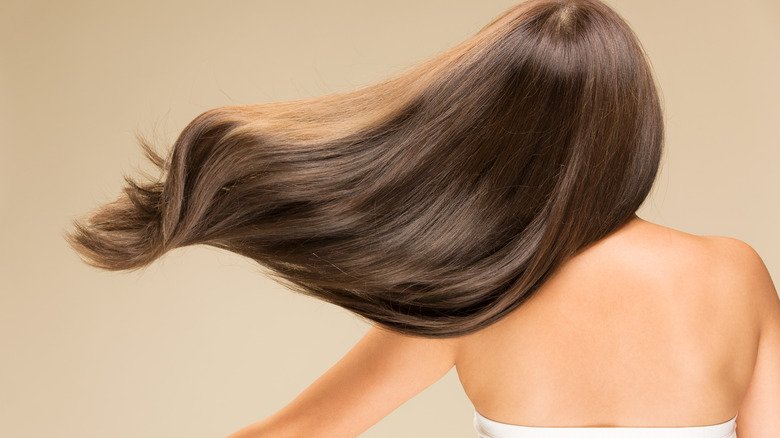 Shutterstock
Once you step out of the shower, you might think you're done tending to your hair. If you've added Olaplex No. 6 and No. 7 to your beauty stash, you're going to want to spend some time applying those while your hair is still wet. Samantha Cusick London even notes that these products can be mixed together as a beauty cocktail of sorts to apply to your hair prior to styling in addition to individual application. These two steps are the ultimate defense against frizz and flyaways, so if you're struggling with unruly hair then these are the steps for you.
Olaplex No. 6 continues the work of No. 5 by battling frizz and adding moisture to hair. According to the Olaplex website, you'll reap the benefits for up to 72 hours.
Once you've applied No. 6, you can finish with the No. 7 for the ultimate glossy sheen. As an added bonus, Samantha Cusick London notes that it has heat protectant qualities against temperatures up to 450 degrees Fahrenheit.
A new addition to the process: No. 8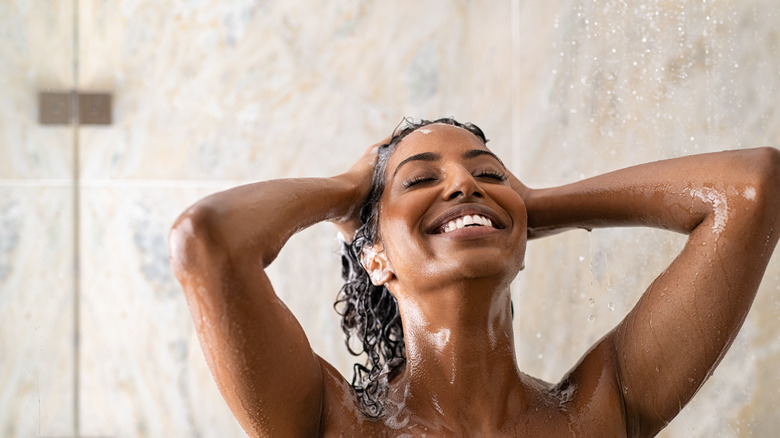 Shutterstock
Recently, Olaplex added a new product to their line of beauty superheroes. Olaplex No. 8 Bond Intense Moisture Mask is a reparative treatment developed by the brand, with a plethora of new ingredients normally reserved for skincare. Things like acid mantle-boosting VIPs hyaluronic acid and ceramides boost the restorative power of this product, making it super effective and concentrated (via Refinery 29). This new kid on the block is perfect for when you want to treat your hair to a little extra care and feel your absolute best after a wash.
Truthfully, you can't go with any Olaplex products. With stars like Kylie Jenner, Kim Kardashian, and Drew Barrymore swearing by these staples (via People), you can trust that you're getting a ton of bang for your buck when you add Olaplex to your routine. While the whole product line is amazing for hair, you can cut the costs by focusing on separate issues like repairing damage or fighting frizz. We can all use a bit of restorative power for our hair, and Olaplex delivers.