The Sweet Tradition Meghan And Harry Follow On Their Anniversaries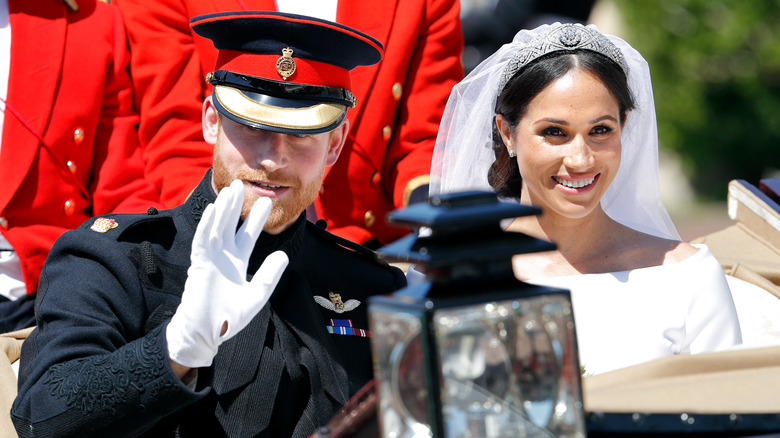 Max Mumby/indigo/Getty Images
The Duke and Duchess of Sussex are celebrating their third wedding anniversary this May and have a gift-giving tradition they've held close for years. According to People, the royal duo tries to switch things up every May 19th and give one another personalized, thoughtful gifts. To celebrate their first year of marriage, Meghan gave her husband a printed, framed copy of their wedding speech because the theme that year was paper. The outlet notes that her husband also gifted her an eternity wedding band partly designed by the Prince himself that year. A few weeks prior to their first anniversary, the two had welcomed their first child, Archie.
For year two, the couple opted for cotton gifts. Stoking their creative fires, Prince Harry and Meghan start new traditions every year as a way to show one another their commitment and love of one another. As for the reason behind cotton for their second anniversary, it appears to be heavily symbolic, with the outlet citing The Knot. "Cotton's woven threads symbolize how you become more interconnected as time goes on and learn to be more flexible," the website reads.
This year, the Duchess is pregnant with the pair's second child, so their celebration will likely be more low-key. Nonetheless, their gift-giving trend continues as the pair exchanges leather mementos — a symbol of a material that improves over time.
Prince Harry and Meghan Markle made an announcement on their anniversary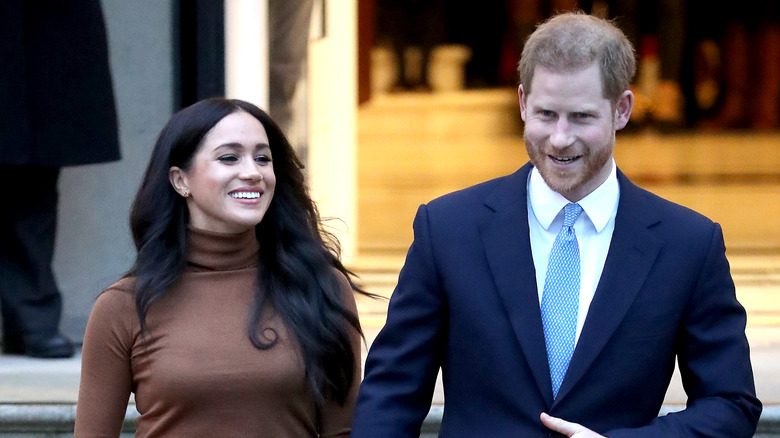 Chris Jackson/Getty Images
Beyond their private celebrations, Prince Harry and Meghan Markle are also continuing with their work following their step back from their positions as senior working royals. Hello! reports that the pair's Archewell Foundation is announcing its support program for India as it recovers from its COVID-19 crisis. Building a new center in Mumbai, India that aims to serve the community, the new project is working in partnership with World Central Kitchen.
Since the pair moved to Montecito, California, their lives look quite different from their previous anniversaries. After celebrating their son Archie's second birthday, the Sussexes donated 200 beanies to the New Zealand-based nonprofit, Make Give Live, in their son's name. People shares that the organization posted to social media in thanks, captioning their video, "Thank you Harry & Meghan, Duke & Duchess of Sussex, and of course, Archie for the generous donation of these 200 beanies to your friends on the other side of the world in NZ."
A favorite charity of the couples, Make Give Live received a gift from the Sussexes for the holidays as well, the outlet reports. Time will tell if they donate even more for their anniversary.
Take note, couples of the world, using symbolic gifts is a fun, royal way to connect with your spouse!