The Music Icon Who Helped Start Andra Day's Career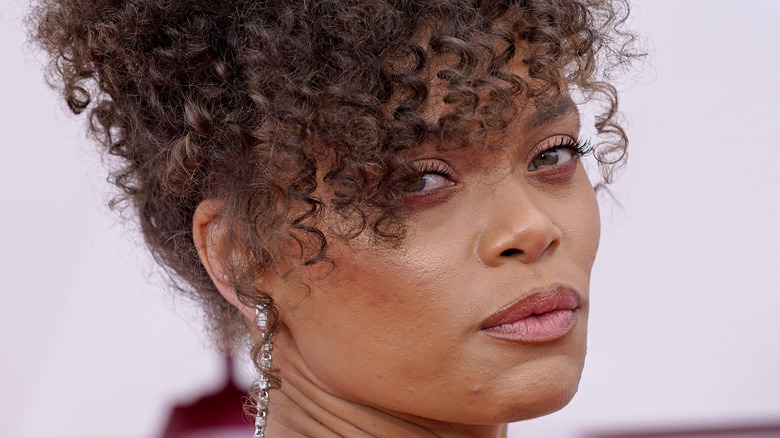 Pool/Getty Images
Singer-turned-actress Andra Day has been getting a lot of attention lately for her role as jazz icon Billie Holiday. in the Hulu original movie, "The United States vs Billie Holiday." In the bio pic, Day embodies all of Holiday, especially her brassy voice. The film follows Holiday during her career as she is targeted by the Federal Bureau of Narcotics with an undercover sting operation led by Black Federal Agent Jimmy Fletcher, with whom she had a tumultuous affair.
Day, born Cassandra Monique Batie, grew up singing contemporary Christian music in church. At age 11, upon hearing Billie Holiday heartbreaking song "Strange Fruit" for the first time, she became entranced by both the song and singer. 
She recalls to Variety, "Prostrating before the speaker, just listening. It was scary and I just felt overwhelming sadness." Even though Day has received rave reviews for her portrayal as Holiday for the screen, once production wrapped, she felt as though she would never act again.
Here's why Andra wanted to quit acting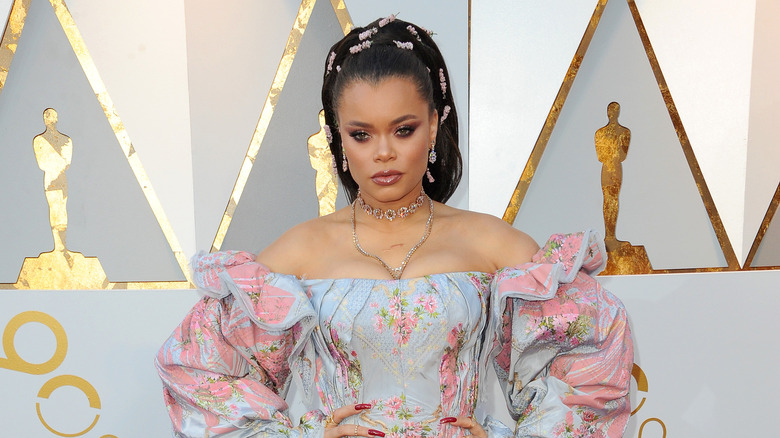 Shutterstock
The Golden Globe winner went through a rigid and almost damaging method acting transformation to slip into Billie Holiday's mindset. Andra Day took up smoking cigarettes, drinking alcohol, and forcibly dropped a whopping 39 pounds all to become the jazz icon. 
Day told The Source, "I thought I was gonna retire after this movie from acting because I thought, 'This s*** is too deep.' I've always loved actors and always had respect for them, but now I have a whole new respect for them and how deep they have to go." 
Despite the intensity of the experience, Day told People she'd likely act again if the part is right. "The reality is, if I'm agreeing to do roles, it has to grab me, the way Billie grabbed me," she explained. "And I don't mean like being intrigued, meaning my spirit has to be sort of be called out to it. Because that's really what Billie was."
Andra was just singing at the mall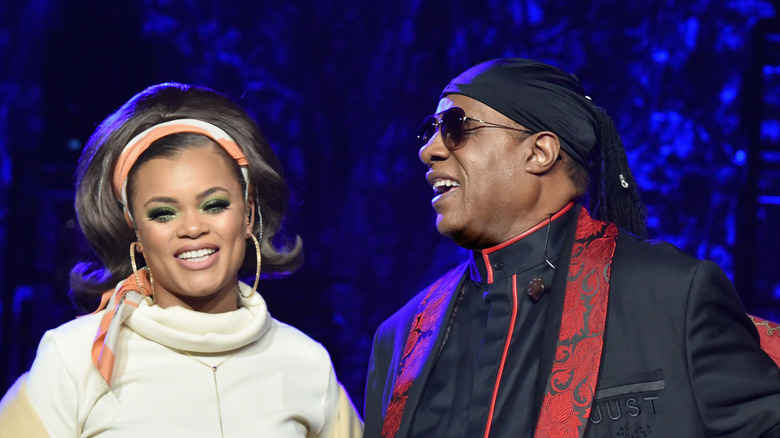 Lester Cohen/Getty Images
Now entering a new season of stardom, Andra Day's journey really began after graduating from San Diego School of Creative and Performing Arts in Paradise Hills, CA. While performing at a strip mall, Stevie Wonder's then-wife, Kai Millard, noticed Day performing and brought her to the attention of her husband. 
Wonder introduced Day to producer Adrian Gurvitz, who signed her to his production company Buskin. Day's earlier fan base got to know her from her series of popular YouTube covers such as Muse's "Uprising," Eminem's "Lose Yourself," and a mashup of Lauryn Hill's "Doo Wop (That Thing)" and Amy Winehouse's "He Can Only Hold Her." Those videos got the attention of Warner Bros. Records', leading to a contract and the release of her debut album "Cheers to the Fall," (via Rolling Stone).
The deeply soulful R&B singer can now lay claim to two albums, several EPs, and a pair of Grammy nominations, including for the song "Rise Up," which also became an unofficial anthem for the Black Lives Matter Movement in 2017, (via InStyle). We are eager to see how Day will gift her with her next form of self expression.