The Evolution Of Julia Roberts' Hair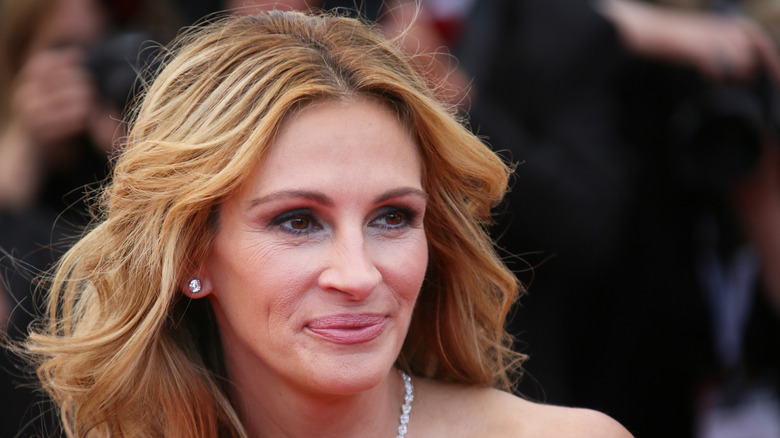 Kypros/Getty
Most "Pretty Woman" enthusiasts remember Julia Roberts as the fashion icon of the '80s and '90s. At the time, the budding actor was well-known for her bold and casual outfit choices, from high-waisted jeans and blazers to pantsuit dresses and pantyhose, via Vogue. Perhaps even more iconic was her hair.
In 1989, a young Roberts attended the "Steel Magnolias" benefit premiere in New York City and chose to wear her hair naturally curly, as W Magazine remembers. Her wild, auburn curls drew plenty of attention and fit her character perfectly in "Pretty Woman." And in 1990, when Roberts won a Golden Globe for her role in "Steel Magnolias," she wore her hair the same way and paired it with the famously oversized Giorgio Armani pantsuit, per HelloGiggles. It soon became difficult to recognize Roberts without her signature hair.
However, Roberts was not one to maintain the same hairstyle for long. In 1991, she appeared at the Golden Globe Awards with a freshly chopped do. As noted by W Magazine, her bob-like style featured tousled waves, giving her a perfectly windswept look. From there, Roberts' hair changes seemed to be endless.
Julia Roberts went through a wide variety of hairstyles before settling on beach waves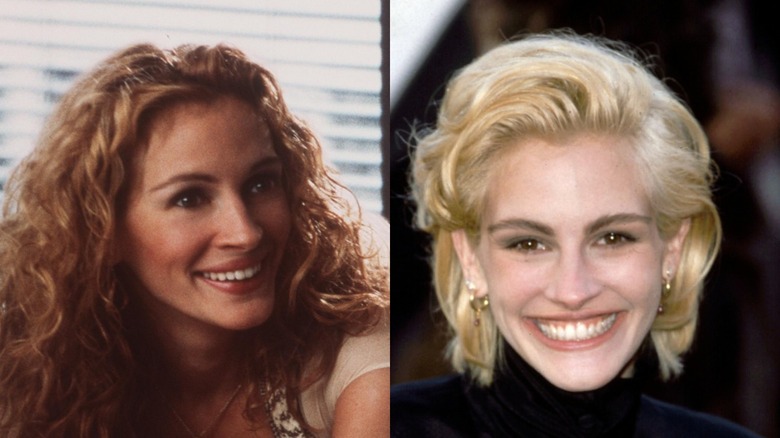 Shutterstock
Throughout the '90s, Julia Roberts tried a wide variety of hairstyles. The actor stunned fans in 1991 when she went to the Oscars with a bleached blonde bob, characteristic of Marilyn Monroe, via Refinery29. As told by W Magazine, she came back with another surprise in 1995 when she opted for a shoulder-length, straight, and lightly-layered cut featuring side-swept front bangs. Only a few years later, she changed up her style again at the premiere of the film "Red Corner" in New York City. This time, Roberts had a silvery-golden bob with soft curls at the bottom and full bangs.
In the late nineties, Roberts grew out her hair and returned to a much darker hair shade, per W Magazine. At the 2001 Academy Awards, during which she won an Oscar for Best Actress in "Erin Brokovich," Roberts had her dark tresses styled in a straight, sleek updo, via Vanity Fair. In the 2000s, however, Refinery29 reports that she decided to lighten her strands to a strawberry blonde tone, which seems to have become her favorite over the years. Nowadays, the actor typically opts for a middle part and beachy waves, per Headcurve. Though Roberts changes her style slightly from time to time, nothing compares to the drastic hair shifts that mark her early career.