How Pink Really Felt About Shooting A Music Video With Carey Hart While Separated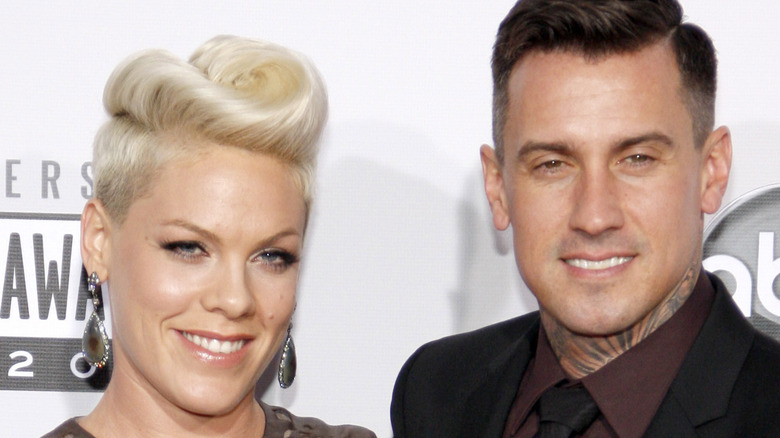 Shutterstock
"So What," the pop rock anthem of 2009, still gets a lot of attention for one interesting detail. Pink and her husband, Carey Hart, separated up in 2008 after two years of marriage, and "So What" was inspired by the breakup, via US Weekly. However, Hart still appeared in the music video. Pink sings the words to him in several scenes, including the lines, "you weren't there, you never were/ you want it all but that's not fair" (via YouTube).
Many fans have wondered how Pink and Hart handled being on set together while they were separated. In an interview with ET Canada, Pink opened up about the experience, and whether she has ever had to explain her lyrics to Hart. "I don't really explain it to him. I don't think he's actually listening," Pink said with a wry smile. "I don't think he's heard a single word I've said in 16 years." Upon further reflection, the singer added, "You know, I kind of wish he did pay more attention to the lyrics."
From there, Pink launched into an explanation of the music video for "So What" and how she avoided playing the most insulting lyrics to Hart. "We were broken up and he came to do the 'So What' video, and I didn't want him to know I was calling him a tool. 'Cause I thought maybe he'd leave," Pink began. She then decided to have a private discussion with the director, Dave Meyers.
Pink hid the lyrics of 'So What' from husband Carey Hart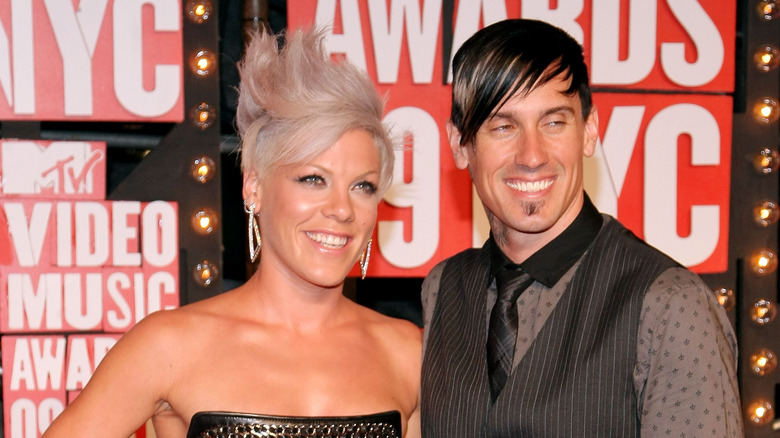 Michael Loccisano/Getty Images
During her interview with ET Canada, Pink admitted that she recruited Dave Meyers to help her keep the lyrics of "So What" from her then-estranged husband, Carey Hart. "I was like, 'Dave, play line three, then skip to line five. Definitely do not play line 10.' He's like, 'Uh, you want to do this piecemeal?' And I was like, 'We have to, because [Carey] can't know all these names I'm calling him,'" Pink laughed. "So, that was one time I thought he might be paying attention," she added, in reference to her earlier comment that Hart never listened to her lyrics.
Many fans have argued that the "So What" music video is a testament to Pink's strength. Indeed, the pop singer confirmed in 2010 that she reconciled with Hart after the separation. The couple has stayed together ever since and share two children, Willow and Jameson, via US Weekly.
In her ET Canada interview, Pink alluded to the fact that she sees herself as being with Hart forever. "I have a lot of friends that jump from relationship to relationship to relationship, because they love the butterflies," she said. "They want it to be new. And I understand that. I get that ... But for me, I'm a creature of habit. I love looking at my history in the face of [Carey]. And when he says, 'Remember that one time?' and it's like, a 12-year-ago memory, I love that."