The Truth About Demi Lovato And Ariana Grande's Friendship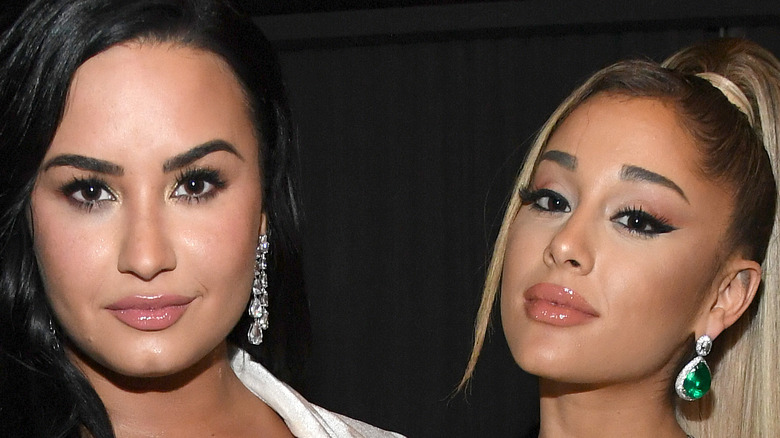 Kevin Mazur/Getty Images
Pop superstars Demi Lovato and Ariana Grande may only have recently become music co-collaborators, but it turns out that they've long been close friends, too!
The two powerhouse vocalists recently teamed up for a new duet called "Met Him Last Night," off of Lovato's latest album "Dancing With The Devil ... The Art of Starting Over" — and there's no doubt that the pop track has already become one of the year's greatest duets. Speaking about the collaboration with Sirius XM's "The Morning Mash Up" in April 2021, Lovato revealed that Grande had written the song specifically for them after getting to hear Lovato's album in 2019 (via Billboard).
"She's a close friend of mine, so she knew my story pretty well," Lovato — who just made a big personal announcement — shared. "And so when she started writing this song, she actually thought about me and ... she wrote the song with me in mind, and then she played it for me. And I was like, 'I love it. Like, you should just stay on the track.'"
While Grande — who recently got married in a secret wedding — reportedly offered to stay in the background as a "mystery, harmony lady," Lovato insisted that the songwriter be featured on the song. "And so she added her vocals and she's just so talented, so great. I'm so grateful to have a friend like her," Lovato said.
Demi Lovato and Ariana Grande have been close friends for a long time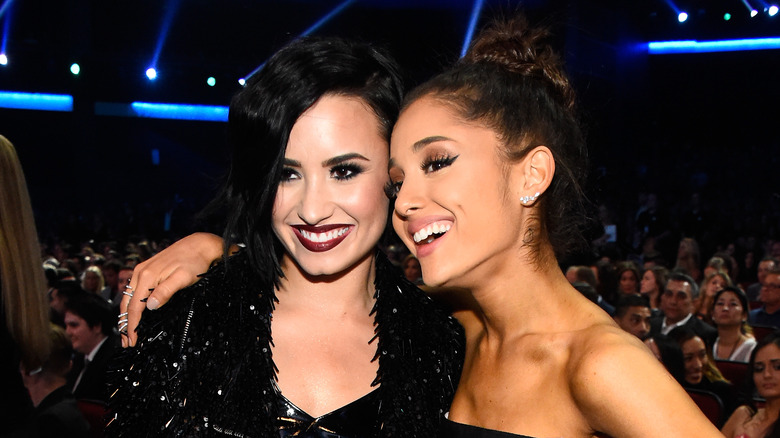 Frazer Harrison/ama2015/Getty Images
So how long have these two pop stars been so close? According to Elite Daily, the timeline of their friendship dates all the way back to 2011, when Ariana Grande welcomed Demi Lovato back to social media with a message on Twitter. Since then, the two have had even more sweet interactions on social media and have often spoken out in their support for each other over the years — with Lovato even spending their 27th birthday at Grande's "Sweetener" tour in 2019, per Billboard.
Now, of course, the pair have become collaborators in addition to longtime friends. Following the release of "Met Him Last Night," Lovato opened up about their friendship with Grande during a TikTok "Headstream" segment in April, addressing the fact that fans have given the pop star duo a sweet friendship nickname, "Dariana" (via Teen Vogue).
"It's nice to see my name mashed up with someone else's who's gonna be a friend forever," Lovato shared. "[Sometimes] my name's been mixed up with people that are no longer in my life and that makes me sad, but I know Ariana is one that's always gonna be there. I love 'Dariana.'"
We're definitely a fan of "Dariana" too — and our fingers are crossed for even more BFF collaborations in the future!