The Truth About Demi Lovato And Ariana Grande's Duet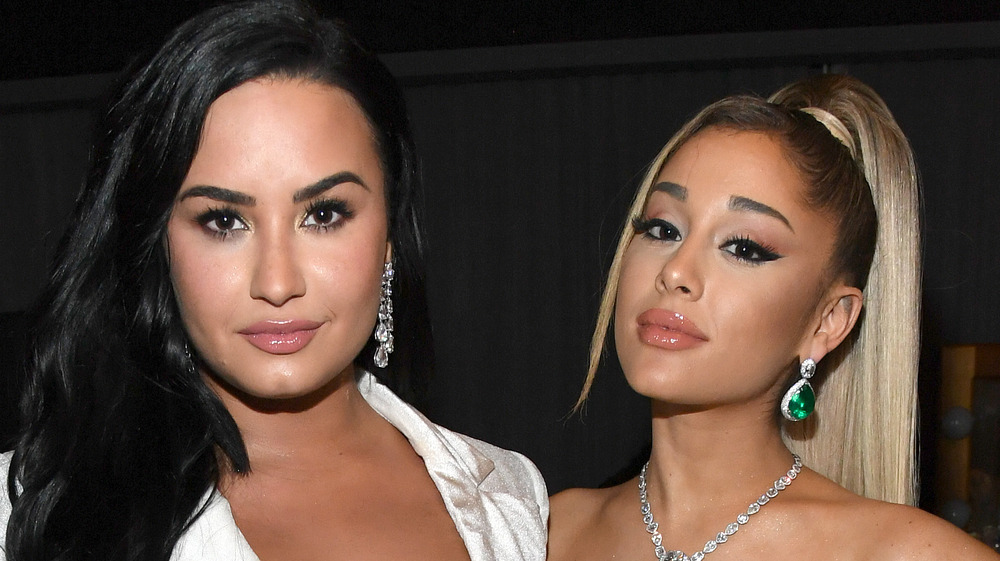 Kevin Mazur/Getty Images
Demi Lovato's highly anticipated new album, Dancing With the Devil ... The Art of Starting Over, dropped on Friday, April 2, and fans and fellow celebs alike can't get enough of the former Camp Rock star's seventh full-length studio release. The album, which boasts a whopping 19 tracks and features some of music's biggest artists — like Noah Cyrus, Saweetie, and Sam Fischer — also features Lovato's "really good friend," vocal powerhouse Ariana Grande. In an interview with YouTube's Released, Lovato — whose four-part documentary Demi Lovato: Dancing With the Devil premiered on YouTube in March — opened up about her collaboration with Grande.
"I played her 'Dancing With the Devil' and she was really, really excited about that and she came up with this concept ... And when she played it for me, I was like 'Oh my gosh, yes, absolutely! I would love to do this,'" Lovato said of their track (via People), adding, "I was so excited to get to work with her and we had so much fun singing together." In an interview with SiriusXM's The Morning Mash Up, Lovato noted that Grande "began working on what would become 'Met Him Last Night'" with Lovato in mind," per Rolling Stone. Ariana Grande at first suggested she'd stay in the background — "No, no, I'll be like mystery, harmony lady" — but Demi Lovato insisted on a duet.
Demi Lovato and Ariana Grande's track was well-received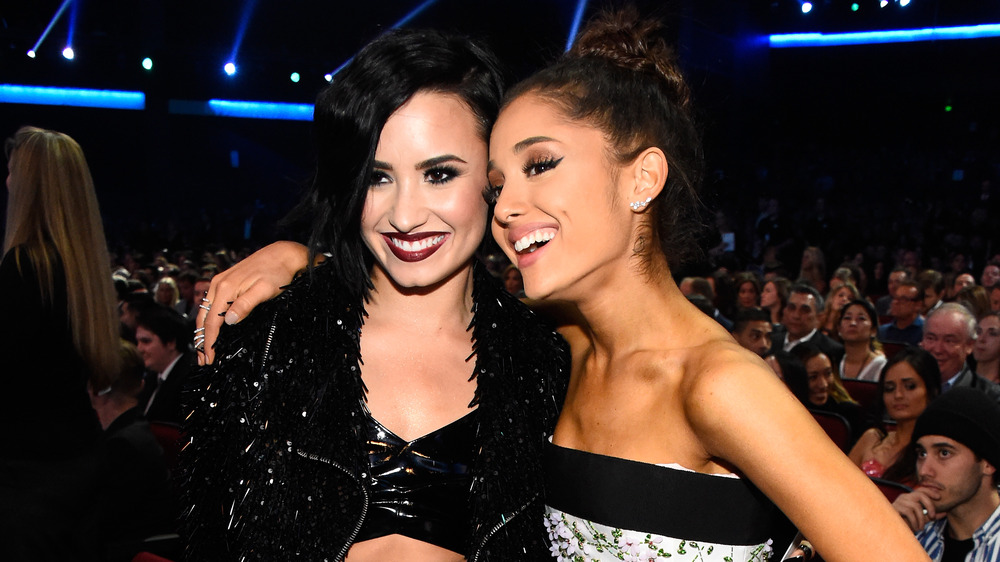 Frazer Harrison/ama2015/Getty Images
Hours after Dancing With the Devil dropped, "Met Him Last Night" topped the iTunes Top 10 list (via KWORB), and fans of the A-listers jumped on social media to sing their praises for the duo's collab. "Yo I've been saying Ariana Grande and Demi Lovato should do a song together forever [pleading face emoji] goddesses. They really delivered damn," one Twitter user wrote, while another tweeted, "Demi Lovato's new album is GORGEOUS [butterfly, sparkles emojis] I had missed her music so much! THE ACOUSTIC GUITAR [crying face emoji] Met Him Last Night with Ariana Grande is heavenly and Easy with Noah Cyrus is pure magic [heart, rainbow emoji] Congrats Demi, so much love for you."
In a 2020 interview with Harper's Bazaar, Lovato opened up about her friendship with Grande. The two have reportedly been friends since 2013 after they performed at Wango Tango. "I love the fact that Ariana and I have such a supportive friendship because it's hard to find," she said, adding that although she and Grande are two of the most sought-after and talented artists in the business, they've never tried to compete with one another. "Two women who are in a competitive industry — the whole world seems to want to pit women against each other, so it would be so easy to do that."