These Are The Exact Lip Colors Rachel Wore On Friends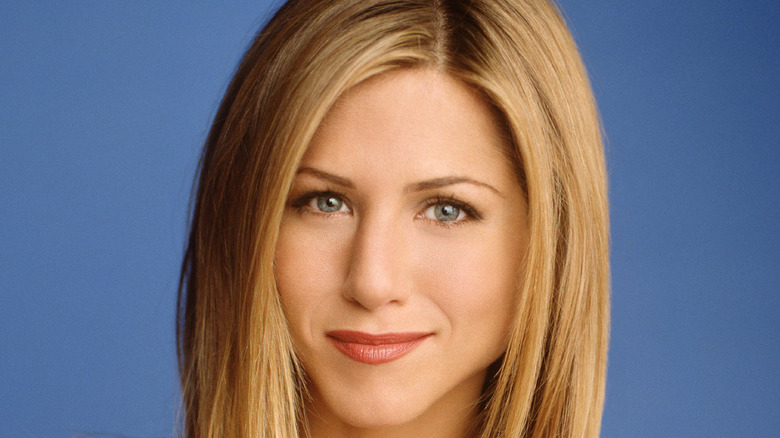 Getty Images/Getty Images
The international hit sitcom "Friends" may have concluded an astounding seventeen years ago already, according to IMDb, but we're still learning new information about the series. TikTok user @laucapon, a beauty journalist named Laura, interviewed the series' head makeup artist, Robin Siegel, and took to the short form video platform to share her newfound knowledge. In this interview, she gathered information about products used to bring some of the characters to life.
During her interview with Robin Siegel, Laura was able to discover exactly which lip products were used on Jennifer Aniston for her transformation into Rachel Green. According to Siegel and Laura, Jennifer Aniston wore MAC's Spice lip liner on the series. MAC's website describes this color as a "pink cinnamon stick," and it's the perfect color if you want a shade of pink that's also going to warm your lips and create depth and definition. This lip liner retails for $18 on MAC's website.
These are the lipsticks used to make Rachel Green
In addition to the Spice lip liner, Laura was able to uncover which lipsticks were used on Aniston. The beauty journalist revealed this in two separate TikTok videos, each dedicated to a different lipstick worn by the actress. In one video, Laura revealed that Rachel Green typically wore MAC's Touch lipstick. This product is a warm neutral with peachy undertones, and it compliments the lip liner in shade Spice brilliantly. The two together warm the face and create Rachel Green's signature look. It's one of those combinations that could warm the face even if they were the only makeup you had on that day. MAC's Touch lipstick retails for $19.
Laura also revealed the second lipstick that was often used on Aniston (via TikTok). This one is MAC's Paramount lipstick, and it's considerably darker than the shade Touch. If Touch provided a warm look, Paramount provided a hot one. Like Touch, Paramount retails for $19.
Both of these lipsticks and the lip liner come in a wide variety of shades, so they're worth checking out whether you want to appear exactly as Rachel Green or find your own go-to lip products.