The Truth About Yoko Ono's Marriages Before John Lennon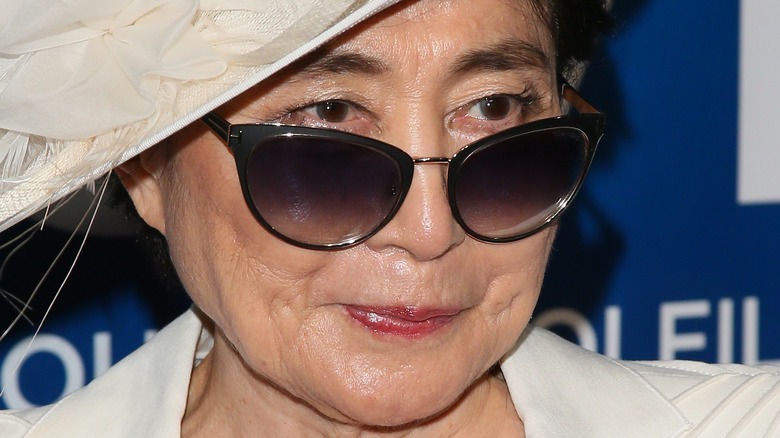 Jb Lacroix/Getty Images
Yoko Ono was the focus of intense interest after her marriage to John Lennon in March of 1969. The artist and activist was known as a member of the avant-garde movement when she came to London in 1966, where she began making films. At the time, Yoko was a married woman when she met John Lennon. The Beatles guitarist attended a showing of her work in November of that same year at the Indica Gallery in London. She was preparing her conceptual art exhibit, and gallery owner John Dunbar introduced them. She piqued John's interest after he climbed a ladder, picked up a magnifying glass, and read one word on a piece of paper, "yes."
The two became inseparable not long after that, all while John was married to his first wife, Cynthia Lennon, the mother of his son Julian. Yoko was a married woman as well, but their desire for one another drew them together. For the first time, each found a person who appeared to be in sync with what they thought and believed. Together, John and Yoko began a personal and professional partnership that lasted until his assassination in December of 1980. Before John, Yoko Ono was married to two other equally creative men. 
What is the truth about Yoko's marriages before John Lennon? There's a lot you don't know.
Yoko's first husband was Toshi Ichiyanagi
After surviving the bombing of Tokyo and the great fire raid of 1945, Yoko's family endured some desperate times when the former upper-crust clan feared for their lives and had to beg for food. The family left Tokyo and moved to Scarsdale, New York, where Yoko enrolled as a student at Sarah Lawrence College in Manhattan in 1953. After immersing herself in the art world of Manhattan, Yoko met and married composer Toshi Ichiyanagi in 1956 (via Stanford.edu). Alongside Toshi, Yoko created something called "instructional art," which utilized others as part of a new creation. She began with something called "Painting to Be Stepped On," where she lay an empty canvas on the ground and allowed others to step all over it. She and Toshi worked with La Monte Young to create what they called "loft events" that created a buzz (via Stanford.edu).
Yoko and Toshi's marriage would end in 1962. Yoko attempted suicide, and her family committed her to a mental institution (via NNDB). While in the hospital, Yoko would meet another man who would change her life in more ways than one.
Yoko's second husband was Anthony Cox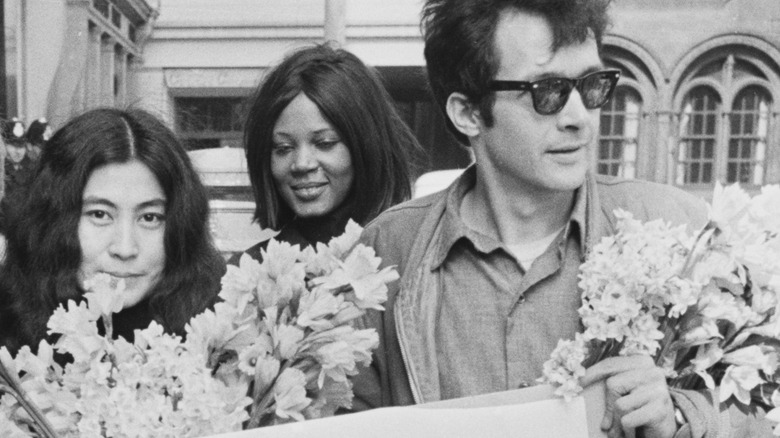 Larry Ellis/Getty Images
While in the hospital, Yoko met jazz musician Anthony Cox. The year was 1961, and Tony had become interested in some of Yoko's avant-garde art pieces. He was so enamored by her work that he tracked her down at the hospital where she was being held and helped get her released (via People). The couple married in 1962, and their only daughter Kyoko was born in 1963. Cox claimed he tended to their daughter while Yoko immersed herself in her work. "That was part of something that Yoko felt very strongly about," says Cox, "that if she had kids, the husband should help take care of them. I agreed to it before the marriage," Tony said to People. The couple moved to London in the late 1960s, and shortly after that, Yoko met John Lennon. Within three years, she and Tony divorced.
Unfortunately, the couple would find themselves embroiled in a bitter custody battle that would drag on for some time after their split. Yoko won custody of their daughter, and Tony, fearful of John's influence over his child, kidnapped his daughter and fled. Tony raised Kyoko in a Christian cult called The Walk and did not let Kyoko contact her mother (via NNDB). Kyoko and her mother didn't reunite until 1994.
If you or anyone you know is having suicidal thoughts, please call the National Suicide Prevention Lifeline​ at​ 1-800-273-TALK (8255)​.