Why Miley Cyrus Got A Yoko Ono Inspired Tattoo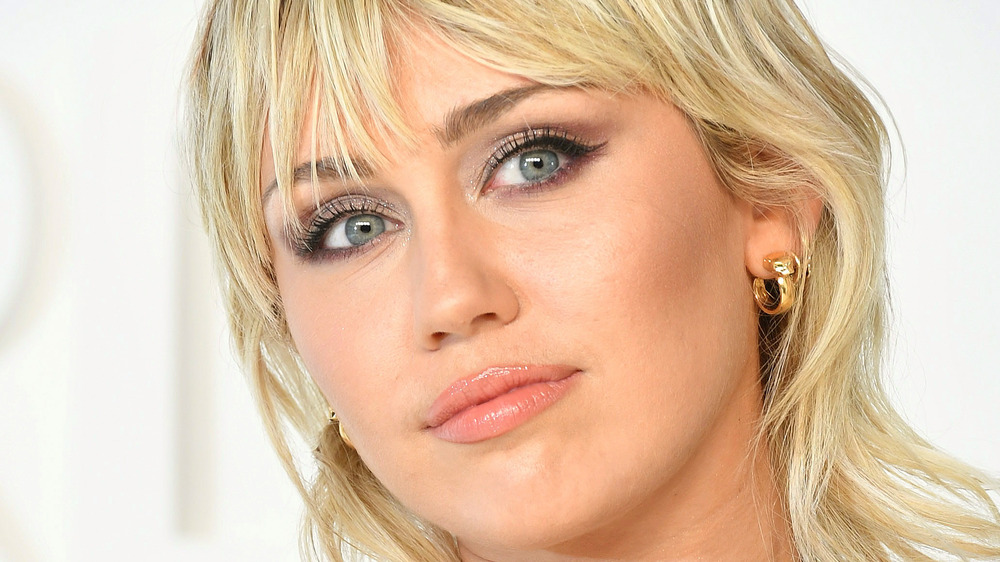 Amy Sussman/Getty Images
During a recent appearance on Jimmy Kimmel Live, the jaw-dropping number of tattoos Miley Cyrus really has was revealed and, suffice to say, it came as a bigger shock to the pop star herself than anybody watching at home. Cyrus has been getting inked, and proudly showing off the results, for many years. By her own admission, she gets tattoos for reasons big and small. In the wake of Cyrus's emotional divorce from ex Liam Hemsworth, she tattooed the word "freedom" across her knuckles (via Instagram). 
Although the meaning behind that particular piece was pretty obvious, both as an expression of her newfound independence and as a possible reference to her female empowerment song "Mother's Daughter," a follow-up session with celebrity tattoo artist Daniel Winter, aka Winter Stone, resulted in a Yoko Ono inspired design that's slightly more puzzling. The artist posted a photo of the piece on Instagram which simply reads, "I'm proud of U."  So, why did the "Prisoner" hit-maker opt for this message? And what does Ono have to do with it in the first place anyway?
Miley Cyrus looks up to the legendary musician
Miley Cyrus is an outspoken fan of Yoko Ono and her late husband, legendary Beatle, John Lennon. She even covered their hit song "Happy Xmas (War Is Over)" alongside the couple's son, Sean Ono Lennon, in time for the 2018 holiday season (via E! News). During an appearance on The Tonight Show, the pop star gushed, "I've always loved John and Yoko. I'm such a big Yoko fan." While speaking on The Howard Stern Show, Cyrus revealed the handwritten note from Ono came after she lost her house in the Malibu wildfires, confirming Sean Lennon actually brought it to her while they were recording. "Those relationships have been so valuable to me," she acknowledged (via YouTube).
Cyrus described the note from Ono as "the coolest thing," particularly since it was handwritten. She shared that Stevie Nicks frequently sends handwritten letters too, alongside her legendary godmother Dolly Parton. "It's a different amount of time that someone takes, it's not like 'hey I'm just gonna shoot a text and let you know I'm thinking about you'...when you write things down and you give those words those kinds of power, they say 'we're rooting for you'," she explained. Likewise, her father, country icon Billy Ray Cyrus, got a handwritten note from his own idol, Johnny Cash, which read "I'm in your corner." The pop star got it tattooed on her skin too, describing the note as a cool parallel with Ono's.