Can Whitening Treatments Damage Your Teeth?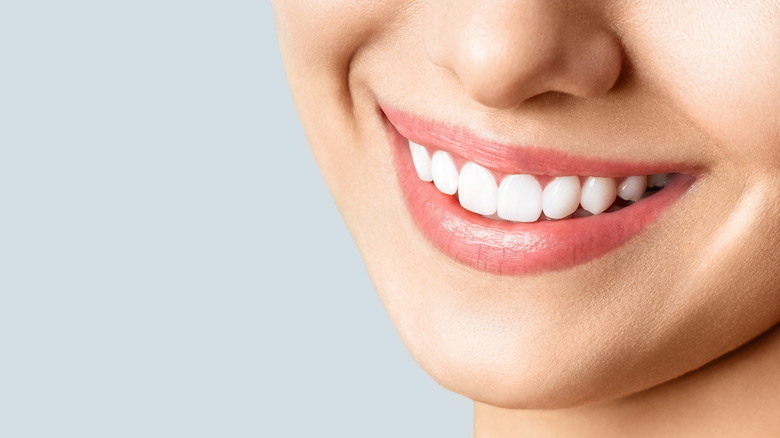 Shutterstock
Thanks to our desire for sparkling white, dazzling teeth, like those sported on Instagram and TikTok by all of our favorite celebs and influencers, many of us long for a whiter smile. Healthline reported that teeth may become stained due to a number of causes, both extrinsic and intrinsic. 
Extrinsic discoloration is caused by environmental factors, such as smoking, drinking coffee, tea, red wine, or other drinks that contain strong colors, and eating foods that cause staining, such as beetroot. This type of staining impacts the exterior of the tooth and can be treated more easily with whitening toothpastes. Intrinsic discoloration, however, comes from within the tooth and can be linked to medication that has been used, a childhood illness, tooth trauma, as a natural part of the aging process, or due to an infection. This form of discoloration will need to be treated professionally to alter the tooth's color, and can be more difficult to manage. 
As per Metro, taking a trip to see the dentist for professional whitening can be expensive, so it's not surprising that many of us are turning to DIY and at-home teeth whitening treatments (especially as there are adverts for at-home teeth whitening kits everywhere that claim to overhaul your smile). But are DIY teeth whitening treatments effective, and more importantly, are they safe? 
How does teeth whitening work?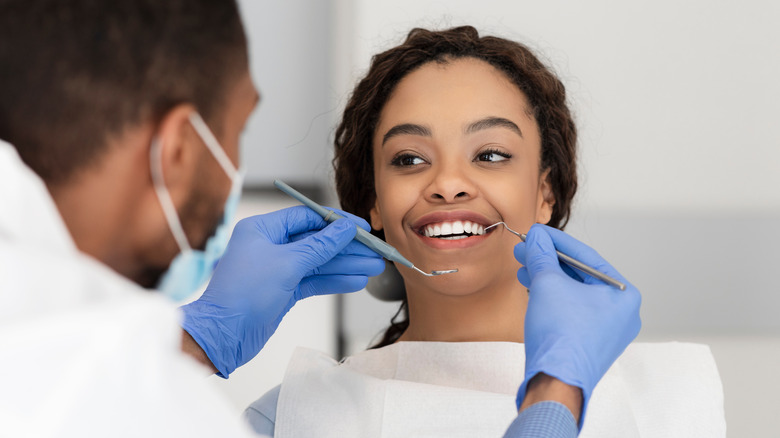 Shutterstock
Metro reported that while whitening toothpastes, like activated charcoal powder toothpastes, are popular on social media for achieving whiter teeth, the whitening effect is superficial. The toothpaste may remove visible stains, but it won't change the actual color of the tooth, it will simply buff away visible stains. 
DIY gel whitening kits, however, do tend to work a little more effectively. As per Metro, a number of over-the-counter teeth whitening kits contain a gel that has phthalimidoperoxycaproic acid in it, which acts as an active bleaching agent designed to whiten the molecules in the tooth that have become discolored, along with potassium nitrate to help desensitize the nerves within the tooth, and sodium chloride to aid stain removal.
However, when asked if these ingredients may help to lighten stains, dentist Dr. Guy Barwell explained that, "They may lighten any stains that are on the surface of the tooth, in the same way whitening toothpastes remove or lighten some of these stains," but overall the gels weren't as effective as professional treatments. 
Is teeth whitening safe?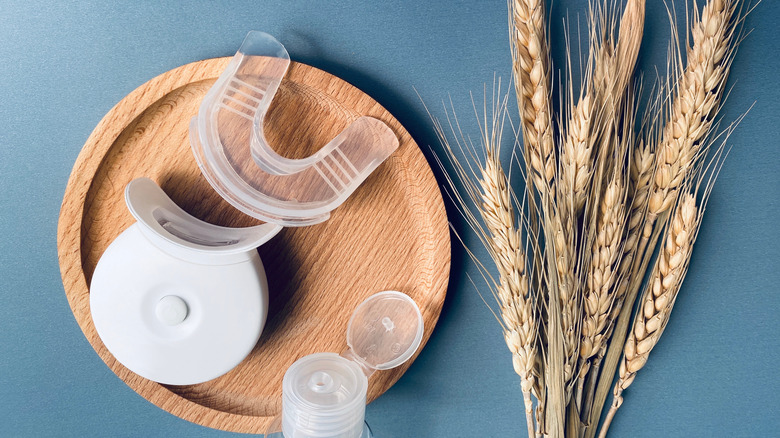 Shutterstock
The Conversation asked five dental experts if teeth whitening is safe for achieving a brighter smile. All five experts said that teeth whitening was safe, but only if performed by a dental professional — or using products provided by a dental professional — and not using over-the-counter treatments. Dr. Kelly-Anne Hennessy explained to The Conversation that, "Tooth whitening is safe if it is provided by and monitored by a registered dental professional."
When asked by Metro whether these DIY teeth whitening products are safe, Dr. Guy Barwell explained that, "There are some concerns in recent scientific literature that the sodium chloride in these substances may cause harm to the enamel, and this component is not currently illegal to have in whitening products." This means that some over-the-counter products could lead to damaged tooth enamel and increased rates of tooth sensitivity. 
Healthline reported that while most teeth whitening products are deemed safe, it's important to remember that they may cause side effects, such as sore, irritated gums and tooth sensitivity due to enamel erosion.