Kesha's Net Worth May Surprise You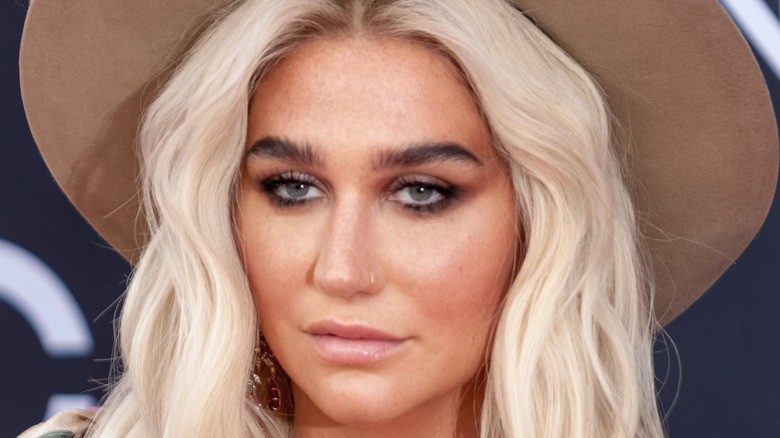 Shutterstock
In the summer of 2009, Kesha dropped her debut single "'Tik Tok" and took the pop world by storm. By the end of 2010, the song was the highest-selling digital single of all time with 600,000 sales according to Nielse then SoundScan, (via Billboard).
From there, the musician released her second record "Warrior," (via Genius), which featured a plethora of hits including the title track, "Die Young" and "Supernatural" before going on a hiatus of sorts after filing a lawsuit against her former record producer. In 2017 she made her comeback with "Rainbow," and has since released her fourth album "High Road" at the beginning of the COVID-19 pandemic.
Four albums and a dozen collaborations later, Kesha has amassed record sales of over 70 million in the U.S. and over 134 million globally, according to Celebrity Net Worth.
With all that success in mind, Kesha's net worth is actually smaller than you'd think.
Kesha had to pay millions in royalties to her former record producer
Shutterstock
According to Wealthy Genius, the star has a fortune of around $5 million. This is mainly due to a long-standing legal battle with former producer Lukasz "Dr. Luke" Gottwald. In 2014, the singer sued Gottwald after accusing him of sexual assault (via the Hollywood Reporter), asking that she be released from her contract with him.
This case was dropped by the singer in 2016, which led to the producer to countersue her claim alleging "defamation and breach of contract," the latter of which resulted in Kesha having to pay out $1.3 million in late royalties to Gottwald's company.
While Gottwald's lawsuit is still ongoing, Kesha managed to release her fourth studio album "High Road" in early January 2020. Her third album "Rainbow" saw the star sing about the traumas she'd endured before and throughout the litigation, but "High Road" was her opportunity to "write the f**k out of some pop songs", as she told Billboard.
"I dug through the emotional wreckage and now... I can go back to talking a little bit of s**t," Kesha explained. "I really wanted to put a solid foot back into pop music, like, 'I can do this, and I can do this on my own'. I don't know if this is my last pop record, but want to have one where I go out with a bang."