The Drugstore Skincare Brand That's Gone Viral On TikTok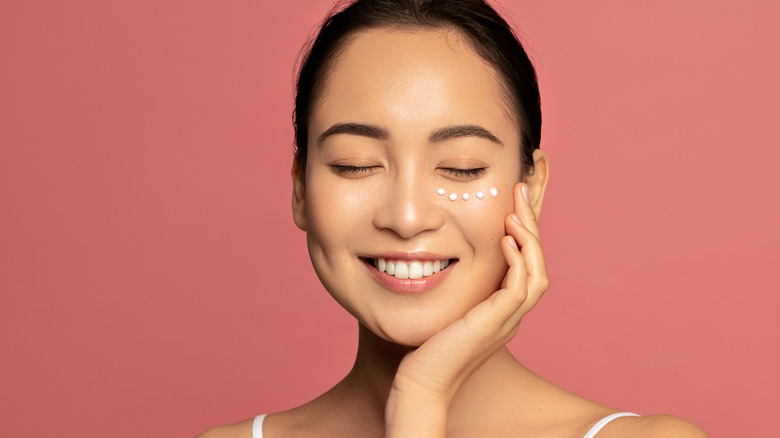 Shutterstock
You may remember passing by those sensitive skincare brands on the drugstore shelf, only to opt for brighter, more recognizable products. However, one sensitive-skin brand in particular has gained so much recognition on TikTok that it's taking the skincare world by storm. CeraVe, which was founded in 2005, is being hailed as the calming product line that prevents breakouts and restores hydration (via L'Oreal Finance, CR Fashion Book).
According to the CeraVe website, the products are designed to treat a variety of skin conditions, from acne to eczema, by restoring the skin's natural protective barrier. TikTokers who swear by the brand love one product in particular: the CeraVe Renewing SA Cleanser, as pointed out by CR Fashion Book. The salicylic acid (SA) product is designed to treat acne by gently cleansing the pores and exfoliating dead skin cells (per the CeraVe store).
Famous TikTok stars have endorsed the brand as well, including influencer Charli D'Amelio, skincare enthusiast Hyram Yarbro, dermatologist Dr. Howard, also known as the Derm Beauty Doc, Dr. Shah, known as the Derm Doctor. All four TikTok influencers appeared in a CeraVe video to promote the brand in January.
Other CeraVe products to try, and ones to avoid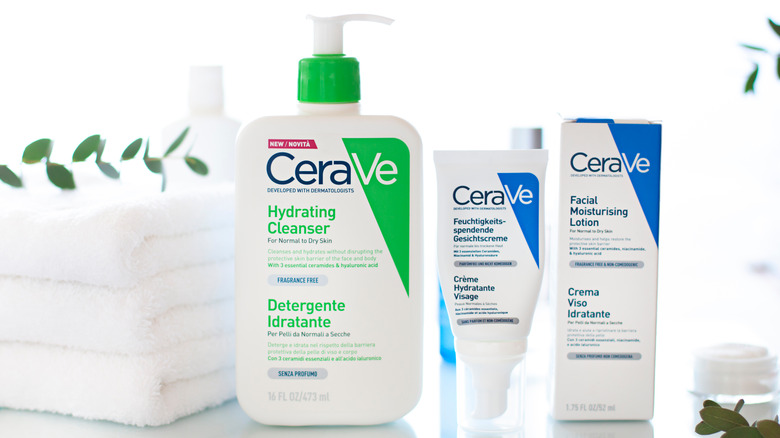 Shutterstock
As explained by Dr. Josh Zeichner, a New York City-based dermatologist reporting for CR Fashion Book, "CeraVe is known to make good quality products at affordable prices." He continued, "The background of the line is the use of ceramides, which are natural fats needed for a healthy skin barrier. Ceramide levels have been shown to be depleted in inflammatory skin conditions like eczema."
Other products from the CeraVe line recommended by TikTokers include the Hydrating Facial Cleaner for dry, sensitive skin, the Foaming Facial Cleanser for oily skin, and the Acne Foaming Cream Cleanser for particularly stubborn acne (via Dazed Digital). Note that the foaming acne cleanser contains benzoyl peroxide, a very effective but strong ingredient that may irritate sensitive skin.
Are you wondering which products not to try? Dr. Corey L. Hartman, the founder and director of Skin Wellness Dermatology, told CR Fashion Book that he does not recommend the brand's vitamin C products, such as the Skin Renewing Vitamin C Serum. "I'm not a big fan of their Vitamin C," he said. "I think they need to stay in their lane and stop trying to do anti-aging." Fortunately, trying out any of CeraVe's products will not set you back very far. The brand is known for its affordability, and its products are available at major retailers (per Vogue).