Here Are Drew Barrymore's Beauty Must-Haves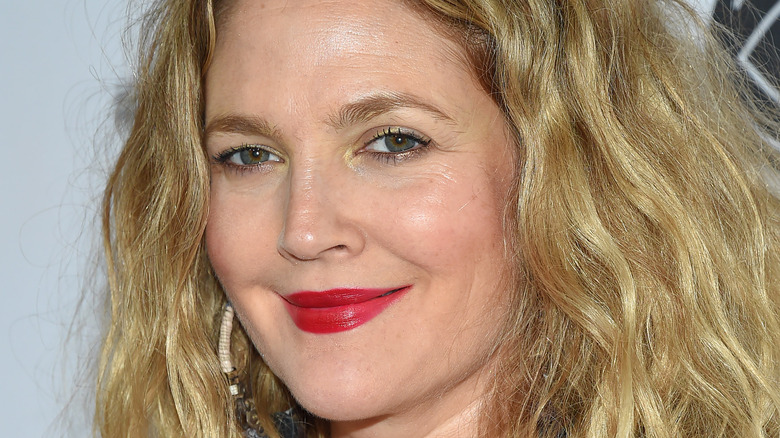 Shutterstock
Drew Barrymore has been in the public eye her entire life. She starred in the movie blockbuster "ET" when she was just seven, which means she's walked on more red carpets and attended more award ceremonies than you can imagine (via The Guardian). That's a lot of formal looks. However, Barrymore is known for her laid-back, California-chic style featuring loose waves and neutral makeup. Us Weekly points out that she may be one of the biggest stars in the world, but she isn't afraid to open up her makeup bag and share her beauty secrets with her fans. 
Insider explains that Barrymore launched Flower Beauty in 2013. The actor-turned-beauty entrepreneur has enjoyed immense success with her brand which pairs affordable products with high quality ingredients. People magazine reported that Barrymore has called herself a "beauty junkie" and her bathroom cabinet matches the title. The publication picked out some cult-favorite products in her bathroom including Cetaphil cleanser, GlamGlow's Thirstymud Hydrating Treatment, SKII's Facial Treatment Essence, M-61 Power Glow Peel Pads, and Nivea Moisturizing Créme.
Speaking to Insider about her love for all things beauty, Barrymore said, "I don't buy bags, I don't buy shoes—skincare is my thing. I don't want to turn to the needle or the doctors, so I love investing in it. Because then, I can bring it to people."
Getting your base right is everything to Barrymore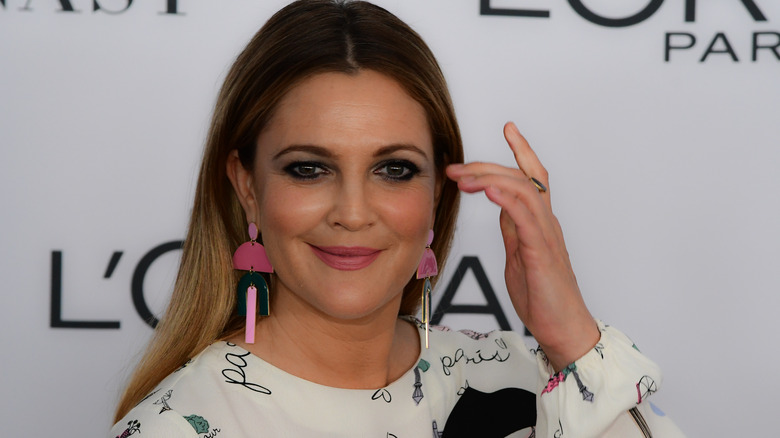 Shutterstock
Barrymore told Well and Good that she likes to keep things simple. "I think that if beauty can stop you from thinking about trivial vanity, then it's working. If you have room to think about bigger and better things, that means you've got a good routine," she said.
She told Insider that her basic skincare routine is essential. She always starts with "a good light cleanser." She loves Cetaphil and Chanel. She follows this with a toner. "Anything from down and dirty witch hazel or I still love old-school Noxema or Sea Breeze." She finishes with a brightening serum. She said, "I'm trying this new one by Shani Darden. Also, Kiehls has a great Ultra Moisturizer, it's fantastic."
These aren't the only skincare products that Barrymore has shouted out in the past. Us Weekly writes that she's also a fan of Olay Daily Facials Sensitive Cleansing Cloths, Sunday Riley Good Genes Treatment, Caudalie Purifying Mask, and Shiffa Beauty Rose Maroc Night Elixir.
When it comes to beauty must-haves Barrymore knows that skincare is key. Women's Health noted that during a #beautyjunkieweek in 2018 Barrymore posted a picture of herself with the caption, "My dermatologist said to me, 'Don't forget, your beauty routine starts from here up,' and made this exact line on her chest. And I can't forget it. We know this, but we don't do it. I don't. I love my skincare routines. But I forget anything below the chin."
Drew Barrymore has quick and easy ways to get glam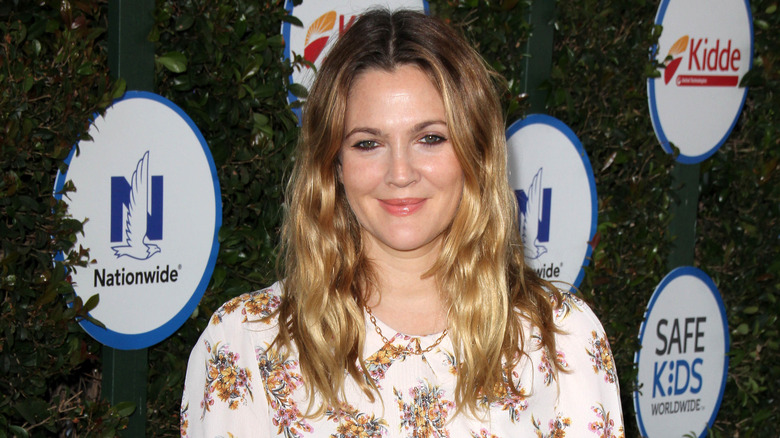 Shutterstock
While getting glammed up in the makeup chair before a taping of her talk show in April, Barrymore posted a video to Instagram of how she gets herself camera-ready quickly. Revealing a "corrective beauty trick" Barrymore pointed out that one of her eyes is open wider than the other. Taking the Forever Wear eyeliner from Flower Beauty, she ran it along the upper waterline of the eye that she said is a little more closed. She avoided the lash line, concentrating only on her waterline. She then applied her mascara and it gave the look that her eyes were more even.
Barrymore also revealed on her Instagram that working hard through 2021 with children who are being homeschooled has meant she's suffered more with dark under-eye circles. To combat this, she uses the Flower Beauty CBD Chill Out Color Corrector under her eyes to conceal.
When in doubt, Barrymore is a big advocate for a bright look. On May 21 she reposted an image from CVS on how to get the perfect pout. The post recommends you begin with a lip scrub to get rid of any flaky skin. She recommends Petal Pout Lip Scrub from Flower Beauty. She suggests you seal in the moisture with Maybelline Baby Lips. A hot pink Revlon lip liner will help your lips look fuller. Then to finish off you can fill the gaps in with a matching lipstick.