The Truth About Matthew McConaughey And Guy Fieri's Friendship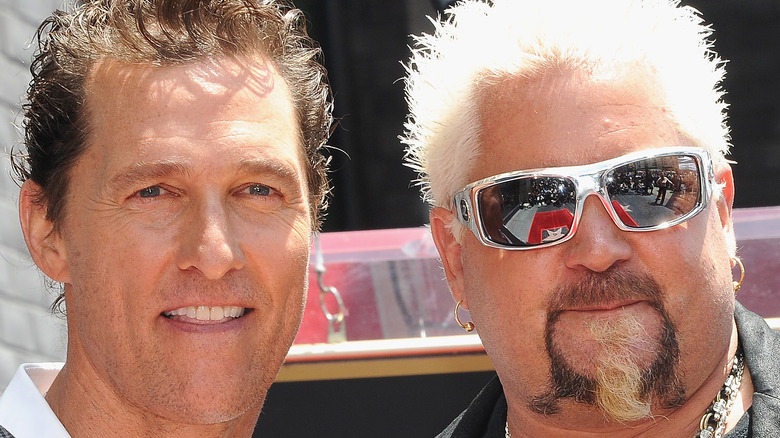 Albert L. Ortega/Getty Images
Matthew McConaughey is Hollywood royalty in his own right. According to Brittanica, the  star began acting in commercials before he graduated college and was soon cast in "Dazed and Confused." From there, his career skyrocketed. He landed a huge part in "A Time to Kill" alongside Samuel L. Jackson and "Contact," also starring Jodie Foster. Today, McConaughey is known as a Hollywood heartthrob, best known for his roles in romantic comedies like "The Wedding Planner," "Failure to Launch," and "Magic Mike."
Guy Fieri, on the other hand, may be well-known, but his celebrity status isn't quite at the same level as McConaughey. In fact, according to Insider, Fieri was working for a car parts company before he got his big break on "Food Network Star," which he went on to win. Today, he is known for his show "Diners, Drive-Ins and Dives" and even has a star on the Hollywood Walk of Fame. Still, the friendship between these two seemingly opposite stars may come as a surprise to many.
How did Matthew McConaughey and Guy Fieri become friends?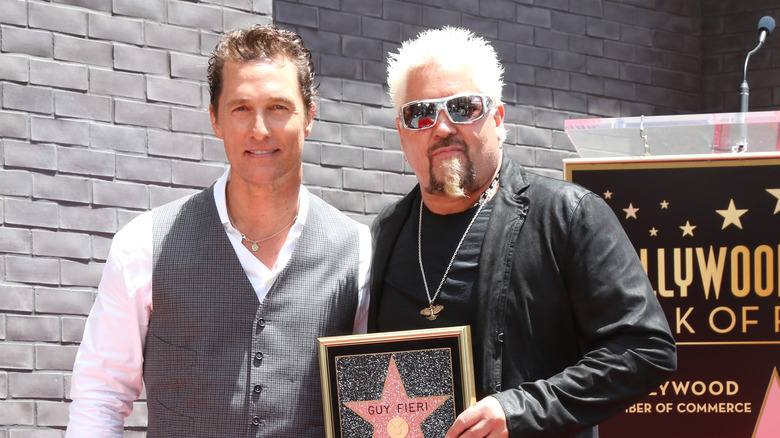 Shutterstock
The unlikely friendship between Matthew McConaughey and Guy Fieri became evident after McConaughey gave a speech during the ceremony for Fieri's Walk of Fame star, (via Southern Living). However, their friendship had already been going strong for a long time before that. According to Gossip Cop, McConaughey shocked fans in his speech by letting them know that the pair have in fact been best buddies for over 15 years, first meeting due to McConaughey's love for "Diners, Drive-Ins and Dives."
At the time, the Hollywood icon was traveling across America in an air stream and became a big fan of the show, eventually getting in touch with Guy Fieri himself. The pair met and as McConaughey said in his speech, "We cooked a lot of food. We ate a lot of food. We drank a lot of spirits. We talked about life, and we talked about being authentic to who you are, and that's the night that I met you, Guy Fieri."
To this day, McConaughey, who before meeting Fieri regularly ate Subway sandwiches, credits Fieri with helping him find good food to eat, (via Wide Open Eats). Of course, a friendship built around good food is sure to last forever.