Phoebe Dynevor Finally Shares How She Feels About Regé-Jean Page Leaving Bridgerton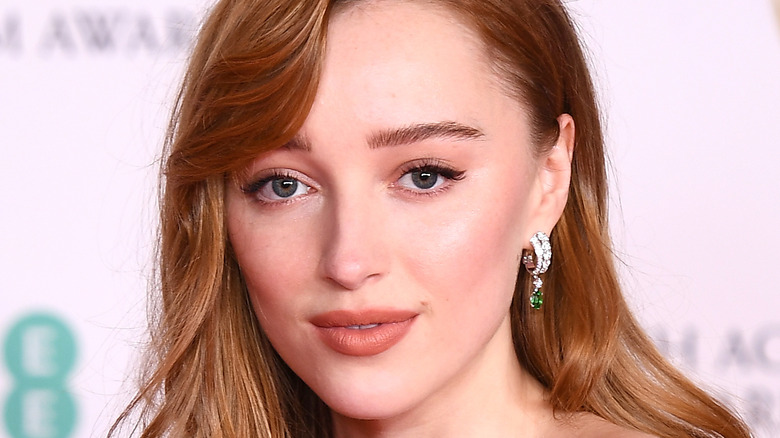 Jeff Spicer/Getty Images
Netflix's Shondaland series "Bridgerton" is one of the hottest on the streaming giant. Within its first 28 days, the romance drama hit a record when 82 million households around the world watched at least two minutes of the series (via Entertainment Weekly). A Netflix blog post shared that, "The show has made the top 10 in every country except Japan — hitting number one in 83 countries including the U.S., U.K., Brazil, France, India, and South Africa." Due to the massive success of Season 1, Netflix renewed the series through Season 4 and announced an upcoming spinoff centered on the character of young Queen Charlotte (via TV Line). As exciting as all of the "Bridgerton" updates have been, the series also announced a bit of bad news.
In early April, Netflix confirmed that the Duke of Hastings, played by Regé-Jean Page, will not be returning for Season 2 (via Variety). Shondaland announced, "Dear Readers, while all eyes turn to Lord Anthony Bridgerton's quest to find a Viscountess, we bid adieu to Regé-Jean Page, who so triumphantly played the Duke of Hastings. We'll miss Simon's presence onscreen, but he will always be a part of the Bridgerton family." The message also assured fans that Phoebe Dynevor, who played Page's love interest, will return in Season 2. At the time of the announcement, Phoebe Dynevor didn't comment on Regé-Jean Page's exit, but on a recent episode of the Variety Awards Circuit Podcast, she finally broke her silence.
Phoebe Dynevor knew Regé-Jean Page might leave after Season 1
Season 1 star Phoebe Dynevor's relationship with Regé-Jean Page's character was at the heart of the first installment of "Bridgerton." However, the series is based on Julia Quinn's best-selling novels, which each focuses on a different one of the eight Bridgerton siblings. Therefore, Page's character isn't very involved in the second book. Dynevor explained on the Variety Awards Circuit Podcast that she knew about this change in the books and was prepared for a potential departure from her on-screen husband. She said, "I had a bit of a heads up, so I knew. But yeah, I guess it is a spanner. But again, the show centers around the Bridgertons and there are eight books. And I think maybe the fans of the books were more aware of that happening than the fans of the show."
Dynevor also shared one of her favorite memories of working with Page. She said, "I remember shooting the last scene in episode one where Regé and I have, like, our first dance together. And I remember thinking, 'Wow, this feels kind of special.' There were, like, fireworks going off behind us and it was, like, really romantic music. It felt like a really special moment, but you never know if it's going to come out on camera and the audience is going to feel that buzz, too." She concluded that she's sad to see Page go but is excited to be reunited with her "Bridgerton" family.