The TikTok Makeup Trend You Should Try For A Lifted Face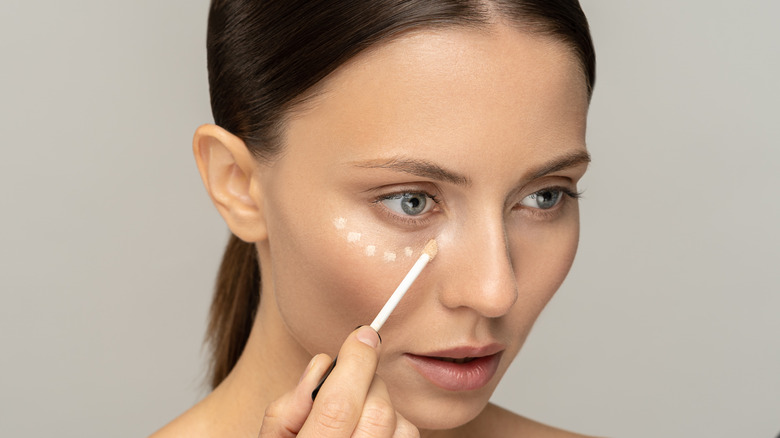 Shutterstock
If you stay atop the latest beauty trends, you've probably turned to TikTok at one time or another to figure out a trendy new style for applying your makeup or a great messy bun hair trick for shorter hair. Even if you don't follow the most fashionable viral beauty looks, there's an excellent highlighter trick from the popular social media site. You might want to try out this makeup hack to make it look like you've had an instant facelift, especially if you find your face looking older than you'd like. Byrdie noted that when used correctly, your makeup routine could give you almost any look you want. 
Grazia revealed all the details behind the viral DIY trend, noting that in 2021, the popular app experienced an explosion of how-to videos as people began to return to some of their normal activities (after spending much of 2020 social distancing due to the pandemic). Usually, when things sound too good to be true, they are. However, in this case, the instant facelift, when done well, can shave some years off your face so it's worth a try to see if you like the outcome.
Here's how to give yourself an instant facelift via makeup
One TikTok user named Megha Singh, who calls herself the "CEO of contouring," made it something of a mission to reveal all the mistakes you might have been making when it comes to your makeup. For instance, a commonly suggested technique involving drawing triangles of concealer under your eyes to try to banish dark circles and freshen up your face has been debunked by Singh (via Grazia). Instead of using the triangle technique, Singh recommended something entirely different. 
To get the refreshing look of an instant facelift, start by choosing a concealer about two shades lighter than your skin (via TikTok). Instead of a triangle, which can cause your face to look droopy, use the concealer to draw out from the outer corner of your eye. Place a bit of concealer under your eye and at the inner corner of your eye. Also, add a swipe up at the outer corner of your lips and a bit at the bottom of your nose. Finally, put some of the lighter shade under your cheekbone, drawing up toward your hairline. Use a high-quality beauty sponge to blend everything and enjoy an instant lifted look. While you could go further with a full contour, this is a simple, reasonably quick beauty hack that will yield positive results on your face.