The TikTok Eyeliner Trend You Should Try For A Summery Look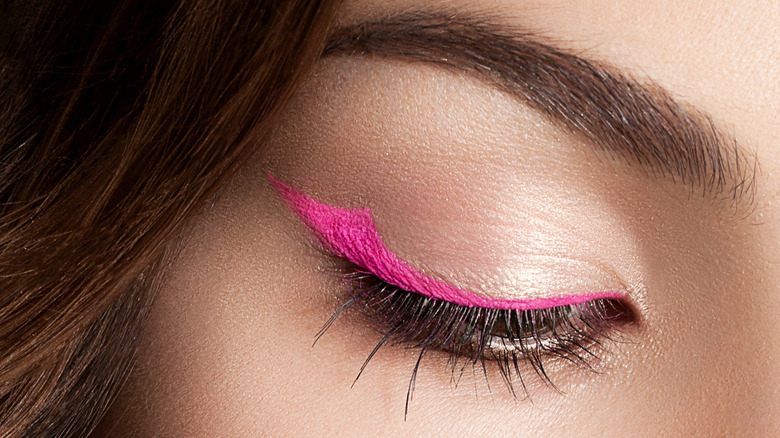 Shutterstock
Craving a little color in your summer makeup? If you want to make your eyes pop this season, pastel eyeliner may be your new go-to. The TikTok makeup trend has been making rounds since 2020, as pastel enthusiasts have used it to add flair to a classic, natural look (via Cosmopolitan). Since the shades are unique but a little more subtle than neon eyeliners — another TikTok trend — they have become more popular in mainstream makeup. Plus, Beauty Bay reports that those who have tried it out love being able to match the pastel colors with a wide range of outfits.
Whether your favorite pastel is daisy yellow, powdery pink, or baby blue, adding a swipe of color to your look will brighten your face and give off serious warm-weather vibes. This isn't to say that pastels will replace the Ariana Grande black cat-eye anytime soon, but they may very well have a permanent place in the world of makeup.
Here's how to pick the perfect pastel eyeliner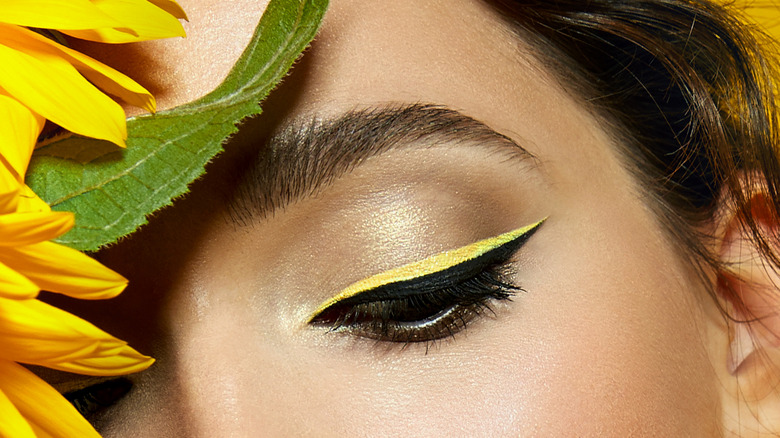 Shutterstock
Many makeup brands have hopped on the pastel eyeliner trend in recent years, and released their own versions of the product. As a result, you will have a variety of brands from which to choose when you decide to recreate the perfect pastel look. Some particularly trendy liners include the Urban Decay 24/7 Glide-On Eyeliner Pencil in mint green and the NYX Professional Makeup Faux White Eye Brightener in lilac, per Makeup.com by L'Oréal. 
But how do you decide between a pencil and a liquid pen? A pencil will work well if you want your liner to appear smudged or softened. The advantage of a liquid liner is its smooth application. Also, the thin, pointed brush tip allows you to create clean, sharp lines. Depending on the weather and your activities, it will be important to select a pastel liner that is waterproof. Otherwise, your eyes might start to look like a melting watercolor painting as your look gets smudged.
For the eyeliner application, Cosmopolitan noted that you should draw on a simple line from the top of your eye duct to the top corner of your eye, and end the line in a classic upward flick. Tightlining is another option, though it may look strange as it won't blend in with your lashes like a classic black shade would. Ultimately, the small pop of color from a pastel liner will instantly brighten any simplified makeup look, and give you a unique style to flaunt all summer long.