Here Are The Secrets To Preventing Your Eyeliner From Smudging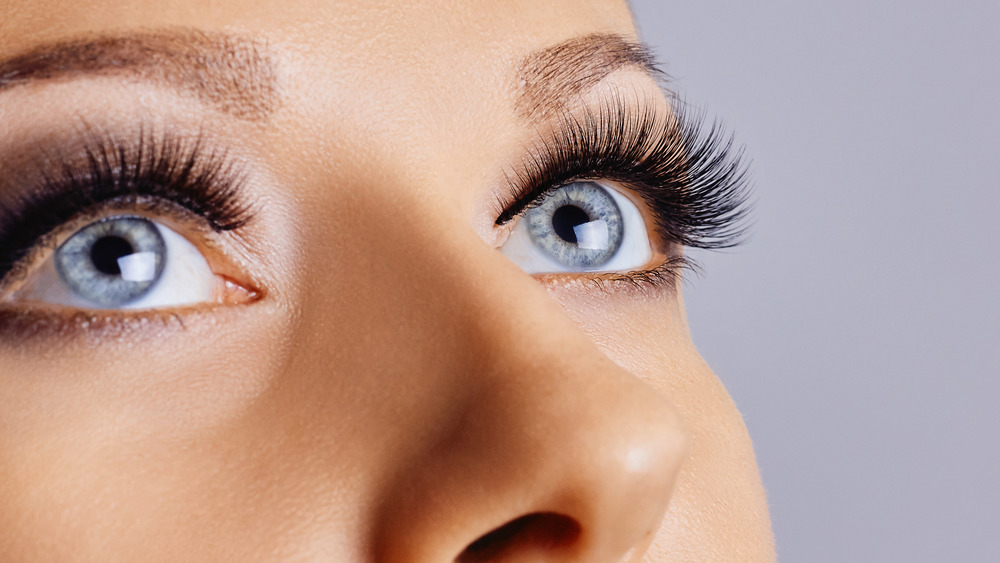 Shutterstock
If your eyeliner always smudges after a long work day or a night out, you're not alone. Happening to the best of us, it's a common occurrence for gel or pencil eyeliner to run beneath your eyes after a few hours. Thankfully, there are several solutions so you never have to worry about dreaded "raccoon eyes" ever again.
According to Allure, one of the best ways to prevent eyeliner from smudging is to start with squeaky-clean skin. They recommend washing off any excess oils, while Byrdie adds to that point, suggesting to follow up with a water-based moisturizer for non-slippery hydration. Your next step is to prime and set the eye area, which Real Simple touts as being of utmost importance. Expert makeup artist Julie Harris shared her magic trick: First, apply eyeshadow primer to clean eyelids, then follow up with a translucent loose powder to set. Harris told Real Simple that this combination will help your eyeliner adhere to your skin, preventing it from running. 
Other ways to create the perfect base for eyeliner application? Stylecraze recommends blotting with oil-absorbing sheets, plus setting the under-eye area with concealer before applying your eyeliner. In fact, according to Byrdie, a good matte concealer can be used as a primer on upper eyelids as well. Makeup artist Keeley Wilson told Refinery29 that "the more you prep your eyelid with an eye base, primer or eyeshadow, you'll find the product should stay on longer and smudge less."
How to apply eyeliner to prevent it from running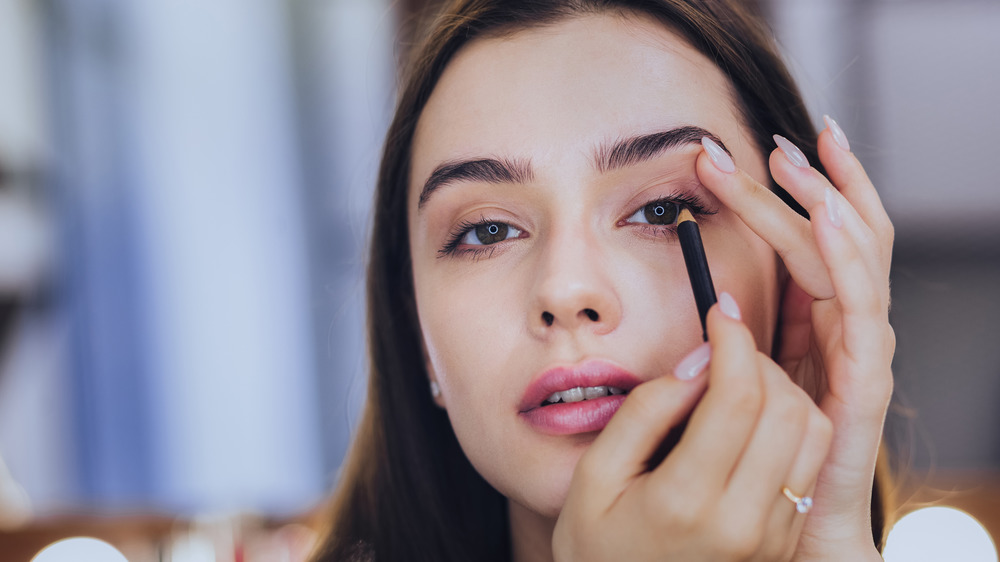 Shutterstock
Once your eye area is prepped and primed, it's important to choose a high-quality eyeliner formulation. Harris told Real Simple recommends fast-drying liquid liners or cake liners applied with a damp, flat-edged eyeliner brush. Allure suggests using a waterproof formula, especially for those of us with oilier skin, while Keeley told Refinery29 that she almost always uses gel liners that are more resistant to water, sweat, and heat.
After choosing your formula, it's safe to say the layering technique is a makeup artist-fave for preventing smudging. Stylecraze points out that the technique is simple: You just have to apply your eyeliner, softly smudge it with a brush or cotton swab, and then reapply. Celebrity makeup artist Kathy Jeung shared a similar trick with Byrdie, suggesting following up your eyeliner application with a dust of matte translucent powder, then drawing a second coat of eyeliner to set.
OK, so now your eyeliner is perfectly drawn — now what? All that's left is proper setting for maximum staying power. The options are endless: Harris said she uses a clear makeup sealer to fight humidity. Other suggestions? Keeley noted she presses eyeshadow over eyeliner to stop transfer, and Byrdie recommends a simple setting spray.
With all of these makeup artist-approved tricks, your eyeliner is sure to stay put for hours at a time, giving you the perfect smokey eye you've been dreaming of.