What Polyhydroxy Acids (PHAs) Actually Do For Your Skin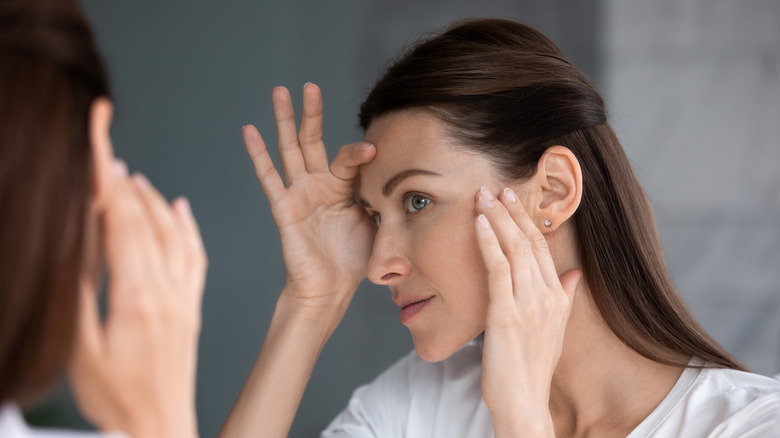 Shutterstock
For many, the world of skincare can be a daunting place. It can be hard to figure out what exactly is best for your skin, and how you should go about creating a routine. But once you break the skincare barrier, you'll become familiar with the different trends and it seems 2021 is all about acids. While alpha hydroxy acids (AHAs) and beta hydroxy acids (BHAs) have long been a popular addition to skincare routines (via Elle), it's now the turn of polyhydroxy acids (PHAs).
According to L'Oréal Paris, PHAs are the second most talked about skincare ingredient this year behind CBD oil. Referred to as the "new generation of AHAs", polyhydroxy acids are becoming extremely popular among those who have sensitive skin and want to "promote an even tone and radiant appearance." But what are the properties of polyhydroxy acids, and what do they actually do for your skin?
The properties of PHAs can reduce fine lines and wrinkles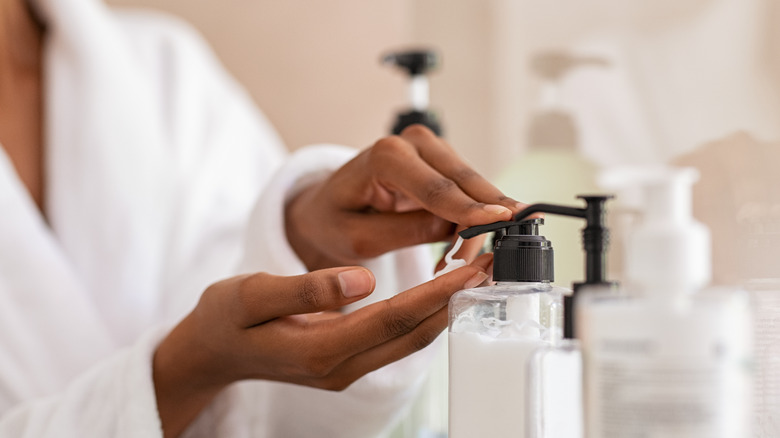 Shutterstock
The main use of PHA in skincare products is to provide hydration and anti-aging properties as a chemical exfoliant, according to Healthline. "Exfoliation helps to slough away dead, dull-looking cells, reveal healthy cells, reduce hyperpigmentation, and improve texture," dermatologist Dr. Dendy Engelman told the health site. In addition to locking in moisture, PHAs can reduce fine lines and wrinkles as well as protect your skin from UV and pollution damage through antioxidants.
Closely related to alpha hydroxy acid (AHA), PHAs are the best option for sensitive skin types as they are "more superficial–acting and less irritating", cosmetic dermatologist Jennifer L. MacGregor told Byrdie, who also mentioned that the PHAs used most frequently in skincare products are lactobionic acid and gluconolactone. "The molecules of PHAs are much larger and therefore cannot penetrate as deeply as AHAs and BHAs," dermatologist Patricia Wexler explained to Allure. "They work exclusively on the surface, without disturbing the deeper delicate layers."
Not only that, but there are little to no side affects compared to AHAs and BHAs. This is because they are not absorbed into the skin, rather they "gently wash away any debris that's sitting on top of it," according to Byrdie. However, as the beauty site points out, it's always best that you do a skin patch test to make sure that PHAs are right for your skin type.