Who Is Sirah, Demi Lovato's Best Friend?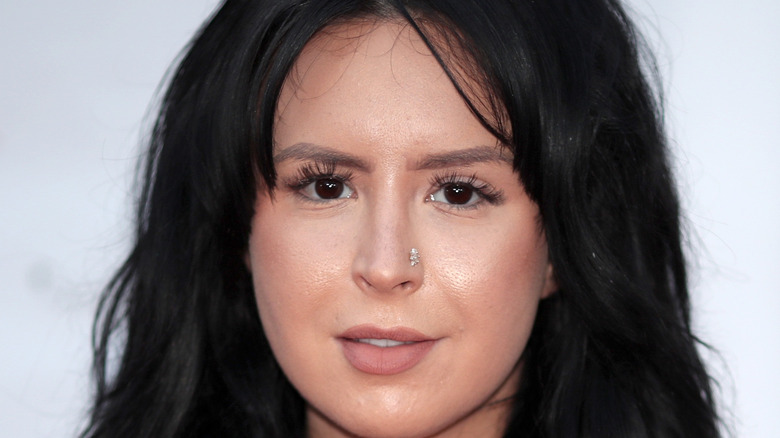 Christopher Polk/Getty Images
If you've watched the "Demi Lovato: Dancing With The Devil" docu-series on YouTube, you'll have seen Sirah, Demi Lovato's best friend, make an appearance. Per ScreenRant, when Lovato discussed their 2018 overdose and mental health issues in the docu-series, they expanded on how it affected Sirah — real name Sara Mitchell — as well as their other friends, among a variety of topics.
Sirah, Lovato's former sober companion, is clearly great friends with the singer, and they're often seen together on Instagram alongside fellow pal Matthew Scott Montgomery. However, it's got people asking who Sirah is. So, what do we actually know about her? Clearly, she's not as well-known as Lovato, who last week opened up about being nonbinary. Unsurprising, considering Lovato is one of the most famous stars of recent years. But you might have come across Sirah before — perhaps in the music world. You might be surprised to find out what she's been up to. 
Sirah won a Grammy in 2013
Sirah is a Long Island-born hip-hop artist. Per LA Times, Sirah has, like Demi Lovato, experienced addiction, but has been sober since the age of 17. Alongside her music career, Sirah is a qualified peer-to-peer recovery coach and has spoken about overdose prevention at a number of meetings and events in the last few years (via ScreenRant).
You might have first met Sirah almost a decade ago, however, when she worked with American DJ Skrillex. The pair's track "Bangarang" won a Grammy for Best Dance Recording, and was named the 22nd-best track of 2012 by Rolling Stone. Sirah has also featured on Lovato's 2015 song "Waitin for You", and co-wrote "Back To The Streets" by rapper Saweetie featuring Jhene Aiko, so while she's not a face that you might recognize instantly, there's a good chance you've arrived cross her work in the past (via Bustle).
In "Demi Lovato: Dancing With The Devil", Sirah spoke highly of Lovato, explaining that Lovato has always been there to support her, and it's clear from social media that the pair — along with Matthew Scott Montgomery — are very much good friends.
If you or someone you know is struggling with mental health, please contact the Crisis Text Line by texting HOME to 741741, call the National Alliance on Mental Illness helpline at 1-800-950-NAMI (6264), or visit the National Institute of Mental Health website.
If you or anyone you know is struggling with addiction issues, help is available. Visit the Substance Abuse and Mental Health Services Administration website or contact SAMHSA's National Helpline at 1-800-662-HELP (4357).