The Truth About Jennifer Lawrence And Emma Stone's Friendship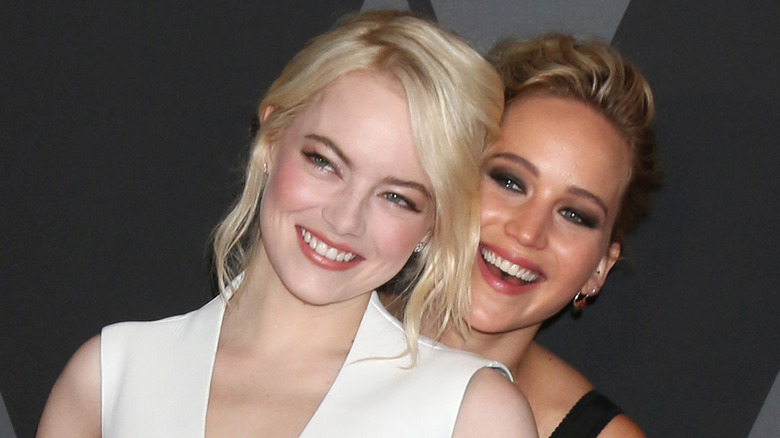 Shutterstock
Actors Jennifer Lawrence and Emma Stone both seem to have that down-to -earth, you'd want to be friends with them vibe, so it makes sense that the two are friends in real life. And it was Woody Harrelson who first connected the two — Harrelson worked with Stone on "Zombieland" and with Lawrence on "The Hunger Games" and played platonic matchmaker.
Lawrence told Vanity Fair Stone reached out first: "She texted me that she got my number from Woody. I replied, 'F*** off!' And we've been really good friends ever since." Their relationship was at first just a text one; they texted each other everyday for a year; Lawrence said, "I feel like it was our version of 'The Notebook' — 365 texts."
Before the two met in person, they were both also getting texts from a random number from someone they referred to as "John, the Orchestra Guy," and when they went to meet in real life, they each had the horrifying thought that the other might turn out to be "John, the Orchestra Guy" (via YouTube).
The two leading ladies support each other professionally and personally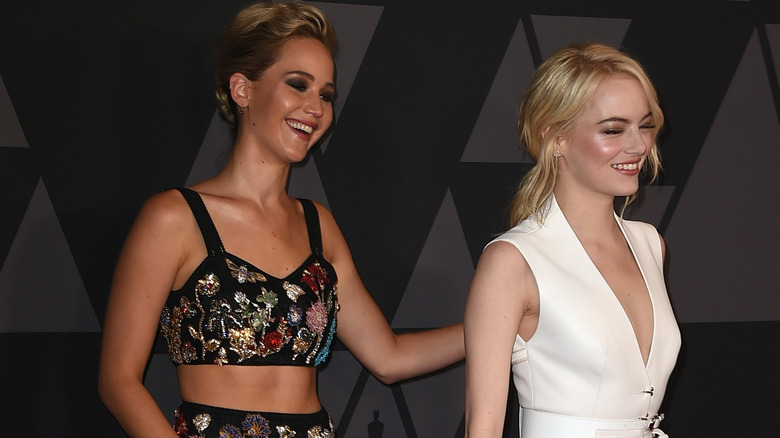 Kevin Winter/Getty Images
Along with the same random guy texting them, the two leading ladies have plenty in common, most notably their careers. They could be rivals, but instead they're friends. Stone explained to Vanity Fair in an email that when they first talked; "there was definitely a time early on when I was like 'OH HEY MY EGO IS GOING NUTS SHE'S SO GREAT AND VIBRANT AND TALENTED I'M SCREWED I'LL NEVER WORK AGAIN GOODBYE YELLOW BRICK ROAD.' Then I chilled the f*** out — and remembered we're completely different and there is room for everyone."
So instead of rivals, pair are close friends who support each other. In an interview with W, Stone — who played Sally Bowles on Broadway — said, "Jen came to see 'Cabaret' and both of my contacts popped out of my eyes at the same time and my prescription is -900, which, if you know what that means, is like...I cannot see. So, they had to drag me off the stage in the dark and she came backstage afterwards and I was like, "I couldn't see anything! It was garbage! It was a disaster!" And she was like, "Enough, enough. I'm your dance mom. You need to calm down."
Another example of support of a different kind is when Stone comforted Lawrence after she ended up throwing up after a boozy night at an Adele concert; Lawrence told Harper's Bazaar, "She just started rubbing my back. She was really sweet."
Emma Stone and Jennifer Lawrence are like family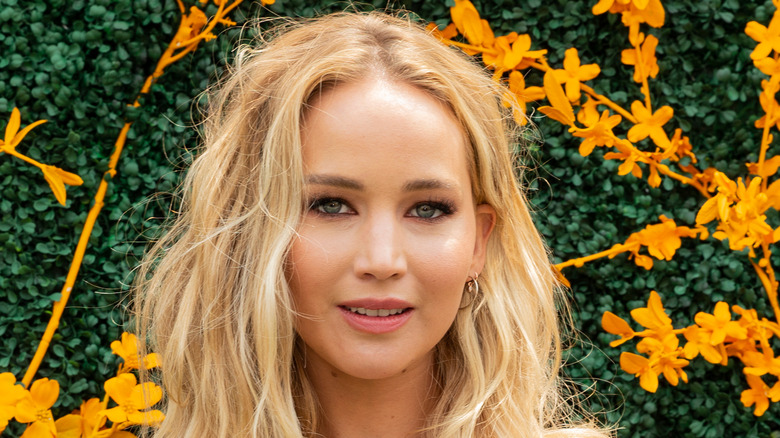 Shutterstock
Stone sees Lawrence as basically her family. Lawrence interviewed Stone for Elle, and Stone talked about how her life has changed as she's gotten older: "You realize that your friendships, the people who go with you into these next phases of your life— you're choosing your family." Stone went on to tell Lawrence, "You've been one of my most loyal friends for years. And I think knowing that you can laugh together and that not everything has to be such a big deal."
Further confirmation of their BFF status was during their joint interview with W when Stone noted something about their relationship, "Do you understand that spending time with us is just us sitting and screaming at each other?" And Lawrence replied, "We just scream at each other. We're both hoarse after we hang out — us, oh my god. I can't imagine what it must be like for other people. We should never hang out, only with each other." Here's to many more years of the two of them hanging out and being friendship goals.