What Kelly Osbourne Has To Say About Those Plastic Surgery Rumors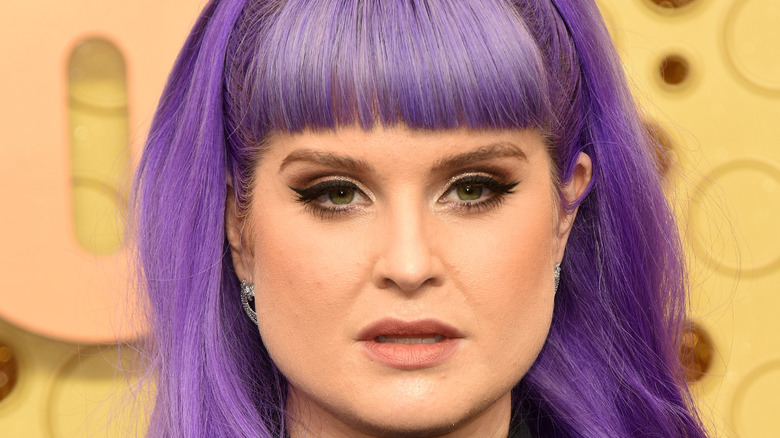 Shutterstock
She's no stranger to celebrity gossip, but Kelly Osbourne has no time for any false plastic surgery rumors, particularly when she's just trying to go about her day on social media. In recent days, she's showcased a glam new look on Instagram, earning thousands of likes and comments from fans and fellow stars alike, but her appearance got people talking about plastic surgery, too.
Per Women's Health, the TV personality has lost 85 pounds over the last year and a half, but plastic surgery? After it was suggested by a few fans and followers, Osbourne took to Instagram once again, this time to share a video in which she spoke about the rumors, and whether there was any truth in them at all (via Elite Daily).
So, here's what Kelly Osbourne, who continues to rock the purple-gray hair she's been sporting for a while now, has to say about those plastic surgery rumors.
Kelly Osbourne denied having plastic surgery
Kelly Osbourne, who last year was spotted wearing an eyepatch for a short while, posted the video (via Instagram) with the caption, "Let's squash these stupid rumors!!! Can't you just be happy for me?" and began to address the gossip that has been plaguing the comments on her most recent posts. "Good morning everyone," she begins, "I'm currently in hair and makeup right now ... I'm always really honest and really upfront about what I've done to my body and who I am, and I have not had plastic surgery."
In the clip, in which she's having her makeup done, Osbourne goes on to say that she's only ever had injections in her lips, jaw, and forehead, and thanks her followers for the compliments she received after the original post, before ending the video. Like on the original post, the video was met with another wave of compliments from friends and fans who are all evidently enthralled with the 36-year-old's new look.