The Surprising Thing Katy Perry Can't Wait To Pass Down To Her Daughter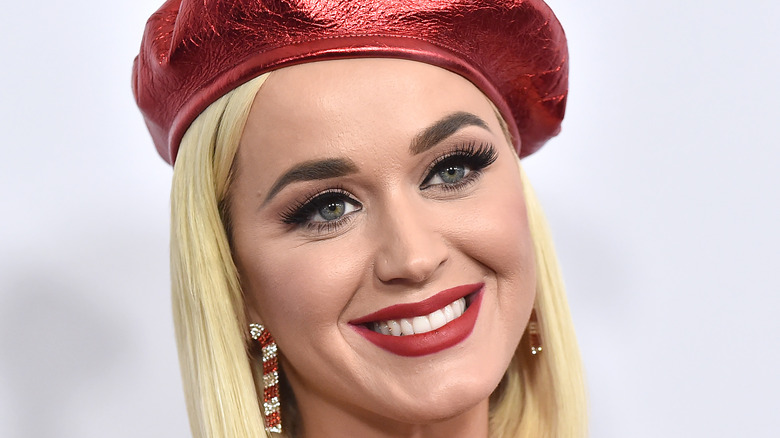 Shutterstock
Katy Perry has solidified her status as one of the renowned tastemakers when it comes to fashion and style. A minidress with Muppets on it at Paris Fashion Week. Angel wings on a red carpet. An all-denim look at the MTV Video Music Awards. A musical note ballgown. A jumpsuit and cape covered in pink sequins. Wearable chandelier at the Met Gala. These looks, rounded up by Glamour, are just a few of the most noteworthy ones worn over the years by the beloved pop star. 
Whether she is singing, acting, or making an appearance, she is doing it in style and grace.
Recently, Perry has been busy with another job: being a mother to her nine-month-old daughter, Daisy Dove Bloom, shared with actor Orlando Bloom. Since Daisy entered the world on August 26, 2020, (via famousbirthdays.com), she has been seen running errands (via OK Magazine), riding bikes (via Hollywood Life), and vacationing (via Page Six) with her famous parents. And recently, Perry discussed some future plans she has for this little bundle of joy.
Katy is saving something special for Daisy Dove
Katy Perry is known for her hit songs, for acting in works such as "The Smurfs," and for serving as a judge on "American Idol." As mentioned above and as fans know, she is always regularly seen in whimsical and memorable ensembles.
When talking with PopSugar, Perry said that she is actually saving these clothing items for her daughter. "I think about it all the time. I do a lot of cleanups, but I do have some stuff always that I'm thinking about," she stated. "I need them to go somewhere. I want them to be worn again. [Daisy will] probably just be goth, and like, 'No, Mom. Thanks.'"
Only time will tell what this celeb baby will be like in the future. In the meantime, fans can hope that we'll someday get to see Daisy in some of her mom's most iconic looks. Of course we'll continue to see jaw-dropping outfits from Perry herself, and maybe even more happiness and health for the cute family!