The Truth About Zoe Saldana's Relationship History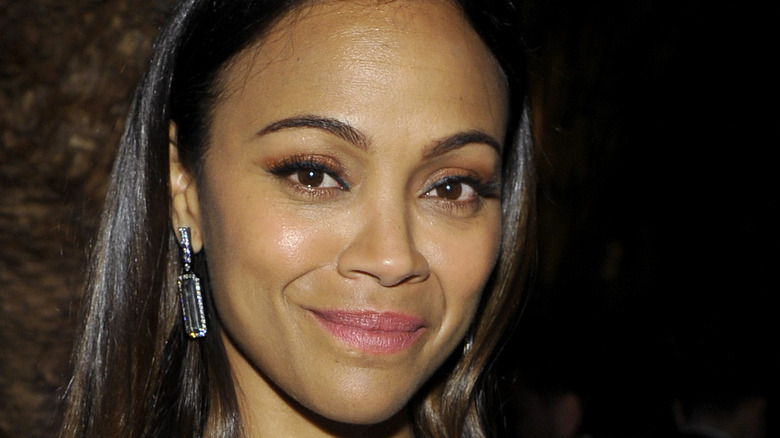 John Sciulli/Getty Images
Actress Zoe Saldana isn't afraid of a little scorched earth. In 2014, the "Guardians of the Galaxy" star opened up to Marie Claire about her past romantic relationships. "I have been in relationships where a man has disrespected me, and I don't need to be friends with that man anymore," Saldana revealed. "I don't want to be the one going, 'I'm cool, because I'm friends with all my exes.' There's a reason why you're called an ex. I crossed you off my list. Moving on. You cross a line, you need to know that you're going to walk this earth knowing that there's an individual who has no respect for you" (via Us Weekly).
Wise words from Saldana, who, despite anchoring some of Hollywood's biggest blockbusters (like "Guardians" and "Avatar") hasn't been linked to many actors — or at least, not publicly. Saldana dated actor and CEO of My Fashion Database Keith Britton from 2000 to 2011 (via Ranker). The pair got engaged in June 2010, but broke up in 2011. Following that, Saldana had an on-again, off-again romance with actor and "The Words" co-star Bradley Cooper (via E! Online).
Saldana would later reflect on being in a special place in her life following her breakup with Cooper. "I was finally able to spend time without being in a relationship, and even though it was a short period of time, it was beautiful. I lost that fear of being alone," she told Fashion in 2014.
Going with her gut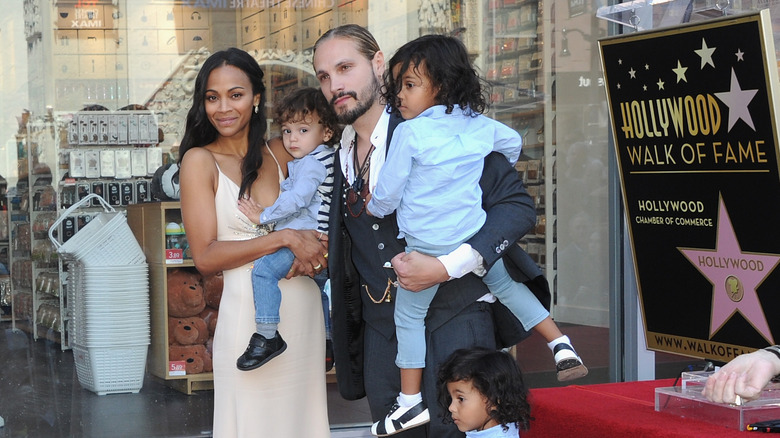 Albert L. Ortega/Getty Images
While Saldana might have been happy being single, life certainly had other plans for her. Not long after her breakup with Cooper, Saldana was spotted kissing artist Marco Perego at a "Star Trek Into Darkness" afterparty (via E! Online). Just a few months later, the pair was married. "I don't do the ABCs, I do what my heart says, what my heart feels. So, from the moment I met my husband, we were together. We knew," Saldana shared with Marie Claire in 2014. "...I wasn't going to try it out and see if it works. No, I felt it. I went with the feeling" (via Oprah Magazine).
Perego, an artist from Italy, even took Saldana's last name when the two wed, now going by Marco-Perego Saldana. Today, the couple have three young children, Zen, and twins Cy and Bowie, and have found other ways to buck against gender norms.
"We have a very gender-neutral environment where my husband participates in a lot of tasks that were normally given to women and vice versa," Saldana told Us Weekly in 2019. "I get to do a lot of male things, which is, I don't know, put the TV together, fix things that break. We're sort of a very gender-fluid household. I think it's important to raise boys in that environment, and girls as well."
Given how happy Saldana seems with Perego-Saldana, can you blame her for not wanting to keep in touch with her exes?