Inside The Life Of Chef Boot Camp's Cliff Crooks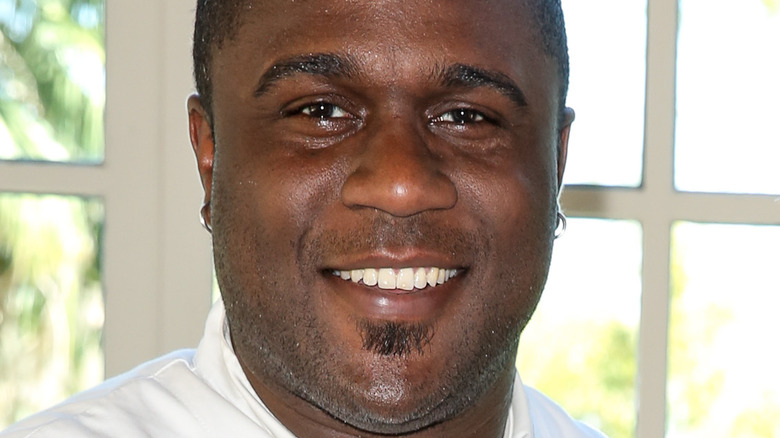 Chelsea Lauren/Getty Images
Food Network star Chef Cliff Crooks has quickly risen to the top of his industry.
Although Crooks' debut as a contestant on the second season of "Top Chef" resulted in a disqualification after he threatened to shave fellow chef Marcel Vigneron's head (via Today), his career has gone onward and upwards in the years since, and he currently holds the prestigious position of culinary director of the BLT Restaurant Group (via BLT Restaurant Group), which includes a number of different restaurants, including BLT Steak, BLT Burger, and BLT Prime, around the globe.
So where did Crooks' story begin?
"I grew up cooking with my nana — she's a fantastic cook — and that was the beginning of my child-like curiosity about food in general," he told New York Moves.
From there, Crooks, who has been married to wife Karina Veiga since 2019 (via Distractify), began working at a restaurant first as a bus boy (via Haute Living), then as a line cook, sous chef, and an executive chef at New York City restaurants such as Salute!, Blue Water Grill, and Gramercy Tavern.
Crooks has also experienced life in Taiwan, where he spent four years living on the island as his father worked to support their family. Speaking to Haute Living, Crooks said his experience in Asia "taught me at an early age to be open-minded about all kinds of food."
In addition to appearing as a contestant on "Top Chef," Crooks has also been featured on "Tournament of Champions," "Chopped Junior," "Worst Cooks in America," and "Hell's Kitchen."
Chef Cliff Crooks is expanding his legacy
Following appearances on food-based shows as contestants and judges, Chef Cliff Crooks landed his first gig as host on "Chef Boot Camp," which premiered on the Food Network in April 2021. The series, according to the press release, followed chefs as they attempted to improve the food at their struggling restaurants (via Newsroom — Discovery, Inc.).
"Cliff Crooks knows what it takes for a restaurant to be successful and in Chef Boot Camp, he brings his tremendous experience and a commitment to excellence to struggling restaurateurs and their kitchen staffs," said Courtney White, the president of the Food Network. "Cliff's investment in these chefs is evident every step of the way as he gives everything he can to help them improve and succeed."
As for what's next, Crooks told New York Moves that he has placed some of his focus on the future of fast-casual dining.
"I see the line continuing to blur between fine dining and more casual service, creating more opportunity to taste things outside of one, formal format," he said. As he explained, he feels that the food that is considered "fast food" should not be assumed to be cheap or unhealthy. "In my mind, there shouldn't be a difference or sacrifice based on convenience," he stated.