The Truth About Brie Larson's Relationship History
Brie Larson is constantly evolving, and not just by leveling up into an intergalactic superhero. As we evolve, though, so must the people we surround ourselves with. Because of this, we all date different partners at different times, with everyone entering our lives when we need him. At present, this person for Brie Larson is her boyfriend, Elijah Allan-Blitz. According to Distractify, the couple have been together for about a year and a half, and they made themselves publicly official by attending the Academy Awards together in February 2020. 
Much of Larson's personal life and dating history has been kept private but a little bit is known about her current relationship with Allan-Blitz. According to Page Six, Larson's beau is an actor and a director, and while the two keep their relationship private, Allan-Blitz did caption an Instagram post earlier this year in tribute to her. He wrote, "This photo was taken early last year. We had no idea that the whole world was about to change. Thank you for showing up and being my teammate through all of it. I love you, Brie." The two seem extremely happy together, especially in this photo, and his caption resounds warmth and appreciation.
These are the other actors Brie Larson has dated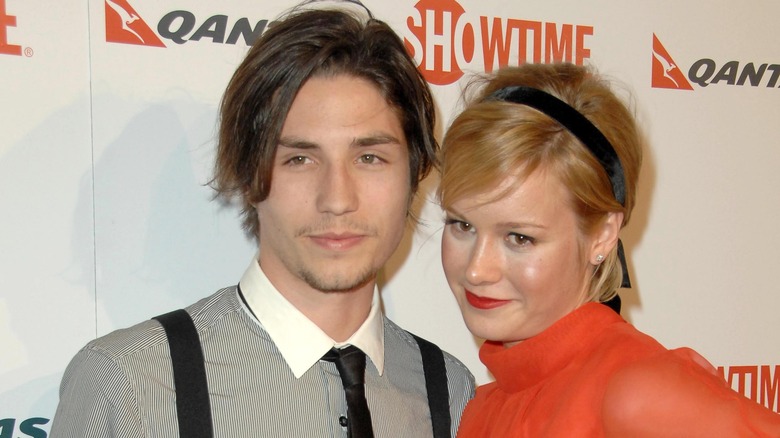 Shutterstock
Before Elijah Allan-Blitz, Brie Larson was engaged to Alex Greenwald, who was the lead singer for his band Phantom Planet (via Distractify). They reportedly dated from 2013 to 2019, with Larson referring to him as her "person" and her "best friend" in life. However, they split in 2019, and about six months later she began dating her current beau.
Larson has had two other publicly known relationships from before her six year relationship with Greenwald. From 2006 to 2007, she dated Cody Linley, who was known at the time for his role on "Hannah Montana." As with most teenage love, these relationships don't always last, but from 2008 to 2012, Larson had a serious relationship with actor John Patrick Amedori (via The News Fetcher). It's still unclear why Larson and Amedori (pictured above), who's known for such projects as "Dear White People" and "Hindsight," broke off their relationship (via Distractify). 
Overall, Brie Larson has only had a few relationships in the public eye, and she seems immensely happy in her current partnership with Elijah Allan-Blitz, which is all we could ever want for our Captain Marvel.