How Jameela Jamil Ended Up On The Good Place
Shutterstock
Jameela Jamil more than held her own alongside veteran actors Kristen Bell and Ted Danson in NBC's "The Good Place." She seemed such a natural playing name-dropping socialite Tahani Al-Jamil in the series that it may come as a surprise to realize that not only was that her first acting job, but she got it after her first ever audition (via CNBC).
She told CNBC "My first audition was for 'The Good Place,' and [creator] Mike Schur gave me the job because he's a very strange man who gave a complete novice who'd never acted before a job." Jamil actually did the audition for a chance to meet Mike Schur, who also co-created the show "Parks & Rec" and "Brooklyn 99." She told Rolling Stone, "I get to meet one of my heroes, [creator] Mike Schur, I might as well go for the story." 
A white lie may have helped her get in the door for the first round of auditions for the part. She told BBC, "I lied in my audition. I said I'd mostly done theatre because it's harder to track down. Technically it's not a lie because when I was six I played Oliver's mother in my school play. I was creative with the truth."
Jameela Jamil's improv helped her get the job on The Good Place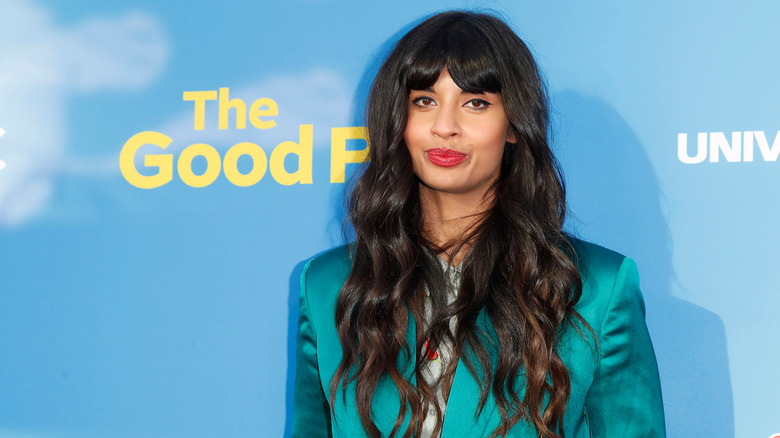 Shutterstock
Jameela Jamil got called back for the second round and another little lie. She told W that Schur asked her, "'You know how to improv right?' So I lied, said I could, and I had to s*** myself through an improv with Mike actual Schur."
Jamil explained to Rolling Stone that she figured out the character was supposed to be a socialite, and during the improvised interview: "I did something about Lady Diana ... for 10 minutes. I blacked out through the whole thing and somehow got a call a week later saying I had the job." Hopefully someday the audition video comes out so we can see it since it's sure to be hilarious, and it seems to have gotten her the gig. Thank goodness, since we can't imagine anyone else as the elegant and over-the-top Tahani.
Previously, Jamil worked in England as a model, then as a TV presenter, and in 2012, she became the first female solo BBC Radio 1 host (via Insider). In 2016, she moved to Los Angeles to try and work as a comedy writer (via W). Since "The Good Place" wrapped, she's moved on to work as one of the judges of the reality voguing competition show "Legendary" on HBO (via Variety). Jamil has also started a podcast and social media campaign called "I Weigh" to help promote positive social change in the world (via iWeigh).