Emmy Rossum Stuns Fans With Big Family News
In an announcement that threw social media for a loop, Emmy Rossum just revealed that she's a new mom.
In the late evening of May 25, the "Shameless" actress tweeted a black-and-white photo of herself wearing a bodysuit that clearly showed a large baby bump. She wrote: "5.24.21. On a sunny Monday morning, at 8:13 AM, we welcomed our daughter into the world." She then posted four more pregnancy photos on her Instagram account. One of them shows husband Sam Esmail hugging her from behind; in another, Rossum is posing on the sill of what appears to be her living-room window. "Two weeks before our daughter was born," she captioned it. Another photo shows a tiny, perfect footprint. 
The general reaction to the news could be described as "Wait, WHAT?" mixed with "Mazel tov!" Congratulations flooded in from both fans and friends. Co-star Isadora Goreshter responded with a series of heart emojis; Jim Hoffmaster, who played Kermit, wrote simply, "Congratulations!" Chelsea Handler wrote, "I love it! Congratulations, mama!" Gabriella Union-Wade echoed, "Congratulations mama!!"
Emmy Rossum's news helps explain a big question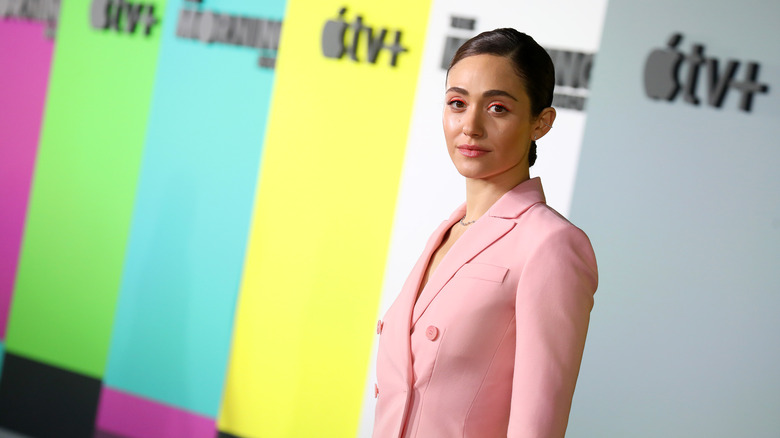 Brian Ach/Getty Images
Emmy Rossum's big reveal also evoked a huge "aha!" response from Showtime viewers who followed "Shameless" for all its 11 seasons. The drama followed the lives and frequent misadventures of the Gallagher family, a large dysfunctional clan from Chicago. Rossum played Fiona, the oldest of six children; with an absentee mother and an alcoholic, chronically unemployed father, it fell to her to keep the family together (via Rotten Tomatoes). At the end of Season 9, Rossum opted to leave the show, and her character was written off as having moved on to pursue her successful career as a landlord. But when the finale recently aired, fans were outspokenly disappointed when Rossum didn't make a return appearance.
Now all is forgiven as it becomes clear that the actress was rather occupied at the time the series finale was filming. But fans can be forgiven for making a few Fiona-related jokes. There was a bit of speculation over whether the baby's father was Jimmy, Sean, or Ford — three of the many guys Rossum's character was involved with on "Shameless" (via Screen Rant). At the time this post was written, Emmy Rossum hadn't yet revealed the name of her daughter. Will she pay homage to one of her most famous roles by naming the baby Fiona?