Kate Middleton's Stunning New Necklace Has The Internet Buzzing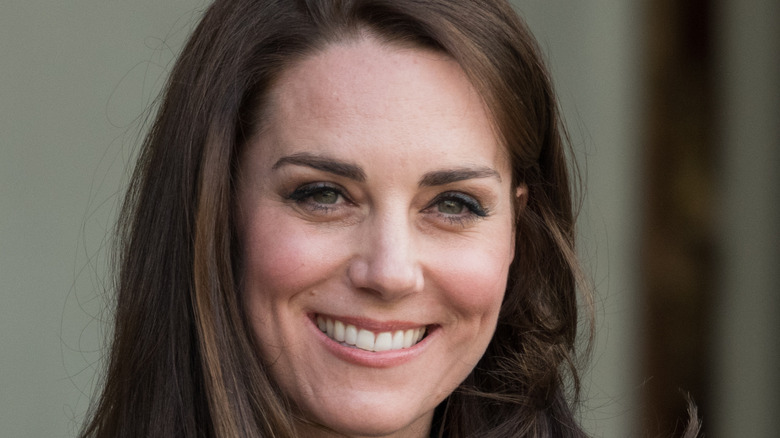 Shutterstock
Kate Middleton may not be the flashiest member of the British royal family. However, her stunning new diamond necklace has set the internet ablaze. According to Parade, the Duchess of Cambridge's newest piece of bling is a diamond necklace known as the Daisy Heritage Pendant and costs around $12,350. 
As Hello reported, the necklace, set with marquise and pavé diamonds, was first spotted in two photographs released by Prince William and Kate Middleton to mark their ten-year wedding anniversary on April 29.
A description of the necklace reads: "Flora and fauna have long featured in Asprey's collections, and the quintessentially English Daisy has been a motif our jewellery designers have been using in various forms for decades." The description continues, "This Daisy Heritage piece is one of the most iconic of such designs, featuring individually set marquise cut stones as the flower's petals ... The centre of the flower, meanwhile, is set with a half ball of pavé diamonds, replicating the texture of the daisy's centre."
Kate Middleton was spotted wearing the diamond necklace again
According to Harper Bazaar, Middleton was again seen wearing the diamond necklace in a video message she filmed for the Nursing Now campaign, during which the Duchess paid tribute to the "incredible work" of nurses on the frontline during the COVID-19 pandemic. 
"When Nursing Now was launched in 2018, we had no way of knowing just how much the work, dedication, and infinite care of nurses would be tested, needed, and appreciated," she continues in the clip. "COVID-19 has highlighted the vital role that nurses provide, which we all rely on. And it's made all the more extraordinary when we consider the huge sacrifices and personal demands that have been placed on all of you by the pandemic" (via Youtube).
Since debuting the necklace, there has been an increased demand in the Duchess' jewelry, and according to Hello, the so-called "Kate effect" appears to be in full swing as the luxury jewelry house which stocks the necklace state that "recent high demand" means they're currently out of stock