What Is Skip-Care, The Newest K-Beauty Skin Care Trend?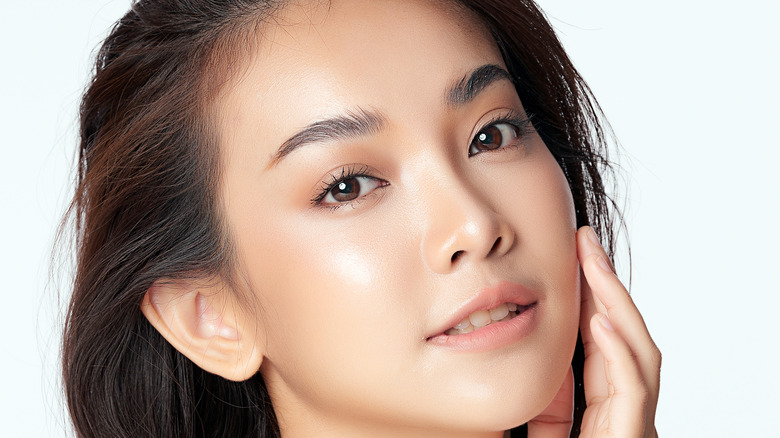 Shutterstock
South Korea is known around the world for being the global trendsetter in skin care and makeup. Korean beauty brands churn out fun, inventive, and cutting-edge products with ingredients like snail mucin and pig collagen that promise to make your skin dewy and youthful.
Products from essences to ampoules to sunscreen (an essential part of every skin care regimen) are part of the famous 10-Step Skin Care Routine (via Soko Glam). This cornerstone of K-beauty has one goal: To give you "glass skin" — skin so clear and luminous it looks as if it's made of glass (via Glamour).
K-pop idols like Blackpink's Jisoo and Suga from BTS have inspired fans to step up their skin care game and follow the 10-step routine. But the routine can be time-consuming and expensive, and many people — including skin care enthusiasts — find it overwhelming.
Beauty minimalists, rejoice. There's a new trend in town that provides a more streamlined approach to skin care than the unwieldy 10-step routine: Skip-care. Skip-care is a consolidated skin care routine that relies on products that can multitask, like cleansers with glycolic acid (via Vogue).
Skip-care is attractive to many skin care enthusiasts simply because it is more flexible and encourages people to adjust their routine as needed, rather than the intimidating 10-Step routine.
A skip-care routine allows you to pick and choose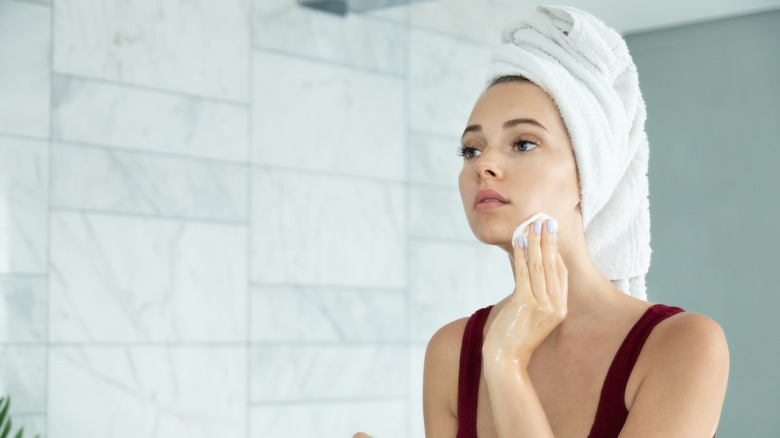 Shutterstock
According to Glow Recipe, the numerous products involved in the traditional 10-Step routine are still present in a skip-care routine, you are just supposed to select the products that you feel that your skin needs on any given day (via YouTube).
The foundation of any skin care routine requires four basic steps: Cleansing, toning, serum, and moisturizing (per Glow Recipe). The serum you select depends on your primary skin concern, whether that is correcting redness, adding moisture or brightness, or combating aging.
After the basics, whether you add another step like a sheet mask or ampoule depends on you and your skin.
But skip-care doesn't just save time. It might be saving your skin. According to Dr. Joshua Zeichner, director of cosmetic and clinical research in dermatology at New York City's Mount Sinai hospital, layering products can actually cause irritation and, in some cases, inactivate certain ingredients (via Allure).
"A more complicated, multi-step regimen is not necessarily better," Dr. Zeichner told Allure. "Using more product means more potential irritation. Plus, we really don't know whether the products you're using are actually compatible with each other."
By ditching the lengthy 10-step routine for a more streamlined skip-care routine, you'll save yourself time, money, and maybe even prevent a breakout.