Here's Which The Ordinary Products To Use For Sensitive Skin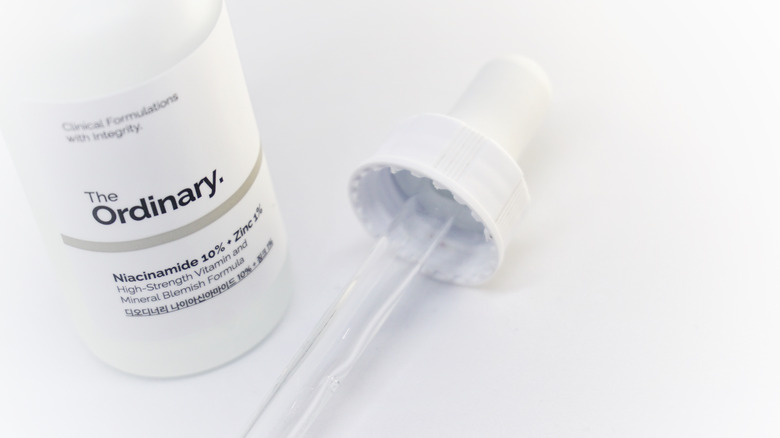 Shutterstock
If you're one of the millions who are currently obsessed with beauty and skincare products, then chances are you have heard of The Ordinary. The revolutionary product line — which claims to have been created to "celebrate integrity in its most humble and true form" – was founded in 2016 under its parent company DECIEM (per their website).
Their skincare items range from serums to peeling solutions to facial cleansers, and are currently available for purchase at both Ulta and Sephora. The products are not only inexpensive (the average prince point per item is $15 or less), but they have also seemingly earned the title of social media's skincare cult favorite, according to GQ. Another factor that likely contributes to The Ordinary's popularity is their transparency when it comes to the ingredients they use. For example, their peeling solution, called AHA 30% + BHA 2% Peeling Solution, contains literally just AHA and BHA at the aforementioned percentages. 
This no-nonsense/no-nasties philosophy makes The Ordinary's products especially ideal for people with sensitive skin. Still, if you're not caught up on your skincare jargon, it can be hard to determine what's right for your skin type. With that in mind, we have compiled a list of some of The Ordinary's best products for sensitive skin (P.S. if you have oily skin, you can check this article out). 
Try these products from The Ordinary for your morning routine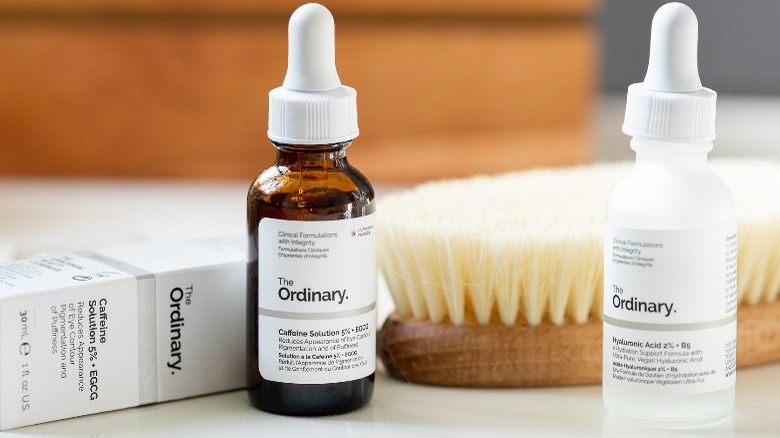 Shutterstock
Using the right products in your morning routine is imperative, as they not only cleanse your skin from any toxins that might have been produced overnight, but they also prep your skin for absorption of any products you apply afterwards, according to Herbal Dynamics Beauty. So it goes to stand that if you suffer from sensitive skin, you'll want to use gentle ingredients that will not cause irritation first thing in the morning. 
One product that is extremely sensitive skin friendly is The Ordinary Hyaluronic Acid 2% + B5 ($6.80). This serum, which contains pure vegan hyaluronic acid and vitamin B5, both hydrates and plumps your skin. B5 is also essential for skin's integrity and "promotes skin barrier preservation," Prudvi Kaka, chief scientific officer at DECIEM, told Byrdie. Apply a few drops of this product all over your face immediately after cleansing and toning, and before any heavy creams, moisturizers or oils.  
Another item you will want to try ASAP is The Ordinary Natural Moisturizing Factors + HA ($5.80). This non-greasy, oil-free moisturizer is formulated with amino acids, dermal lipids, and hyaluronic acid to nourish and protect your skin's outer layer. Use it on your face and neck after serums and before oils to lock in the ultimate amount of hydration. 
Here are the products from The Ordinary that you should use at night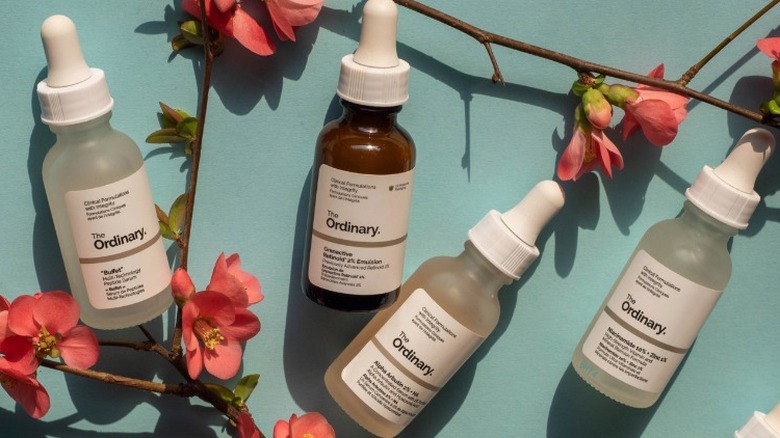 Shutterstock
Similar to your morning products, your nighttime products are of the utmost importance (maybe even more so), as they remove dirt and oils from makeup and environmental factors that build up during the day. Night is also when your skin regenerates cells and works to repair itself from daytime damage, per Herbal Dynamics Beauty, so the last thing you want to do is irritate your skin before it performs these important duties. 
One awesome evening product for sensitive skin is The Ordinary 100% Plant-Derived Squalane ($7.90). This USDA Certified bio-based product works wonders to hydrate your skin as its made from squalane (a compound produced naturally in our skin). Squalane is also very effective at reducing the appearance of fine lines and softening skin's texture, per Fleur & Bee. You can use this product after your water-based serums, and bonus, you can also apply this oil to your locks to prevent breakage and increase heat protection. 
A second item you're going to want to buy immediately is 100% Organic Cold-Pressed Rose Hip Seed Oil ($9.80). Rose hip oil is not only one of the gentlest oils you can use on your skin, but also one of the most powerful as it contains high levels of antioxidants, according to Medical News Today. Studies have shown this oil can also treat eczema and reduce inflammation. Use this product after your moisturizer, or in lieu of, and you'll be set.