The Harris-Emhoff Family Tree Explained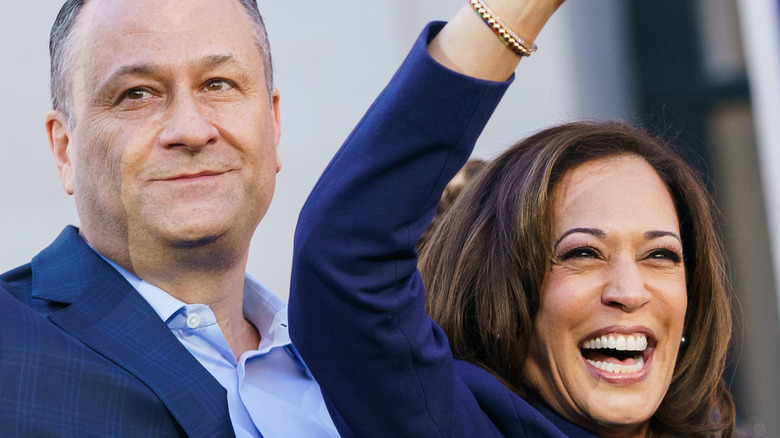 Mason Trinca/Getty Images
All eyes have been on Kamala Harris since she became the vice president of the United States. The first woman, and the first woman of Asian descent, to hold the office, Harris is a trailblazer. With her political life being so heavily in the spotlight, curiosity about her personal life has naturally arisen. Harris is married to the country's first second gentleman, Doug Emhoff, who should win the award for most supportive spouse. The two are adorable together, but their family doesn't stop with just each other.
Harris was famously single — and very private — when it came to her romantic life, that is until Emhoff came around. The two got married in 2014 at the Santa Barbara, California, courthouse and seemingly ran off into the political sunset together, bringing their families along for the ride. Both Harris and Emhoff's family members have been included in major political events, and have very much been on the frontlines of Harris' life in public office.
So what does the blended Harris-Emhoff family look like? Wonder no more, here is their family tree explained.
What does Kamala Harris' side of the family look like?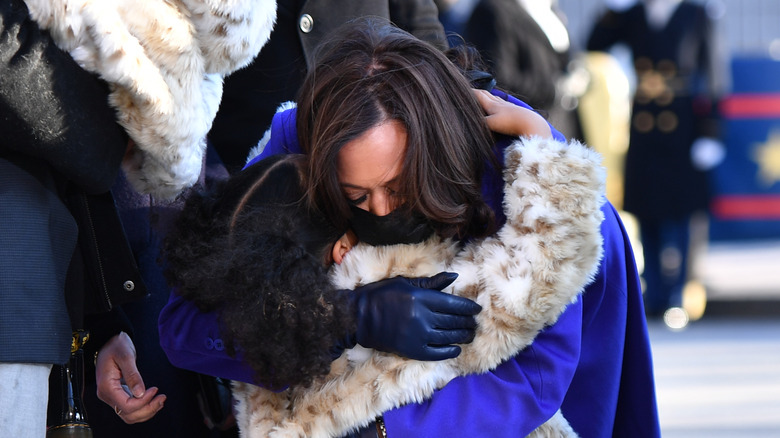 Mark Makela/Getty Images
Kamala Harris was born to parents, Donald J. Harris and Shyamala Gopalan, and is the oldest of two children. As noted by The New York Times, her parents met at a lecture at the University of California at Berkeley in 1962, but, unfortunately, their union was not built to last. Kamala's parents got divorced when she was still young, and her mother died in 2009. As per Vogue Australia, Kamala's father is an emeritus professor of economics at Stanford University in California. 
Kamala is an older sister to Maya Harris, who is three years younger. When speaking about her sister, Kamala said, "I think most people who know Maya will tell you she's one of the smartest people they know," as noted by Politico. Maya gave birth to her daughter, Meena Harris, at 17, and married her husband, Tony West, who also works in the political sphere (via Vogue Australia). Meena is the family badass (if you can believe it), and is a CEO, author, lawyer, and mom of two. Her little girls, Amara and Leela, even made an appearance at Harris' inauguration, as noted by Harper's Bazaar. One thing is for sure, Kamala's family is full of powerful women.
Doug Emhoff's family tree is fairly small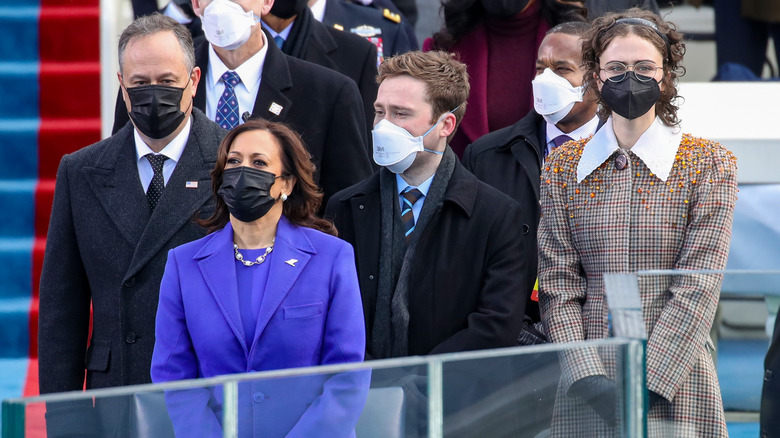 Rob Carr/Getty Images
Second Gentleman Doug Emhoff's family tree is a bit on the small side as far as numbers go, but it's full of bold personalities. Let's start with his two kids, Ella and Cole Emhoff. As noted by Vogue, Ella and Cole were named after jazz musicians Ella Fitzgerald and John Coltrane, and they are the children of Doug and his ex-wife, Kerstin Emhoff. The kids affectionately call Kamala Harris "Momala."
Doug's kids, especially Ella, have made impacts in their own way. After rocking the inauguration like it was her runway, Ella got signed to IMG Models, per BBC News. When speaking of her budding modeling career, the president of IMG Models, Ivan Bart, told The New York Times, "Ella communicates this moment in time. There's a cheekiness and a joy she exudes." Apart from his kids, Doug's family tree extends to his parents and siblings. He is the middle child of Barbara and Mike Emhoff, and has an older sister, Jamie, and a younger brother, Andy, per Biography.