A Clip Of Ted Cruz Versus A Fly Has The Internet Buzzing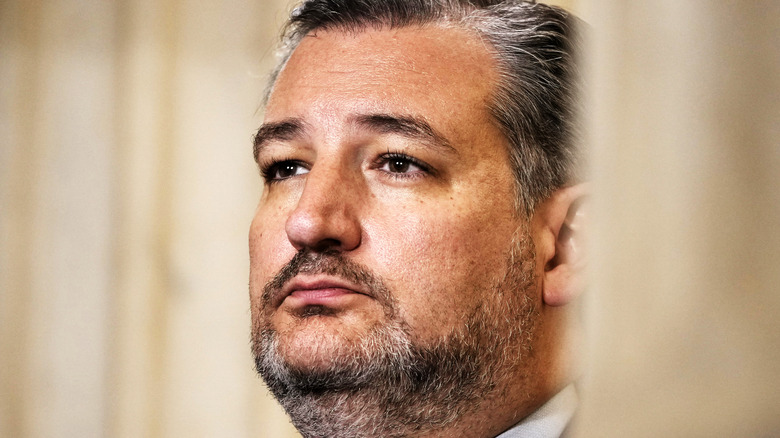 Drew Angerer/Getty Images
It takes very little for the internet to start buzzing about Texas GOP Senator Ted Cruz, particularly if Cruz is caught in the middle of some unfortunate incident (you might recall that's how many people found about Cruz's Cancun getaway).
Well, social media users tracking the senator have become restive again, thanks to a clip making the rounds that appears to show a curious fly making its way into an unsuspecting Ted Cruz's mouth as he spoke to Fox News' Sean Hannity. 
It didn't take long before netizens rose up to roast the senator. Most were simply stunned by what they saw: "TED CRUZ ATE THE FLY HE WOULD NOT EVEN SPIT THE FLY OUT," a horrified member of the twitterverse said. Another called on fellow Twitterati to get the hashtag #ToadCruz trending (via Twitter). 
However, it turns out the clip was merely a joke and no such fly-swallowing incident actually occurred. CNN reporter Daniel Dale later tweeted, "The 'Ted Cruz swallowed a fly on Fox News' video is fake."
Netizens relived the moment when a fly joined Mike Pence during the VP debates
Still, the false clip of Ted Cruz instantly drew comparisons to a much-talked-about November incident involving former Vice President Mike Pence. "Ted Cruz learned how to fly from Mike Pence," one social media user tweeted. 
If you recall, Pence once shared headspace with a fly during his televised debate with Vice President Kamala Harris during the 2020 presidential campaign. Of course, the Mike Pence incident actually happened and even led to his unwanted guest getting its own Twitter account with the tagline, "Pretty fly on a white guy."
We're not sure if that makes it better, but it does prove yet again that the internet doesn't forget anything.