Inside Jennifer Aniston And David Schwimmer's Off-Screen Relationship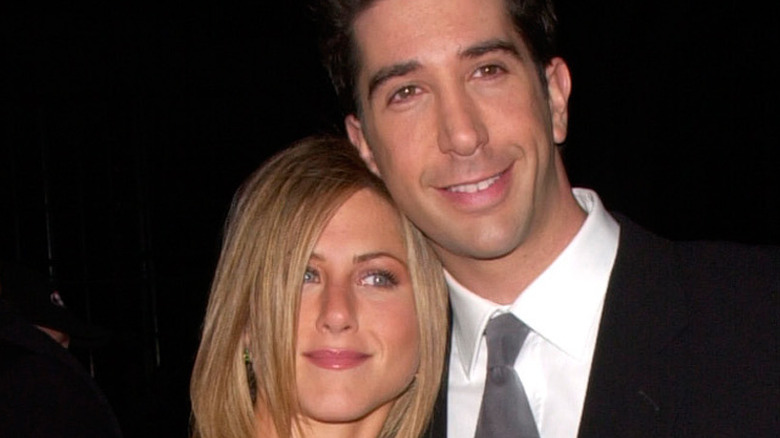 Shutterstock
They played Ross and Rachel — the on-again-off-again couple for more than ten years, and while the on-screen chemistry between Jennifer Aniston and David Schwimmer was undeniable, it's only now that we're finding out exactly why.
During the "Friends: The Reunion" special, Aniston and Schwimmer came clean about the fact that there was off-screen chemistry — and plenty of it. In fact, Scwhimmer said, "The first season, we– I had a major crush on Jen," a feeling that Aniston says was wholly reciprocated. He continued: "At some point, we were both crushing hard on each other. But it was like two ships passing, because one of us was always in a relationship. So and we never crossed that boundary. We respected that" (via ET).
But that didn't mean that there was no flirting between the two. "I thought back on the first year or two, you know, when we had breaks from rehearsal, there were moments when we would cuddle on the couch," Schwimmer said. Aniston says she even remembers spooning and falling asleep.
Ross and Rachel's first kiss wasn't all acting
All that intensity led to the moment that unfolded in "The One Where Ross Finds Out," and when Ross and Rachel kiss for the first time (via YouTube). Jennifer Aniston says she'd predicted that, saying: "I remember saying one time to David, 'It's gonna be such a bummer if the first time you and I actually kiss is gonna be on national television.' Sure enough, first time we kissed was in that coffee shop" (via ET).
Courteney Cox, who plays Monica, admits she knew that Aniston and Schwimmer fancied each other, and that she is still moved by that first kiss scene to this day. "I was, like, weeping. The tension ... it was just palpable. It was just perfect. Man, that was something," she recalled in the "Friends: The Reunion" special.
Cox also said that Aniston and Schwimmer were right to leave things as they were, because "if you had and it didn't work out, it would've probably not been as great," she said (via Buzzfeed News).