What Makeup Products Should You Avoid When You Have Eyelash Extensions?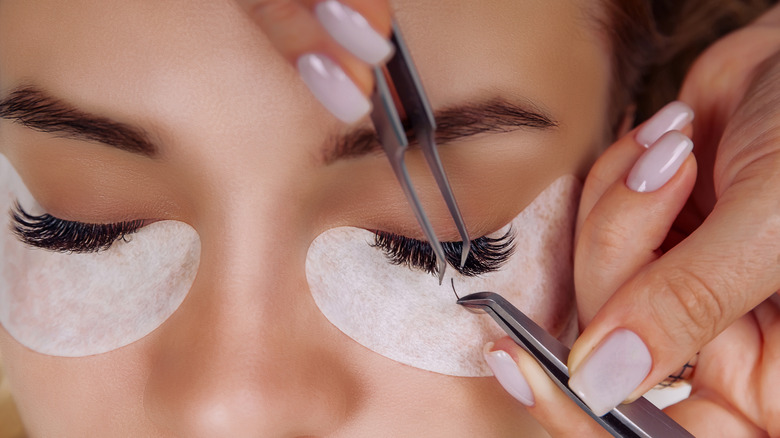 Shutterstock
There's no doubt about it, your eyelash extensions look amazing. However, the issue is that, as per Byrdie, not all your makeup is compatible with your new lashes.
Eyelash extensions can last for around six weeks, but only if you take care of them properly. Use the wrong makeup with them and you can wave goodbye to your gorgeous new lashes, as certain products can cause lash fallout and damage. Makeup.com noted that eyelash extensions are the ideal way to achieve thick, long, fluffy jet black lashes that make pulling off that "no makeup" makeup look a whole lot easier. The truth is that eyelash extensions tend to be sensitive, that's why it's so important that you are careful about the products that you pair with them.
Wondering how you can create the perfect makeup look to pair with falsies and what products are safe to use? We've put together a list of the dos and don'ts for pairing makeup products with your extensions!
These are the makeup products you should say no to if you have eyelash extensions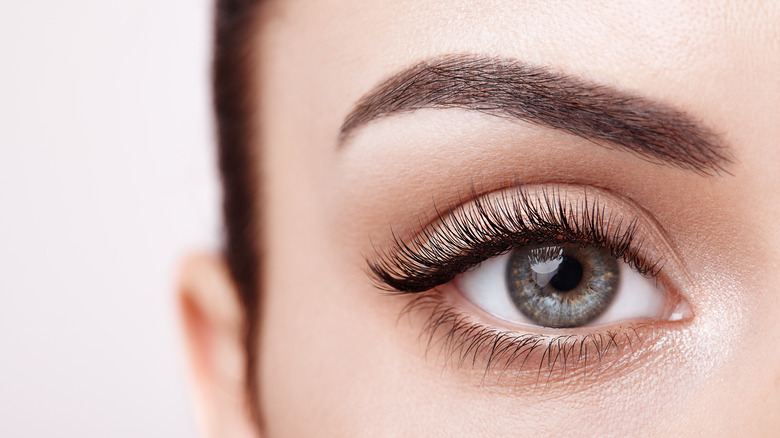 Shutterstock
Makeup.com warned that oil can cause the glue in eyelash extensions to be broken down faster, so it's best to opt for makeup products that are oil-free wherever possible. Byrdie reported that pencil eyeliner isn't the best product to use in combination with eyelash extensions, either. The issue with lash extensions is that they can get tangled easily, and pencil eyeliner can make tangling more likely. It's also worth noting that gel and cream eyeliner can leave a residue on eyelash extensions, so it's best to avoid these kinds of formulas too. Instead, opt to use a powder eyeliner to line your eyes with. 
Makeup.com recommended that when wearing extensions, it's best to be mindful of the type of eyeshadow that you're using. Cristina Monaco, cosmetic and dermatology specialist, said that, "Eyeshadows with a sparkle base can cause irritation to the eyelid margin," and that it's best to avoid powder and glitter becoming trapped in your extensions by applying eye makeup using a tight bristled brush and packing it onto your lids.
It is possible to wear mascara with false eyelashes, it's just a case of being selective about the mascara that you opt to wear. Byrdie recommended that you avoid "tube mascara," as this formula tends to stick to false lashes like a glue and can be tricky to remove. Instead, it's best to opt for a lightweight formula.