The Drugstore Eyeliner That Celebrity Makeup Artists Swear By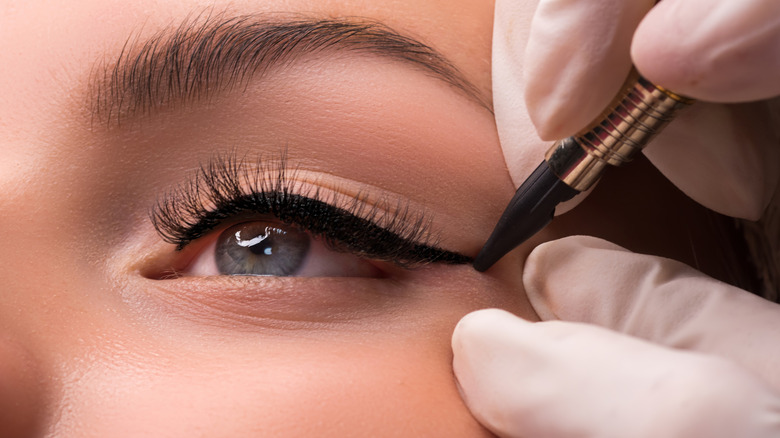 Shutterstock
We may receive a commission on purchases made from links.
If there's one makeup product that can make or break your look, it's eyeliner. It's easy to make mistakes, whether you're choosing the wrong eyeliner or applying it incorrectly. Luckily, though, drugstores have some of the best eyeliners, meaning you can buy great quality products at an affordable price. But what is the best drugstore eyeliner? 
According to celebrity makeup artist Rae Morris, it's Rimmel Scandal Eyes Waterproof Gel Eyeliner (via Byrdie). Praising this gel eyeliner, Morris said, "It's super black. I can't live without it." Because it's a gel eyeliner, it glides on with ease and a precision that can't be beat, and as Morris pointed out, its pigmentation is superior to its competition. It will make your eyes pop, making them bright and bold, and it can be used in more dramatic looks in unconventional ways as well. In this way, this Rimmel eyeliner is great for the everyday look and for more high caliber looks, such as drag makeup.
This is what reviewers are saying about this eyeliner
Rimmel Scandal Eyes Waterproof Gel Eyeliner retails for just $6 on Amazon, meaning it's not only incredibly pigmented, but also incredibly affordable. A little gel goes a long way, so this product may even last longer than eyeliners that you're used to. Amazon described the product as having a "rich, intense color" and stated that it lasts 24 hours. They also included that it's easy to apply and won't flake, smear, run, or budge. What's more, this gel eyeliner comes with a professional makeup brush that's perfectly designed to apply gel eyeliner evenly to your eye.
According to Byrdie, Rae Morris said this eyeliner is something she can't live without, and some Amazon reviews repeated this sentiment. One reviewer said, "It stayed put all day, didn't get greasy due to my oily combo skin which can be a problem for us with gels and creams," before adding that a single pot lasted her nearly four months. Other reviewers have had slightly worse experiences, though. One reviewer said, "It dried out VERY quickly (within a month of use), and with it being a gel eyeliner that is applied with a brush, it therefore became very difficult to apply." Here's your reminder that you shouldn't use expired makeup, either. 
Ultimately, as with any makeup, you have to try things for yourself because makeup products vary and different products work well on different people's skin.