Hypoallergenic Pillow Brands To Try If You Have Sensitive Skin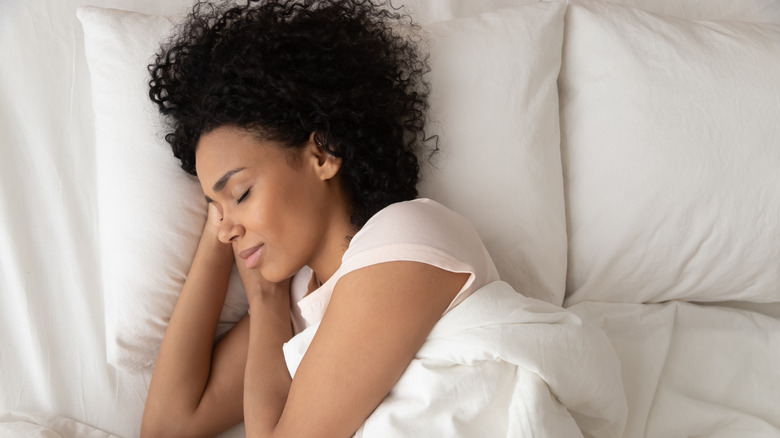 Shutterstock
We may receive a commission on purchases made from links.
If you suffer from allergies, it's very important to change your pillowcase often. Pillowcases build up dirt, oils, and sweat from just one use, all of which can cause allergies and harm the skin, via Insider. However, changing your pillowcase won't do much to alleviate your allergies if you have a dust-prone pillow. Normal pillows unfortunately harbor dust mites, pet dander, and even mold, per Prevention. While Consumer Reports states that machine washing and drying a pillow on a gentle cycle will certainly get rid of dead skin cells and everything dust mites love, your pillow might get misshapen in the process. Plus, many pillows are not machine washable.
Hypoallergenic pillows are therefore an excellent investment in your health. As explained by Prevention, they have special casings that protect the interior from collecting allergens. Dust mite proof pillows are particularly valuable, because they prevent dust mites from taking up residence in the fill. According to Healthline, the best hypoallergenic pillows are those that have removable and washable covers, fills that are not made of down, and certifications that the materials used in the pillow don't create a lot of off-gassing. For those who don't know, off-gassing is a process where manufactured items release organic compounds and chemicals into the air that can irritate the lungs, via Coway.
These are the best hypoallergenic pillows by price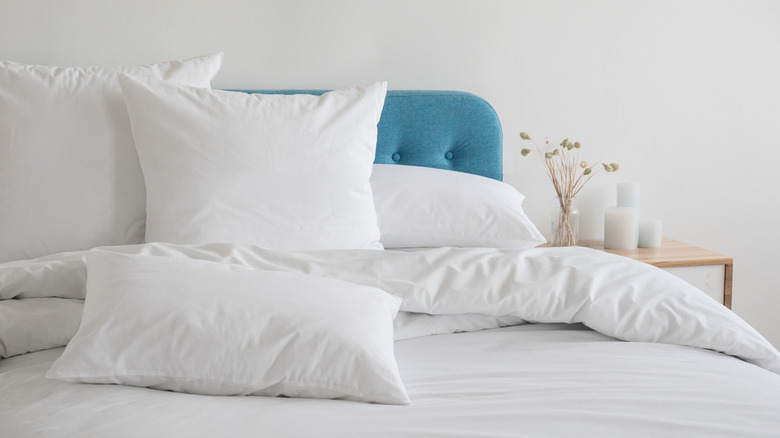 Shutterstock
Hypoallergenic pillows come in a range of prices, though you don't have to spend an extravagant amount of money to get an allergy-free night's sleep. For those who are willing to splurge, Healthline recommends the Tempur-Pedic TEMPUR-Cloud Breeze Dual Cooling Pillow. It comes with a foam core encased in gel to cool down hot sleepers, a washable cotton-knit cover, and a five year warranty.
For a less expensive, less firm option, try the Avocado Green Pillow instead. It is certified vegan, organic, and features a cotton cover, jersey liner, and a fill of certified latex with plant fiber. Better yet, you can easily add or remove fill on the interior to make it more comfortable, according to Sleep Foundation.
On the inexpensive end, Healthline suggests the BreatheWell Certified Asthma & Allergy Friendly Pillow, and the Columbia Down-Alternative Allergen Barrier Pillow. The BreatheWell pillow is certified by the Asthma and Allergy Foundation of America and Allergy Standards Limited. Plus, it is durable and easily cleaned. "Our oldest now is able to sleep through the night without waking up coughing," one Amazon reviewer raved. The Columbia pillow is designed to wick moisture, and contains a high-quality allergen barrier. Plus, it is perfect for back and side sleepers. No matter which hypoallergenic pillow you choose, just remember to do your research so that you can make the best selection possible, and replace your pillow when needed.