The Surprising Job Jon Hamm Had Before He Was Famous
Shutterstock
Jon Hamm is a big-time Hollywood star, most famous for his role as the smooth-talking advertising genius Don Draper on "Mad Men," but he didn't find superstardom immediately. Like many in the entertainment industry, Hamm struggled as an actor when he started out, and he realized that would be the case, saying, "I moved out to L.A. when I was 25, and I was like, 'If I'm 30 and I'm still waiting tables, it's time to move on to something else'" (via ABC News).
He didn't just wait tables though. One of Hamm's jobs to pay the bills while he was trying to break into the entertainment business was in soft-core porn. Not as a performer, but as a set dresser. He told Esquire how it happened. His friend told him, "'You can have my job. I'm doing set dressing.' I said, 'I don't know how to do that.' She says, 'It's not that hard. They'll hire anybody.' She says, 'It's just soul-crushing for me. I can't do it.'"
Jon Hamm was also once a teacher and might be again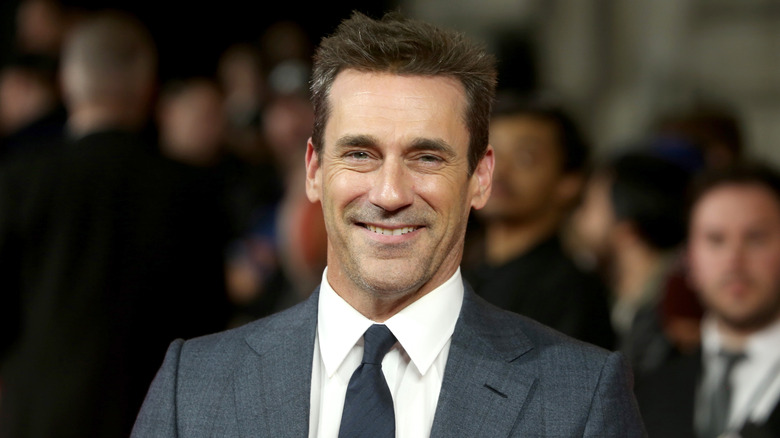 Shutterstock
For a lot of people you'd think that a job being described as soul-crushing would stop them, but Hamm apparently wasn't deterred. He went on, saying, "'Soul-crushing: That sounds amazing. I'll do it.' And she's like, 'It's for these Skinemax soft-core titty movies.' I asked, 'What do you do?' She hands me this bucket with all of her tools in it and says, 'You just move s[---] around. Do whatever they want you to do.' I went in the following Monday and said, 'I'm the new set dresser.' Literally, no one blinked." He confirmed that it indeed was a soul-crushing and boring job (via Esquire).
Before his time set dressing, the Emmy-winning actor taught drama for a year at his former high school in St. Louis, Missouri. One of his students was Ellie Kemper, who played Kimmy Schmidt in Netflix's "The Unbreakable Kimmy Schmidt," which Hamm also guest starred in (via Business Insider). While he probably won't ever go back to being a set dresser, he has said that he might still go back to teaching someday (via Today).