Where You Can Buy The Exact Clothes Veronica Wears On Riverdale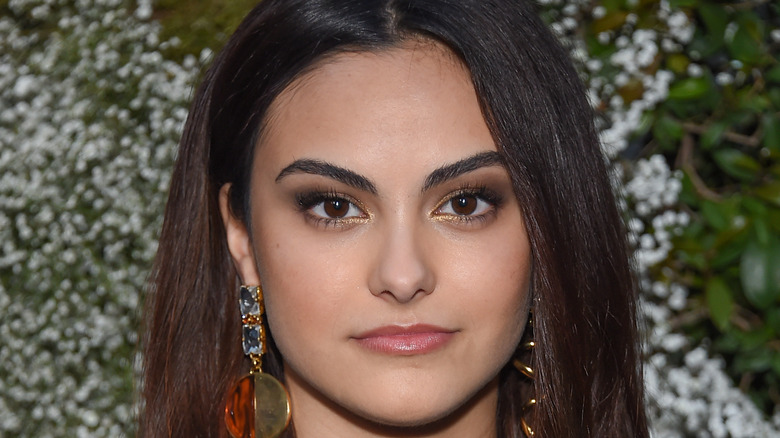 Shutterstock
We may receive a commission on purchases made from links.
"Riverdale" may have its silly plot lines and its questionable dialogue, but its fashion — from Jughead Jones' bookworm style to the Serpents' biker gang jackets — is typically on point. This is no exception for Camila Mendes – who has a stunning net worth — and her portrayal of Veronica Lodge, whose lavish lifestyle allows for a variety of beautiful outfits.
Veronica's outfits range from chic, solid black looks to bold colors and prints, but no matter the color or style, they typically share a similar silhouette. Her style is distinct, meaning she can try new colors or prints without losing her essence. A perfect example of this is her classic blue puffed sleeve top with her black wool mini skirt (via WornOnTV). These items can be found at Shopbop and Mytheresa, respectively. 
Another Veronica staple comes in the form of Aritzia's Tempest Blouse in black, a cropped blouse with princess sleeves. This is one of Veronica's most recent outfits on "Riverdale," appearing in Season 5 after the series' time jump, meaning this blouse is more indicative of adult Veronica rather than the teenage Veronica we met in earlier seasons (via WornOnTV).
Here are even more Veronica Lodge outfits you can buy online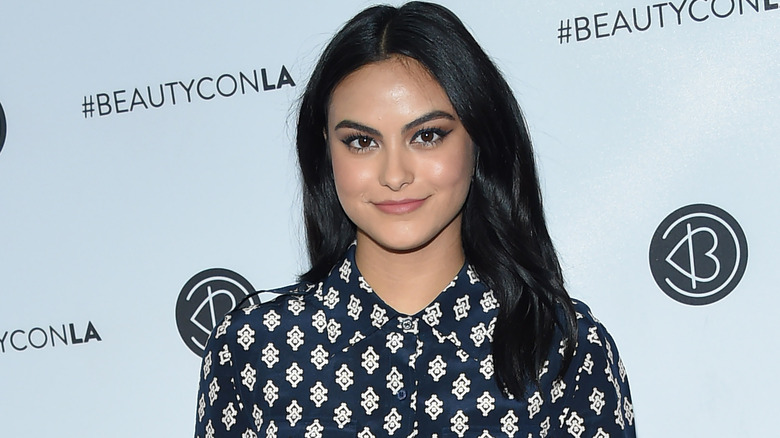 Shutterstock
Even more of Veronica's Season 5 looks are available online, too. In "The Pincushion Man," Veronica wore See by Chloe's All Over Print Shirt, which can be found at Farfetch. This top is beautiful buttoned or unbuttoned with an under shirt, looking both classy and casually cute at the same time. Also in this episode, Veronica wore P.A.R.O.S.H.'s Buttoned Wool Knitted Top, which can be found at Farfetch, and Alive + Olivia's Dylan High Waisted Leg Pants, which can be found at Shopbop.
In "Fire in the Sky," Veronica paraded around Riverdale in black leather skirt. While the exact skirt hasn't been found, a close duplicate can be purchased from Nordstrom. Meanwhile, in "Lock & Key," Veronica rocked Tory Sport's Contrast Ribbed Turtleneck, which similar items can be found at Tory Burch's website.
Finally, in "Destroyer," Veronica wore Avec Les Filles' Plaid Walker Coat, which can be found at Macy's. This coat is beautifully fashionable, and it looks incredibly warm to boot, just like everything Veronica wears. She's a style icon in-universe and in our world, and we can't wait to scope out more of her clothing items from "Riverdale" online so we can level up our own wardrobes.