Here's The Fool-Proof Way To Do A Space Buns Hairstyle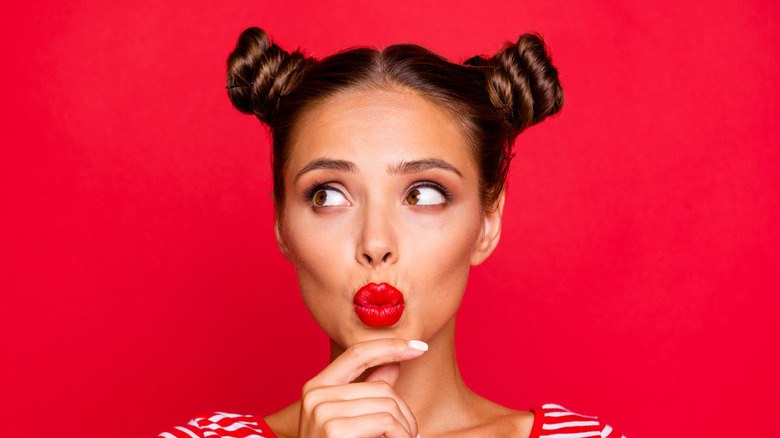 Shutterstock
The extraterrestrial 'do first hit mainstream with Carrie Fischer's iconic 1977 "Star Wars: A New Hope" Princess Leia hairstyle (via IMDb) and since then, double buns have become a quick and stylish go-to hair option. With 2021 calling forth nostalgic trends of the early aughts into the modern age, countless celebs have tried their hand at giving the look a contemporary twist, such as Jennifer Lopez's half up-half down version and Kourtney Kardashian's high fashion slicked back take (via The Zoe Report). Space buns also pair perfectly with any outfit. Whether you want to completely transform into an alien goddess à la Gwen Stefani's 1998 VMA look or you just want a hair upgrade with extra edge, the double bun has you covered (via MTV).
So, how did all these celebrities perfect the space buns look? Probably their hairstylists. But, if like us, you're riding solo in the hair department, look no further than influencer Cassie Scroggins YouTube channel. Scroggins offers an easy tutorial for messy space buns that takes less than 5 minutes to complete! However you choose to style your buns, these steps will ensure your strands stay in place all day long.
Style your space buns one side at a time
According to Scroggins, the first step to take is splitting your hair into a middle part "all the way down to the nape of your neck" (via YouTube). Once you have your two hair sections, you'll want to move one side at a time. Starting on either the right or left, pull the hair section into a high pony, extending from the highest point of your scalp. Make sure to have a hair elastic close by for this next step! Pull your pony through the elastic just once and on the second go around, stop halfway through, essentially leaving your hair in a wide bun with a "tail". Repeat on the other side.
Scroggins comforts viewers not to worry about any runaway strands that have fallen out "because this is a messy look!" Next, you'll take the "tails" hanging from each side, twist and wrap them around your wide bun and tuck them back into the elastic. Take a small comb and work through the front of your hair to pull out a few "cute, face-framing pieces." If your buns look a little puffy and/or see through, secure them down to your scalp with a few bobby pins.
And voila! You're done. "Zenon Girl of the 21st Century" who?